Easy Creamy Polenta Recipe with Portobello Mushrooms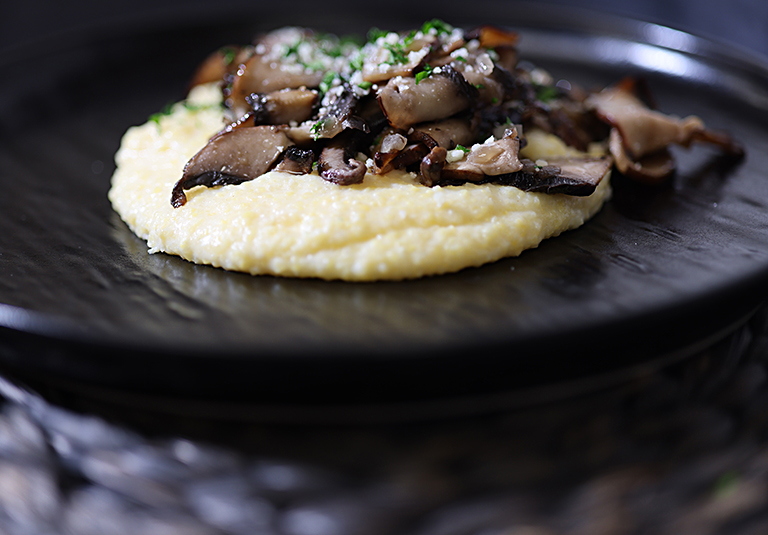 Italian Polenta Recipe with Portobello Mushrooms
Italian polenta makes a satisfying and delicious base for many of our favorite main courses. Simple, sautéed mushrooms, a hearty ragout, meat sauce, braised short ribs… you name it. The method outlined here makes it easy to cook a creamy, tasty polenta recipe that you can use for whatever suits your fancy. This Polenta recipe is with sautéed portobello mushrooms as I find it to be a perfect companion and so easy to do. With more time and effort, a mushroom ragout or slow cooked roast would be my choice.
Equipment used in making this polenta with portobello recipe:
Large pot

Knife

Wooden spoon

Whisk

Measuring cups and spoons
Ingredients for this polenta recipe:
Ingredients for this portobello mushrooms:
1 or 2 large portobello caps

¼ yellow onion, minced

2 tablespoons butter

1 tablespoon olive oil

Salt and pepper to taste
Polenta cooking instructions
In a large pot, add the stock and bring to a boil

Add the polenta and whisk until well blended

Reduce the heat to medium and continue to stir for about 1 minute.

Cover the pot and cook on medium heat for about 30 minutes.

Whisk the polenta every so often (maybe every 7 or 8 minutes)

When the polenta has cooked for 30 minutes, add the butter, cream and salt and stir to blend well.

Adjust taste with more salt if desired.

Serve as a bed for the sautéed mushrooms.
Sautéed portobello mushroom cooking instructions:
Slice the portobello mushrooms fairly thin.

Heat a large skillet on high.

Add the butter and olive oil to the skillet, let it get hot.

Add the mushrooms and toss.

Sauté until the mushrooms have cooked well and begin to caramelize.

Season to taste with salt and pepper.

Serve hot over the polenta.