Healthy Senior Meals Delivered
Let us prepare and deliver the meals for seniors in your life. We stand for longer and healthier living through how we eat and how we live, and our home delivered meals are created with the needs of people 50+ and seniors in mind. We provide meals for seniors allowing them to eat healthy and maintain a certain diet if needed. We have prepared senior heart healthy meals that are ideal to control cholesterol and sodium intake.

We allow you to select the meals you want, customize the ingredients and portion sizes to match your exact needs (each meal serves 2) - we then cook and deliver your senior meals via UPS priority. Every MealPro pre-made senior meal is handcrafted using the highest quality ingredients. Everything is locally-grown, in-season and is packed with tasty goodness to optimize your wellbeing.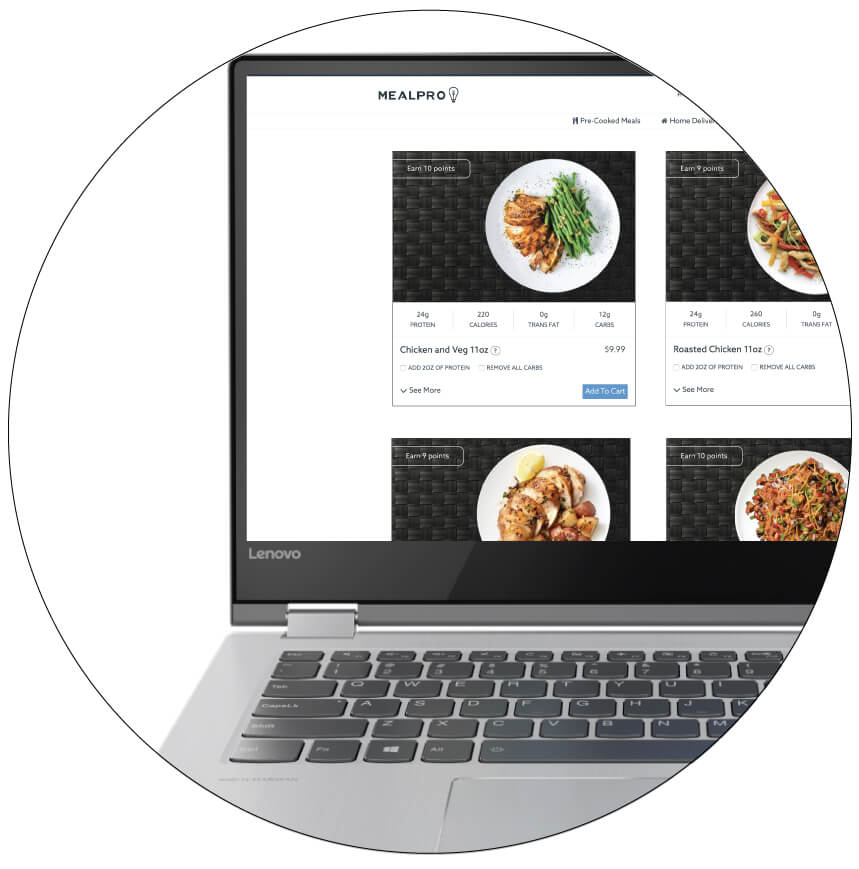 1. Select Your Meals
Easily order your senior meals online for the many seasonally rotating menu options. Choose some of the standard, nutritionally-balanced A La Carte meals or customize each meal to your liking.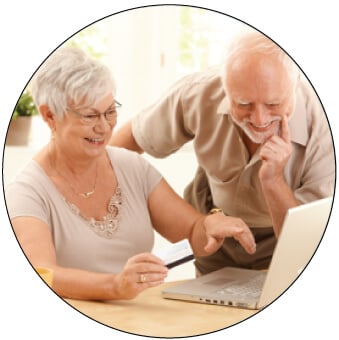 2. Order Online
Our chefs cook your meals fresh daily using whole and natural ingredients. Our chefs are trained to cook in a manner that optimize nutrient retention. Each meal is carefully assembled and portioned in meal prep containers.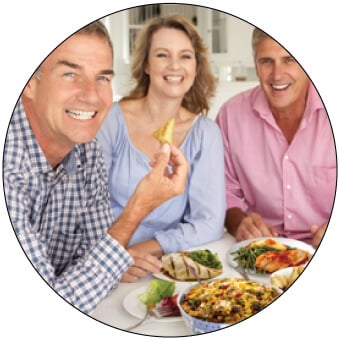 3. We Deliver Your Meals
For convenience, your meals are delivered to your home. Your meals arrive vacuum sealed to retain freshness and are served in microwave safe food containers that can be heated in 5 minutes. No cooking or cleanup required.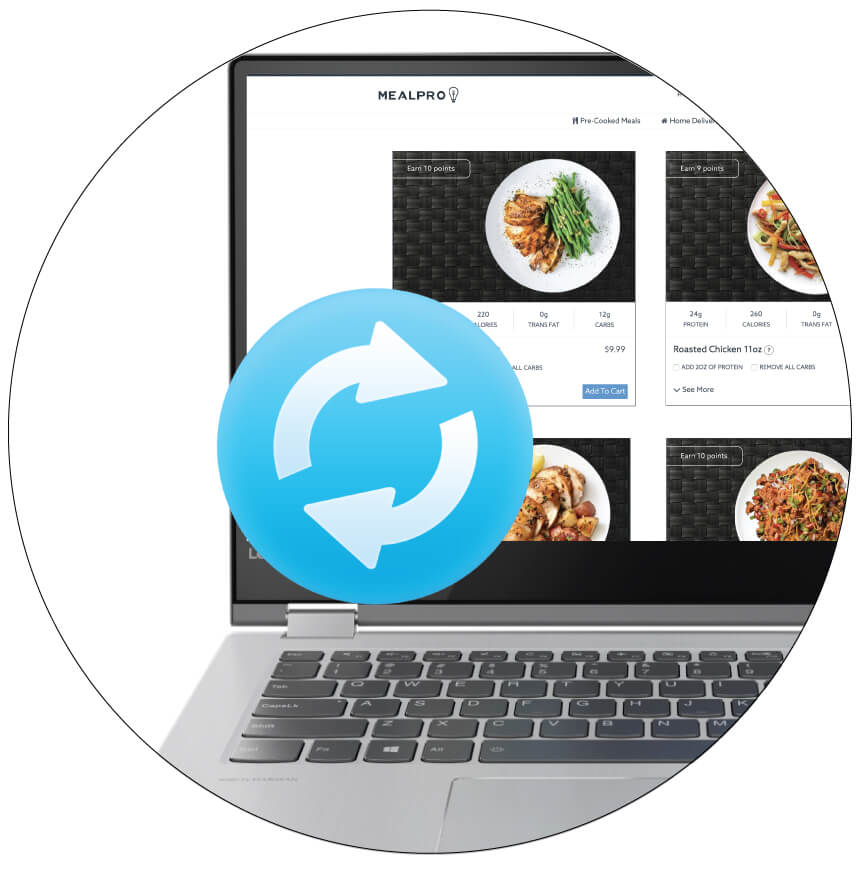 4. Reorder When Ready
Reorder whenever you like or sign up for automatic recurring orders. After you sign up you will receive an email with instructions on how to set up your optional recurring orders to keep your fridge full of tasty and healthy meals.
---
Choose From Many senior Food Options
MealPro is like having a personal in-house chef that is an expert at preparing food for the elderly. At MealPro expert nutritionists work with our chefs to make food that is not only tasty but that is also nutrient dense and heart healthy. Due to our experience in preparing senior meals all your food arrives at your door pre-cut in bite size pieces and has a soft and tender palette with lots of flavor. Here are some of the more popular senior food choices, but don't worry there is more to choose from.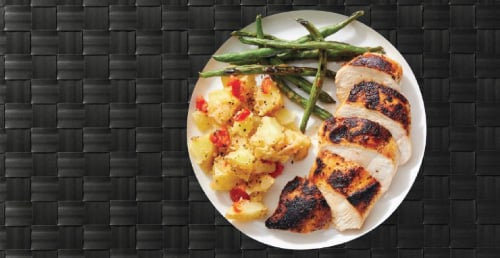 Tasty Senior Balanced Meals
Enjoy tasty lean white meat options. These are a good source of protein and have fewer calories than non-lean meats and without the downside of fat and cholesterol. Our chef's use different marinades to keep the meat soft and tender.
View Meals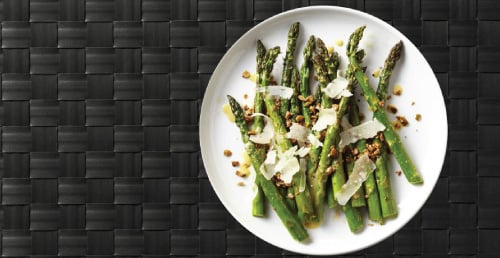 Healthy Side Dishes
To give our elderly customers more food options we have included side dishes in the menu. These vary from veggie mixes, to lean proteins and are made with natural ingredients full of vitamins to nourish your body.
View Meals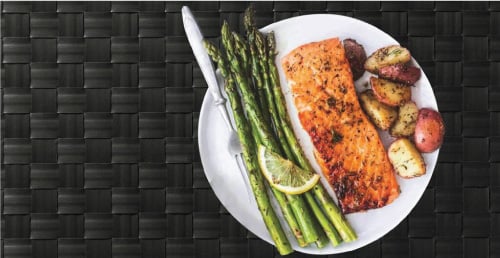 Pescatarian Food Options
Enjoy healthy senior seafood meals that are tasty with a plethora of health benefits. Salmon contains omega-3 fatty acids (which are good fats your body can't make itself). Meals like this are designed to reduce inflammation, reduce the risk of heart disease and stroke and muscle degeneration.
View Meals
---
Your Healthy Elderly Meal Ingredients
As we get older, it often becomes hard for us to do for ourselves like we used to, and grocery shopping is one of those things. At MealPro, we have a dedicated ingredient purveyor who sources the highest quality and natural ingredients.
Fresh Ingredients: We start by sourcing high-quality produce. Whole foods are naturally nutrient-dense, meaning they're packed with all the vitamins & minerals you need without excess calories or artificial ingredients. Think fresh veggies, fresh seafood, high fiber legumes and protein-packed lean meats. You'll recognize every ingredient on the label.
Low Sodium & Low Fat: Your senior meals fall at or below the the American Heart Association's (AHA) recommendations for sodium total fat and unsaturated fat. Each senior meal contains 600mg of sodium or less, falling below the dietary guidelines for Americans recommendation of 2300mg per day.
Low Cholesterol: Our ingredient purveyor only sources lean white meats that are are 90% lean or greater. This way you get more protein per calorie and all the benefits of protein without the downside of fat or cholesterol.
Heart Healthy: Chia seeds and ancient grains. These are just some of the incredible, phytonutrient-rich superfoods we use (with sparingly) to supercharge your nutrition intake.
Immune System Boosting: The best part? Instead of using salt our professional chefs infuse their dishes with fresh herbs that are packed with inflammation-fighting, immunity-boosting antioxidants.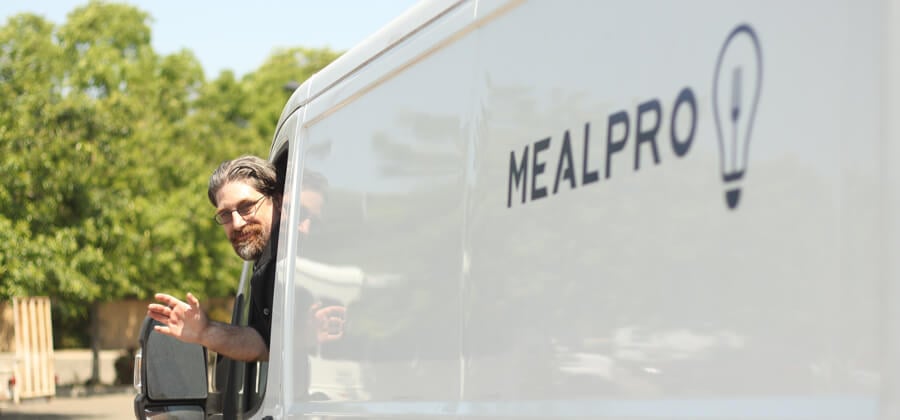 Meet your ingredient purveyor, Aaron. He focuses on sourcing seasonal and natural fresh ingredients to make your high quality senior meals .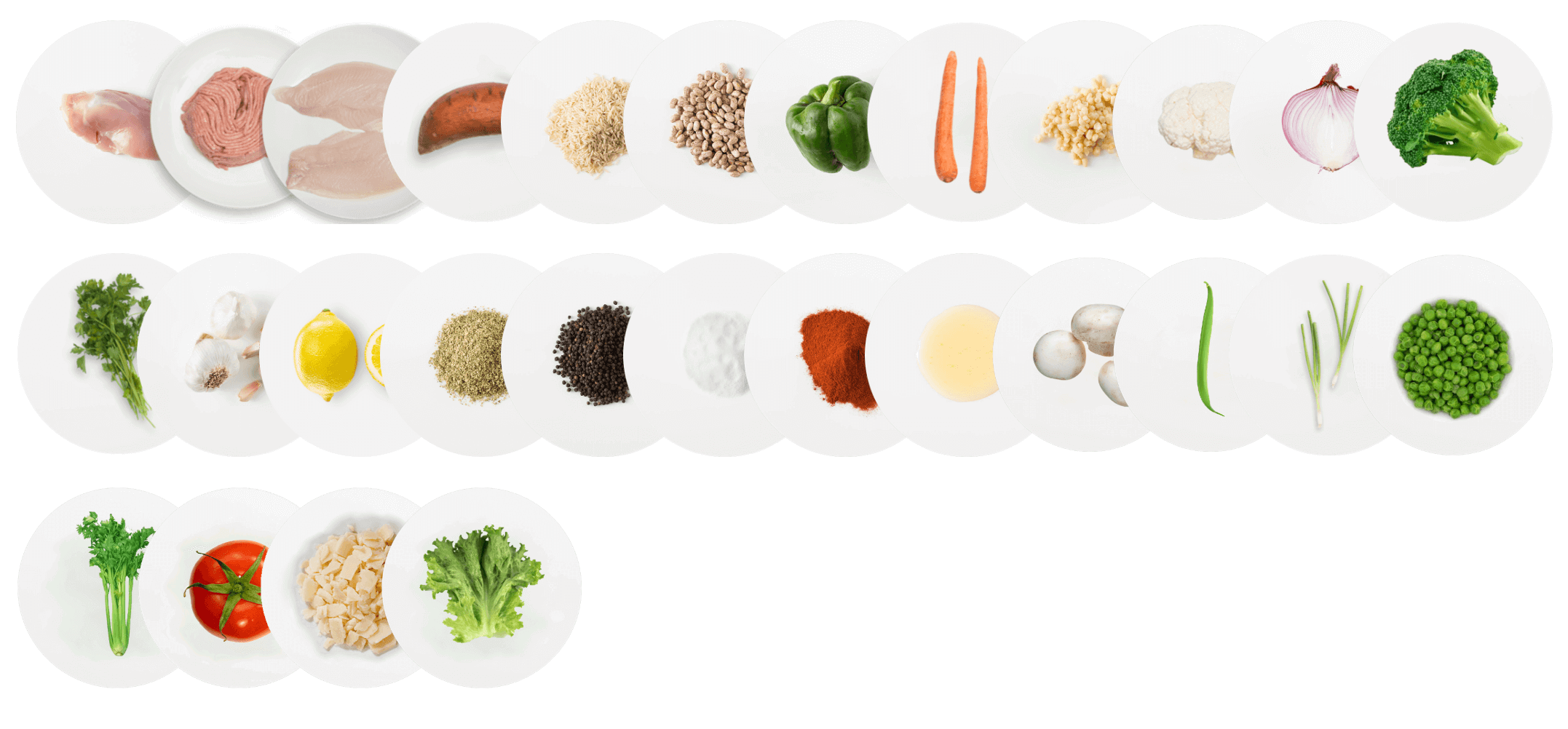 You won't find artificial flavors or preservatives in your meals. The ingredients are natural and are prepared in a manner that optimize nutrient retention.
---
See Who We Serve Below: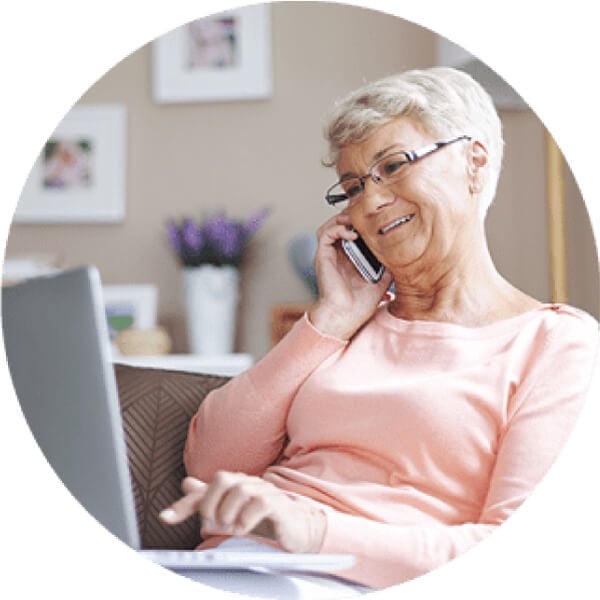 Individual Senior Meals
We serve individuals living at home with our convenient home senior delivery service. For convenience you can set up auto-ship deliveries so every week you get healthy and tasty meals delivered.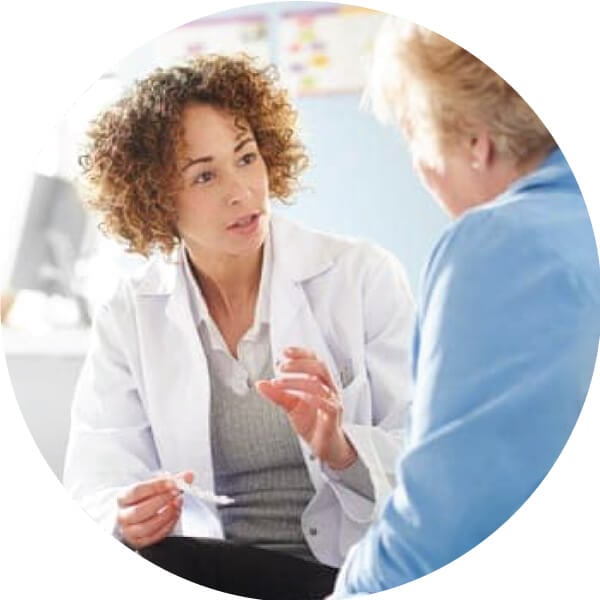 Senior Meals For Facilities
Did your doctor recommend a very specific diet? On the menu page, you can use the easy user interface option to adjust your meal to your needs. Each meal serves 2 (contains 2 servings).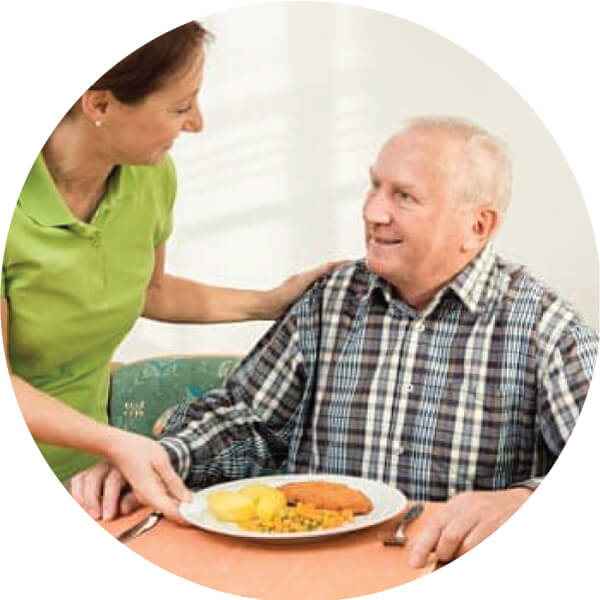 Meals For Caregivers
Placing an order for someone else? No problem. Many of our customers are caregivers who provide care to one or more people.
---
senior Meals Delivered to Your Door
Delivered to your door: Select where you'd like your delicious chef-prepared meals delivered. We deliver in residential or commercial locations nationwide.
Ready in 5 min: As soon as your meals are delivered they are ready to be heated and enjoyed. Dine in and savor deliciousness from the comfort of your own home.
Nationwide delivery: You'll get your already cooked senior meals delivered during business hours, and the great news is that you don't have to be home to accept the delivery. Your box is insulated with a special thermal liner and dry ice so your meals stay at temperature. When you get your healthy meal box, all you have to do is place your pre-made meals in the refrigerator and put your packaging in the recycling bin.
Thermal liner for optimal temperature retention
Meals securely packaged to be leak proof
Dry ice to keep your meals chilled
100% recycled cardboard box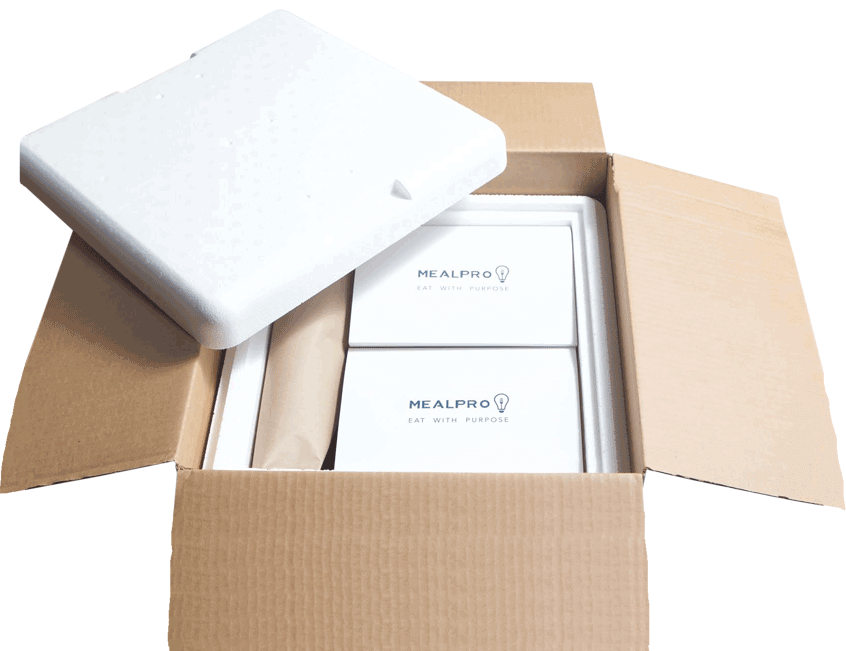 When you receive your food delivery box, simply place your ready-to-eat meals directly in the fridge. When you are hungry, just heat and enjoy! The dishes will stay fresh in the refrigerator for up to 7 days, but always check the "Best By" date.
---
---
Optionally Set Up an Auto-Ship Meal Program
MealPro is one of the few senior meal delivery companies where subscribing to recurring meal deliveries is optional. If you choose to opt-in you can receive meals weekly, every two weeks or monthly. Enjoy the option of having your meals on auto-pilot.
By default, every order is a one time order. If you wish, you can sign up for recurring orders inside of your account. You will be emailed your account login instructions after your first purchase.
On your first purchase, you will be emailed instructions to login to your account. Your MealPro account is a place where you can track your order, update your food preferences, and you can manage every aspect of your senior meal delivery.
If you choose to opt-in for recurring orders inside of your account you start earning MealPro member rewards points. These are points that you can redeem for free meals inside of your customer account that you can redeem for free meals. Member points are one of the benefits of signing up for recurring orders.
You can use your MealPro customer account to update your meal preferences, pause deliveries if you are out of town or manage all aspects of your meal delivery.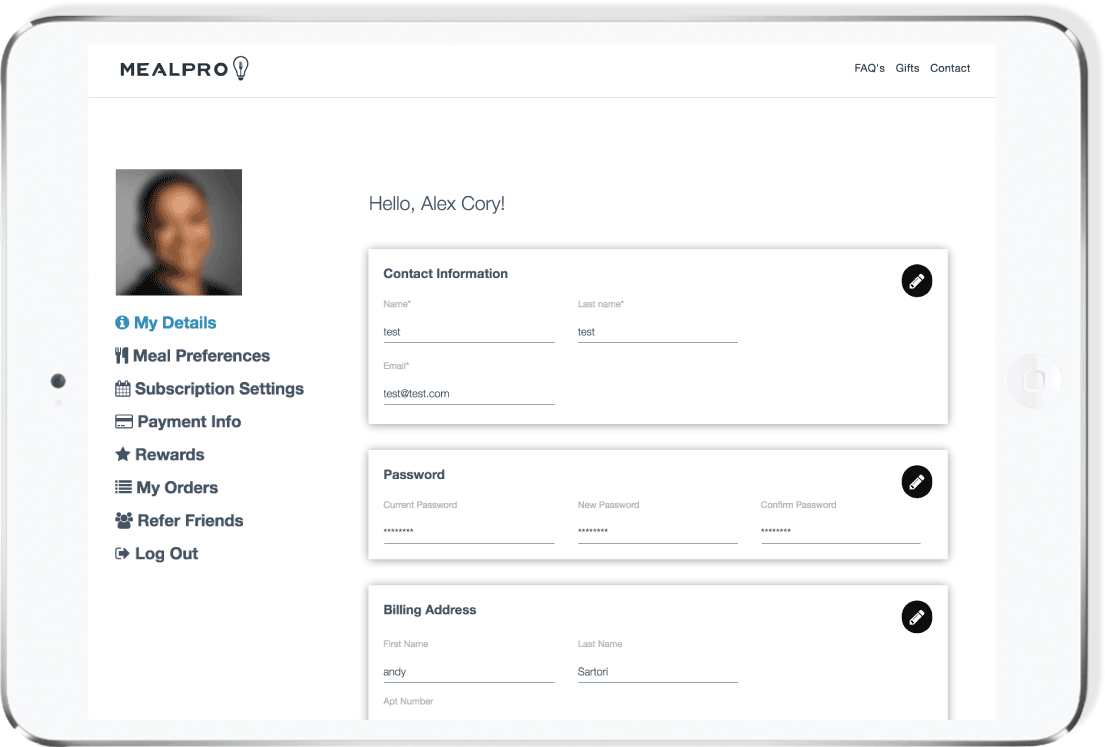 Track orders, update your address and manage all aspects of your food delivery inside of your customer account.
---
See How Customers Like the Food

I No Longer Drive & Love the Service
"I want to thank you for the delicious meals. They are very good and I really appreciate your services. I am 85 years old and don't drive. Your service has made it so easy for me to enjoy delicious meals. Thank you for all you do."
- Carol, Customer

Great Food For My Elderly Care Center
"For a small facility like ours, this makes it so easy to provide a good meal to my seniors. It's quick and easy - and allows me to focus my mental energy on other activities. Meals are no longer a pain point."
- Steph, Caretaker

Delicious Food That Does not Clog My Arteries
"After experiencing some heart problems I am happy to rely on a service that does not clog my arteries. I feel like I am eating healthier and have peace of mind. The food is delicious!"
- Chuck, Customer
---
Why Choose this Senior Meal Service?
Low sodium, low cholesterol food delivered
Our menu is made mindful of the advice of registered dietitians. Our meals are not overly full with spices. We specialize in low sodium senior meals and low cholesterol senior meals. We use lean white meats or red meats that are 90% lean or greater. You get more protein per calorie that way and get a better nutrition profile.
Soft food cut in bite sized pieces
Your tasty senior meals are made using cooking techniques that keep food soft. The meats are marinated to retain moisture, and are cooked in moisture injecting ovens to keep meats tender. Everything is very soft. Food is cut into bite sized pieces before being plated.
Affordable senior meals delivered
We pride ourselves on being one of the most affordable senior meal delivery companies. When you subscribe to weekly deliveries you can earn rewards points for every dollar that you spend. You can redeem your rewards for meals.
Home delivered elderly meal plans
Delivered on time. At MealPro we have a senior meal delivery program to bring healthy food to you. We deliver more meals at once. When your pantry is full you're not overly reliant on timely deliveries. Enjoy your meals right away or freeze for longer shelf life.
---
If you are a senior or have a senior in your life there is an optimal food solution. Experience the freedom and peace of mind knowing that you are eating nutritionist designed and chef prepared elderly meals.