Pub Style Steak Sandwich Recipe with Leftover Steak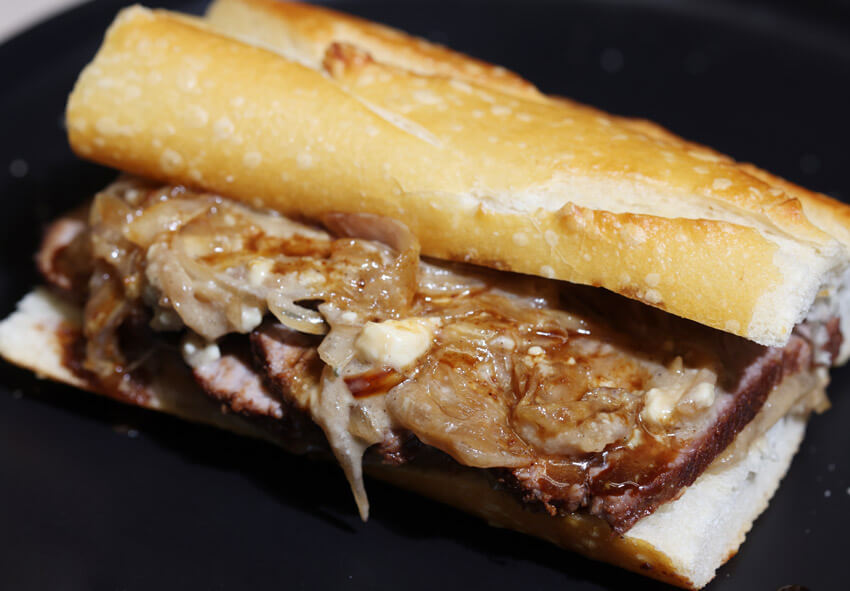 This Delectable Steak Sandwich Recipe Uses Tri Tip Roast and Toasted Sourdough Buns.
Steak Sandwich Recipe with Caramelized Onion, Blue Cheese Relish
Yes, you can make a tri tip roast, slice and serve on a sandwich for your midweek meal. If you choose to make a steak sandwich recipe using tri tip, then the versatile cut that's small, ranging from 2-5 pounds, it cooks very quickly compared to other roasts. Bonus is that this type of roast is affordable. Part of the preparation for this dish can be done in advance. You can season your roast the night before or in the morning. You can also prepare the caramelized onions and relish in advance and keep in the fridge. If you do, reheat the mixture a bit before topping your sandwich so that the juice of the relish melts into the meat and over your crusty roll. Once you make this sandwich, you'll skip the pricey steak sub and love your life cooking your own gourmet version at home.
Ingredients for this Steak Sandwich Recipe with Caramelized Onion, Blue Cheese Relish:
1 Roast, trimmed of fat and any sinew (pre-marinade tri-tip – optional)

Salt and pepper

2 tablespoons of extra virgin olive oil

2 tablespoons of brown sugar

1/2 tsp sweet paprika

1/2 tsp garlic powder

1 Medium yellow onion

2 Tablespoons balsamic vinegar or vinaigrette

1/2 C crumbled blue cheese

Crusty rolls or french bread
Instructions for this Steak Sandwich Recipe with Caramelized Onion, Blue Cheese Relish:
Preheat your oven to 375 degrees.

Mix together the paprika, garlic powder, 1 tablespoon of brown sugar, and 1 teaspoon of salt.

Press the seasoning mixture onto all sides of the roast. Set aside.

In a skillet, heat 1 tablespoon of olive oil over medium high heat. Add the roast and sear on all sides.

Transfer the roast to a baking dish or roasting pan and place in the oven. Bake for 30 minutes or until the internal temperature of the roast reaches 115 degrees for rare, 125 for medium rare. Cover the meat with foil and allow to rest.

Next, while the roast is in the oven, prepare the caramelized onion by slicing the yellow onion into thin slices.

In a sauté pan, heat 1 tablespoon of olive oil. Add the sliced onion, sprinkle generously with salt, stir and cook over medium heat for about 10 minutes or until the onions are wilted through and start to brown.

Once the onions start to brown, add the Balsamic vinegar and 1 tablespoon of brown sugar. Cook just 1-2 minutes more, so that the vinegar coats the onions.

Remove from heat and stir in 1/2 c of crumbled blue cheese till it melts into the mixture. Set aside.

Once the roast has rested, remove from the pan juices and slice thinly.

Slice each roll lengthwise. Spread some of the roast pan juices onto the top half. Smear the bottom half with the caramelized onion relish.

Place the sliced roast over the relish and top with the other part of the roll. Enjoy this steak sandwich recipe immediately while still warm for best results. A great side for this steak sandwich recipe are baked yam fries. Say hello to flavor!