Quick and Easy Chicken Pesto Recipe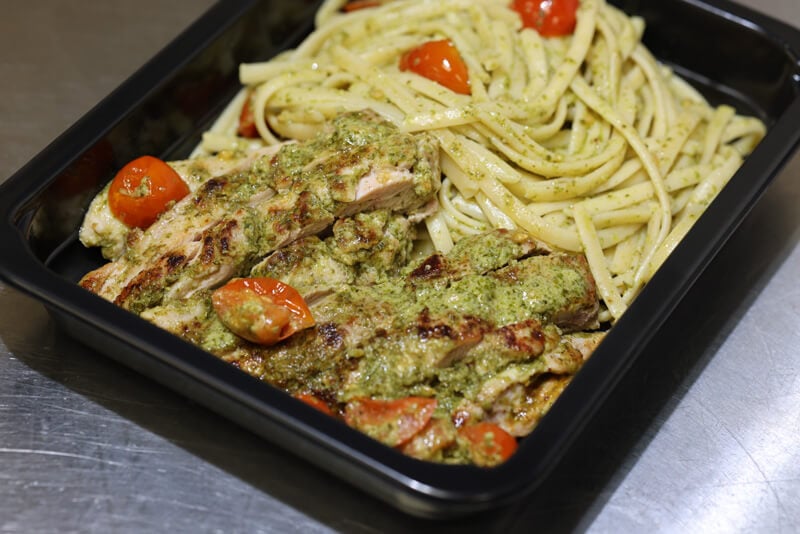 Table of Contents for this pesto Pasta recipe
Easy Chicken Pesto Recipe Overview
This chicken recipe comes together quickly, so have your equipment and ingredients all ready to go. Create a restaurant-style chicken pesto meal at home with this flavor-packed, creamy pesto chicken dinner that comes together in just 30 minutes!
Kitchen Tools For This Classic pesto Recipe:
Pot to cook pasta

Skillet

Measuring cups

Measuring spoons

Meat tenderizer hammer or other tool to pound the chicken flat
Classic Chicken Pesto Recipe Ingredients:
For the chicken

2 lbs cooked pasta

1 pound boneless , skinless chicken breasts

Salt – to taste

Black pepper – to taste

½ cup pesto

2 tablespoons olive oil

2 cups cherry tomatoes, halved

For the sauce

3/4 cup half-n-half or heavy cream
How To Cook Chicken Pesto Recipe
Put a large pot of salted water on to boil. The water can be really salty, somewhere between sea water and brine. Really. Put the pasta in and stir occasionally. After about 10 minutes, taste test the pasta. The pasta should have cooked to be "al dente" – or slightly firm but not mushy. Drain the pasta and hold ready for use in the skillet. See step 7 below.

Pound the chicken breasts with the meat tenderizer hammer so that they are even in thickness (about ½"). When the chicken breast is nice and flat you know it will cook even.

Heat a skillet with 1 tablespoon olive oil and 1 tablespoon butter. Melt and start to brown the butter.
Then, add the chicken. Rub pesto sauce on both sides of the chicken to coat, season with salt & pepper and place chicken in the hot skillet.

Cook the chicken on both sides until they start to brown.

Add the cherry tomatoes when the chicken is almost done.

In the same skillet over medium heat, add the rest of the pesto sauce and the cream. Cook for a few minutes until the tomatoes are soft and the pesto starts to thicken a bit.

Add the cooked pasta to the sauce and toss until combined and hot.

Serve: Plate the chicken and pasta together and enjoy!
Common Questions About This Classic Chicken Pesto Recipe With Linguine
What is pesto? The traditional Italian pesto sauce recipe is made with basil, pine nuts, and parmesan cheese. It originates from the Liguria region of Italy and is frequently used on trofie, gnocchi, and other types of pasta.
Do I have to use linguine pasta for this chicken pesto recipe? You are welcome to use a different type of pasta for making this pesto chicken recipe including: bowtie pasta, spaghetti pasta, elbow pasta, penne pasta…. Usually, you would use a pasta con buco or pasta with hole (like penne pasta or macaroni pasta) to prepare pasta with sauce when preparing pasta with no protein. This is because the pasta goes inside the penne pasta hole and gives you more flavor. In other words, the sauce binds better when the pasta is grooved and has holes.
How do I store this chicken pesto recipe with linguine? Store in an airtight container in the refrigerator for up to 5 days. Simply reheat over low heat on the stovetop, whisking constantly. You can freeze pesto in an airtight container for up to 3 months.