Pasta Carbonara Recipe With Bacon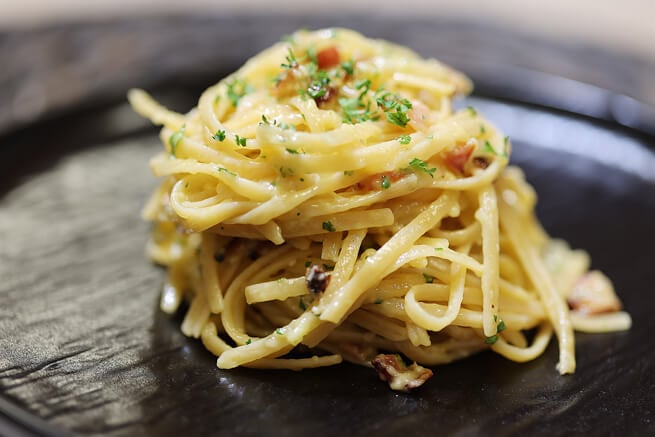 Table of Contents for this Easy Carbonara Pasta Recipe:
Easy Pasta Carbonara Recipe with Bacon Overview
Pasta carbonara typically features a creamy sauce that's made with pancetta or bacon, egg yolks, parmesan cheese, and a little pasta water. For this easy linguine carbonara recipe, I used bacon instead of pancetta since it's generally easier to find. With such simple ingredients and simple prep, you will be so impressed at how wonderful this carbonara recipe with bacon can be.
Kitchen Tools For This Easy Classic Carbonara Pasta Recipe with Bacon:
Tongs

Large mixing bowl

Large pot to cook linguine pasta

Small skillet to cook bacon

Measuring cups

Measuring spoons

Cheese grater
Classic Pasta Carbonara Recipe Ingredients:
1 Tablespoon olive oil

2 Tablespoons butter

2 Egg yolks

1/2 Cup grated Parmesan cheese

1 Pound linguine pasta

½ Teaspoon freshly ground black pepper

Optional ½ teaspoon granulated garlic or 2-3 large cloves minced

1/2 Pound bacon cut small. Cubed Pancetta is a great alternative if you have it.
How To Cook Pasta Carbonara with Bacon
Put a large pot of salted water on to boil. The water can be really salty, somewhere between sea water and brine. Really. Put the linguine pasta noodles in the pot and stir occasionally.

Crack the egg and separate the egg white from the egg yolk. Discard or store the egg whites for a different egg white recipe. Then, set aside the egg yolks for use in a few minutes in this pasta carbonara recipe.

Before the linguine pasta finishes cooking, heat the olive oil and butter in a skillet over medium heat. Add the bacon and cook slowly until the bacon is crispy. (Add granulated garlic or whole garlic cloves at this point if you choose to have garlic in your pasta carbonara recipe). When the bacon is fully cooked and crispy, put the bacon in a large mixing bowl with most of the bacon liquid sauce (bacon fat, olive oil and butter).

When the linguine pasta is al dente (still a little firm, not mushy), use the tongs to move the steaming hot linguine noodles to the mixing bowl with the crispy bacon. It will be pretty wet, that's a good thing. Reserve some of the flavorful linguine pasta water.

Mix well to coat the pasta noodles. While the noodles are still really hot, add the egg yolks and stir immediately. The hot pasta noodles will gently cook the yolks.

Add the Italian parmesan cheese and stir again.

Add a bit of flavorful pasta water to loosen things up if the noodles get too sticky. Stir well.

Serve
Common Questions About This Classic Pasta Carbonara Recipe with Bacon
What is a quick and easy classic pasta carbonara recipe? If you've never prepared this homemade pasta carbonara recipe before, you're in for a real treat! The flavorful egg-based carbonara sauce is cooked by mixing the eggs in with the piping hot pasta noodles.
How do I store this delicious pasta carbonara with bacon recipe? Store in an airtight container in the refrigerator for up to 5 days. Simply reheat over low heat on the stovetop, whisking constantly. You can freeze this easy pasta carbonara recipe with bacon in an airtight container for up to 3 months.