Low Calorie Lemon Parmesan Kale Salad Recipe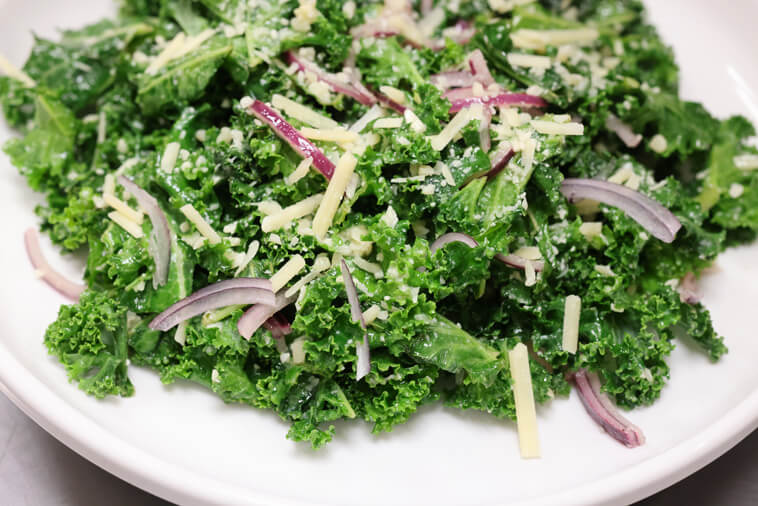 This lemon parmesan kale salad recipe uses kale as a base which is a hearty green packed with so many nutrients. Kale is s a member of the cabbage family with edible leaves that are often prized for their ornamental quality as well as their culinary usage. Also, it is a wonderful green to use instead of regular lettuce in salads because it is richer in nutrients, which means you can make it in advance and it won't wilt into a pile of wet leaves. It also contains a lot of fiber, which is a huge bonus for your health. Instead of using a classic balsamic vinaigrette recipe as a dressing for this lemon parmesan kale salad recipe, the dressing ingredients used are similar to that of a Caesar dressing, modified a bit for the inclusion of kale instead of Romaine lettuce. The lemon juice is a wonderful combination with the kale, tart and tangy, and the shredded Parmesan cheese brings such a nutty and round quality to the flavors.
Equipment Needed for this Lemon Parmesan Kale Salad:
Knife and cutting board

Large mixing bowl

Small jar or container with a tight lid
Ingredients Needed for this Lemon Parmesan Kale Salad:
1 6 oz package of chopped kale

Juice of 1/2 lemon (about 1/4 C), plus 2 tablespoons

1/3 C olive oil

1/2 tsp Dijon mustard

2 cloves of garlic, minced

1/2 tsp sugar or honey, to taste

1/4 C grated Parmesan cheese

1/4 C shredded Parmesan cheese

salt and freshly ground pepper

1/2 red onion, sliced thinly
Preparation of this Lemon Parmesan Kale Salad:
Remove as much of the woody stem from the kale leaves as possible. If not chopped already, chop into strips. Place into a large bowl.

Add 2 tablespoons of lemon juice and a sprinkling of salt to the kale. Stir to combine, using your hands and massaging the kale leaves with the lemon juice. Set aside.

Note: Massaging the kale with the salt and lemon wilts it just slightly which helps it to absorb more of the seasoning and salad dressing. 

In a small jar or container, add the olive oil, mustard, and minced garlic to the remaining lemon juice. Season with salt and pepper. Shake well to combine.

Add the grated parmesan and shake some more. Add the sliced onion and 1/4 C of the dressing. Toss to combine.

Sprinkle the salad with the shredded parmesan and toss again.

Serve this lemon parmesan kale salad recipe immediately with extra dressing on the side. This lemon parmesan kale salad recipe is wonderful with grilled chicken or salmon on top, or even just with some garlic croutons or roasted nuts.