How to Cook Artichokes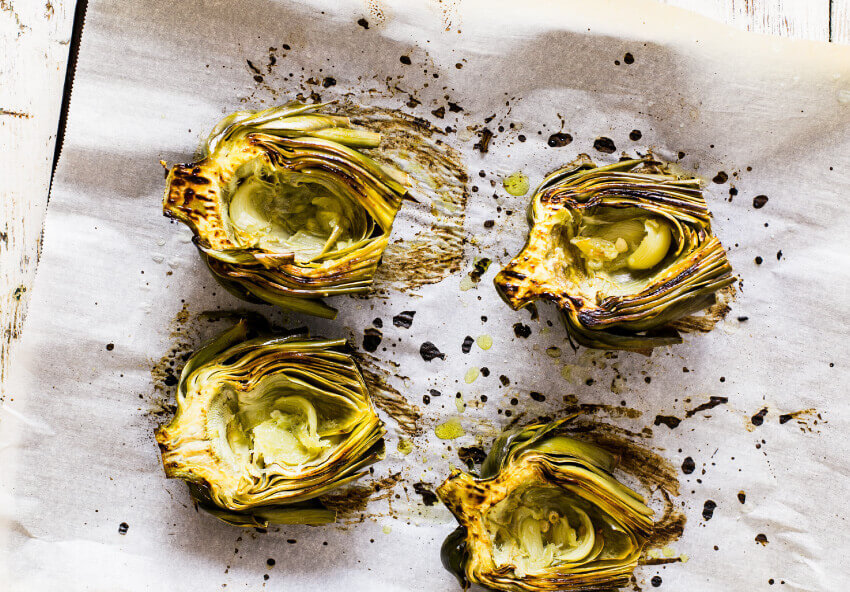 Steaming or boiling artichokes is the preferred method but by wrapping them in foil you can also bake your artichokes.
Artichokes are a delicious and nutritious vegetable to keep your pantry stocked with. Artichokes can be roasted, or boiled and are found in anti-inflammatory diet plans as well as low cholesterol diet plans or diabetic diet plans since they help regulate blood sugar. As a culinary staple, artichokes can be grilled, or boiled before being added as a vegetable to your favorite dish.
Artichoke Roasting Recipe Video
Artichoke Roasting Recipe
Ingredients for Roasting Artichokes

2 large artichokes

3 tablespoons of olive oil

Salt, and pepper to taste
Artichoke roasting instructions

Preheat your oven to 400°F (200°C).

Brush some oil onto the artichokes, making sure to get some in between the leaves. You can also sprinkle them with salt, pepper, garlic or other seasonings of your choice.

Wrap your artichoke in aluminum foil. This is to create a pocket of steam around the artichoke and prevent the outside leaves from burning.

Place the artichokes in a roasting pan or baking dish

Roast the artichokes in the oven for 45-60 minutes, or until the leaves are tender and easily pulled off.

Serve the roasted artichokes warm with an Aioli dipping sauce, or add the artichoke hearts to a mixed greens salad or protein of choice.
Artichoke Boiling Recipe
Boiled Artichoke Ingredients

4 large artichokes

2 lemons, sliced

2 cloves of garlic, minced

2 bay leaves

Salt, and pepper to taste

6 cups of water
Boiled artichokes instructions

Prepare the artichokes by cutting off the top third of the artichoke and removing the tough outer leaves. Cut off the stem and peel the remaining stem. Use a spoon to remove the fuzzy choke from the center of the artichoke.

In a large pot, add 6 cups of water, sliced lemons, minced garlic, bay leaves, salt, and pepper.

Bring the water to a boil, then reduce the heat to medium-low.

Place the artichokes in the pot, then cover the pot with a lid.

Simmer the artichokes for 25-30 minutes, or until the leaves are tender and easily pulled off.

Remove the artichokes from the pot using a fine mesh strainer or tongs.

Serve the boiled artichokes warm or chilled.
Enjoy your roasted or boiled artichokes with a salad or protein of choice – it goes especially well on grilled meats such as chicken, steak, or fish. You can also marinate artichokes in a balsamic vinaigrette before grilling them off for some extra flavor. Alliteratively, you can enjoy this artichoke recipe solo with some olive oil. The artichokes go so well with olive oil that you can use it as a base for a dipping sauce.
Artichoke Recipe Nutrition Facts
Artichokes are a nutrient-dense vegetable that can offer a variety of health benefits. One medium-sized artichoke has 60 calories, 4 grams of protein and 13 grams of carbs – making it great as a vegetable for a bodybuilding meal plan, and always suitable for a paleo meal plan.