Healthy Turkey Ragù Recipe for Pasta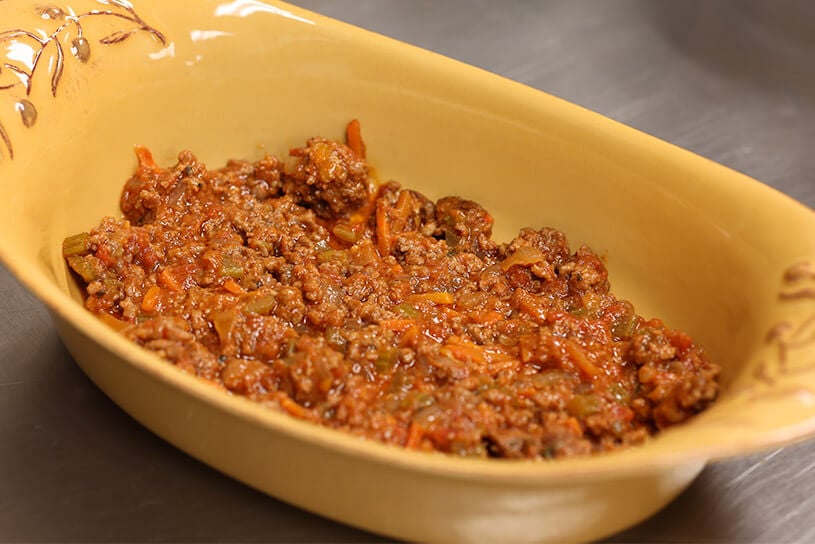 Table of Contents for this Classic Turkey Ragù Recipe
Healthy Turkey Ragù Recipe Overview
This turkey ragù sauce recipe is a slow-cooked meat stew that can be made with turkey or beef and vegetables — or even just vegetables. For this homemade turkey ragù recipe we use lean turkey to make a stew that is similar to a Bolognese sauce. You can eat this ragù recipe on its own, with polenta, couscous, or you can use this for a turkey lasagna recipe. This is made on the stovetop mainly because of the use of hamburger meat. Other types of ragout sauces can be made with other meats which would be better cooked low & slow in the oven (e.g. rabbit, better cuts of turkey, chicken, etc.)
Kitchen Tools For This Lean Turkey Ragù Recipe:
Large deep skillet with lid or large saucepan with lid

Knife and cutting board

Wooden spoon
Turkey Ragù Sauce Recipe Ingredients:
Carrot – 1 cup shredded

Bay leaves – 2 (optional)

Salt – 1 teaspoon

Paprika – 2 teaspoons (optional)

Garlic – 2 garlic cloves, minced (optional)

Turkey Lean – 2 lbs
Pepper – 1/2 teaspoon

Onion – 2 cups white onions (small dice)

Celery – 1 cup chopped (small dice)

Oil – 2 tablespoons for sautéing

Tomato – 1 28 oz can San Marzano tomatoes (see below for more info)
How to Prepare This Homemade ragù Sauce Recipe:
Dice the onion, celery and shred the carrot.

Add the onion, carrot, celery, and garlic and sauté until the onions are translucent and the carrots begin to caramelize (turn brown). Add the salt, pepper and paprika and blend well.

Add the meat and cook until it starts to brown.

Add the tomatoes, bay leaves. Stir well and cover. Keep heat on medium, stirring occasionally for about 30 minutes.

Set aside to cool. Use this for layering into a classic ragù sauce or saving in the refrigerator for up to one week.
Common Questions About How to Make A Classic Ragù Recipe at Home
How do I store my classic turkey ragù sauce when ready? Keep your turkey ragù sauce covered in the refrigerator for 1 to 3 days. Or, wrap tightly in foil or transfer to an airtight container and freeze for up to 3 months. Thaw in the refrigerator before reheating. Reheat in the oven or microwave until warmed through. If it was frozen, leave the foil on while baking and remove just at the end so the cheese can get brown and bubbly.
What can I use my classic turkey sauce on? Use your spaghetti ragù sauce recipe over a pasta dish, or use it as a delicious turkey ragù sauce for turkey lasagna recipe.
What tomato do I use for this spaghetti ragù sauce recipe? San Marzano tomatoes are of the highest quality. These tomatoes have a sweeter flavor and lower acidity, but you can easily substitute your favorite brand instead.