Pork, White Bean, and Kale Stew Recipe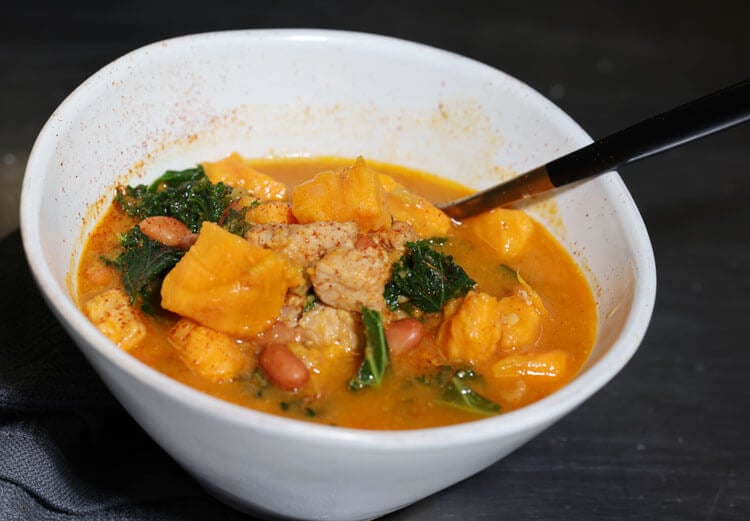 The Pork and Beans Make this Soup High Protein While the Kale Adds Vitamins and Minerals for a Balanced Meal.
Pork, Kale and Bean Stew Recipe
Stews are yet another wonderful way to bring your favorite ingredients together relatively quickly, for a hearty kale soup that literally eats like a meal. Not every stew needs to contain potatoes for instance, why not sweet potatoes, and instead of beef, using another meat you may have on hand adds another plot twist to our preconceived notions. Switch it up. Going off of a formula of browning your protein, sautéing your veggies, then simmering in liquid till the flavors concentrate together into a velvety sauce, the possibilities are limitless. Onions, garlic, celery and carrots are found in most stews. Use whichever you prefer or happen to have available. Add additional layers of flavor using herbs and spices. In this creation, the beans and kale offer more nutritional value and gorgeous color. The lovely color of the vegetable broth at the end, perfumed by the paprika, is a wonderful compliment to the other colors in the dish. Eating the rainbow, of course always the best for your health!
Kitchen Equipment Needed for this Pork, Kale and Bean Stew Recipe:
Knife and cutting board

Spoon

Bowl

Large skillet or saucepan
Ingredients for this Pork, Kale and Bean Stew Recipe:
1 lb pork shoulder, cut into 1/2 inch cubes (you can also use ground pork)

salt and pepper

1 tbsp Hungarian or 'sweet' Paprika

1 tbsp arrowroot, corn starch or flour

2 tbsp olive oil

1 large onion, chopped

1 sweet potato cut into 1/2 inch cubes

2 stalks celery, chopped

2 large garlic cloves, minced

4 C broth (vegetable broth, beef broth, or chicken broth)

2 C chopped kale, large stems removed

1 11oz can pinto beans
Instructions for this Pork, Kale and Bean Stew Recipe:
Cut the pork into bite-sized pieces. Then place the pork into a large bowl. Add the paprika and arrowroot. Mix together to combine. Sprinkle with salt and pepper. Set aside.

Bring two tablespoons of olive oil to medium temperature in the saucepan or skillet. Add the pork and sauté until browned, about 5 minutes.

Add the onions, celery and garlic to the pork. Sprinkle with a bit more salt to allow the vegetables to release their natural juices.

Add the chopped sweet potatoes to the pan, pour in the stock, and cover to cook for 20 minutes on medium heat, stirring occasionally.

Once the sweet potatoes are nearly cooked through, add the beans and kale. When the beans are warmed through and the kale is tender, the stew is finished.

Serve this pork, kale and bean stew recipe immediately as its own or opt to enjoy with a side of brown rice or cauliflower rice on the side.