Homemade Manhattan Clam Chowder Recipe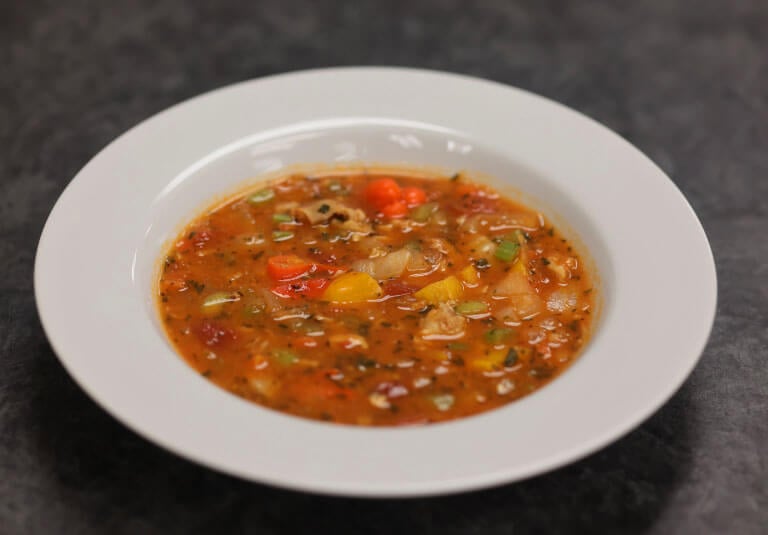 Table of Contents for a Homemade Manhattan Clam Chowder Recipe
Manhattan Clam Chowder Recipe Overview
Welcome to this step-by-step guide on making delicious and hearty Homemade Manhattan Clam Chowder! This iconic red chowder hails from New York City and features a tomato-based broth, fresh vegetables, flavorful clams, and aromatic seasonings. Follow along as I walk you through each stage of the cooking process to create a satisfying bowl of this classic dish.
There are two different styles of clam chowder, a Boston clam chowder (also well known as the New England clam chowder) and a Manhattan clam chowder. The Boston clam chowder is known for its white creamy color that comes from the half and half and heavy cream, while the Manhattan clam chowder is known for its red color that comes from the use of tomatoes and tomato paste/sauce.
Manhattan Clam Chowder Recipe Ingredients
1 tablespoon extra virgin olive oil

1 cup diced celery

1 cup diced onion

1 cup diced bell peppers (red, orange, or a mix)

5 bay leaves

2 cups chopped clams (canned or fresh)

2 teaspoons salt-free herb seasoning (like Mrs. Dash)

1 teaspoon dried thyme

1 teaspoon granulated garlic

1 teaspoon onion powder

1/2 cup chopped fresh parsley

1 lemon, juiced

1/2 cup Pinot Grigio white wine(or white wine of your choice)

1 jar (24 oz) cioppino sauce (tomato sauce)

1/2 teaspoon clam base (optional)

2 tablespoons all-purpose flour
Manhattan Clam Chowder Recipe Video
Manhattan Clam Chowder Recipe Step-by-Step Instructions
Heat a large skillet over medium heat and add the olive oil.

Add diced celery, onion, and bell peppers. Stir and cook until they start to soften.

Toss in the bay leaves for an aromatic flavor.

Incorporate the chopped clams into the skillet, stirring to combine.

Sprinkle the salt-free herb seasoning, dried thyme, granulated garlic, and onion powder into the mixture and stir well to evenly distribute the flavors.

Mix in the chopped fresh parsley for a burst of color and freshness.

Squeeze the juice of one lemon into the skillet and make sure to use a strainer to catch any lemon seeds that may fall from the process of squeezing the lemon.

Stir in the clam base to add a depth of flavor

Continue to stir all the ingredients together and add in an entire jar of cioppino sauce.

Pour the white wine into the skillet, stirring to combine it with the other ingredients.

Now would be a good time for you to taste your clam chowder and make any adjustments according to your taste preferences.

In a small bowl, create a slurry by mixing 2 tablespoons of flour with 2 tablespoons of white wine until smooth. Gradually pour the slurry into the chowder while stirring. This will help thicken the chowder. If you wish to not thicken the clam chowder feel free to also skip this step!

Allow the chowder to simmer for another 5-10 minutes to meld the flavors and ensure a hearty consistency.
There you have it – a delightful bowl of homemade Manhattan clam chowder that captures the heartiness and tanginess of the Big Apple! This savory dish is perfect for chilly evenings or when you're craving a taste of the sea. Don't hesitate to customize the seasonings to your preference and savor the delicious flavors of this iconic red chowder. Also, be sure to check out my Boston clam chowder recipe as well to get the best of both clam chowder worlds!