Boston Clam Chowder Recipe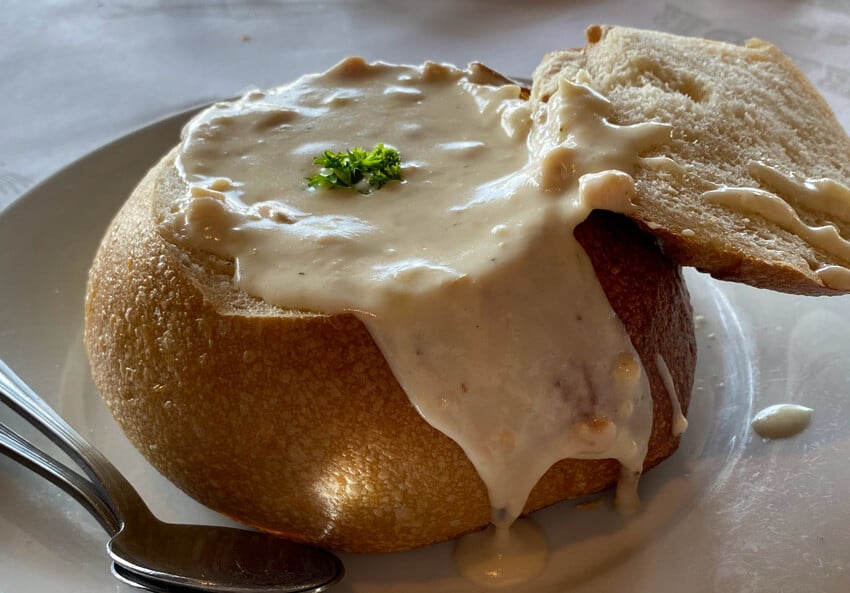 Boston Clam Chowder Recipe in a Sourdough Bread Bowl
Table of Contents for a Boston Clam Chowder Recipe
Boston Clam Chowder Recipe Overview
In this recipe, I will show you how to make a delicious Boston clam chowder. This creamy and comforting soup is perfect for to enjoy on any day of the year and will transport you to the shores of New England with every spoonful. The beauty of this dish lies in its simplicity and versatility, allowing you to customize it to your taste. So let's put on our chef hats and get cooking!
There are two different styles of clam chowder, a Boston clam chowder (also well known as the New England clam chowder) and a Manhattan clam chowder. The Boston clam chowder is known for its white creamy color that comes from the half and half and heavy cream, while the Manhattan clam chowder is known for its red color that comes from the use of tomatoes and tomato paste/sauce.
Boston Clam Chowder Recipe Kitchen Tools
Skillet

Measuring Cup

Measuring Spoons

Whisk

Spatula

Knife (to prep your ingredients)
Ingredients For The Boston Clam Chowder Recipe
1 tablespoon olive oil

4 slices Italian pancetta or bacon, diced

1 cup chopped celery

1 cup chopped onion

2 cloves garlic, minced

4 medium Yukon Gold potatoes, washed and diced (skin on)

6-8 small Bay leaves

2 teaspoons fresh chopped herbs (such as basil, oregano, and garlic)

1 teaspoon seasoning mix blend (with Mrs. Dash, garlic powder, onion powder, and whole thyme leaf)

Juice of half a lemon

2 cups canned clams (juice reserved)

1 cup half and half

1/2 cup heavy cream

2 tablespoons white wine (Chardonnay or Pinot Grigio)

2 tablespoons all-purpose flour

1 teaspoon clam base (optional, for added flavor)

3 pieces compound butter (optional, for an extra boost of richness)
New England Clam Chowder Recipe Video
Boston Clam Chowder Recipe Step-by-Step Cooking Instructions
Heat your skillet over medium heat and drizzle in some olive oil. Add the diced pancetta (or bacon) and sauté until lightly browned, ensuring it's cooked through but not too dark as we're aiming for a white chowder.

Add the chopped celery, onion, and minced garlic to the skillet with the pancetta. Sauté for about 1.5 minutes, softening the vegetables and allowing the flavors to meld.

Now, add the unpealed diced Yukon Gold potatoes and the small Bay leaves to the skillet. Stir everything together, letting the oils from the Bay leaves infuse into the mixture.

To absorb excess grease, sprinkle a small amount of flour* into the skillet and mix it in. This will create a roux-like consistency, binding the flavors together.

Pour the reserved clam juice from the canned clams into the skillet**, stirring well to incorporate all the flavors.

Add the fresh chopped herbs, seasoning mix blend***, and lemon juice to the mixture, enhancing the flavors of the chowder.

Allow the chowder to simmer until the potatoes are cooked through and the flavors have melded together, giving it a taste every now and then to check the seasoning.

After simmering, stir in the half and half and heavy cream, making sure not to let it boil to avoid curdling.

To thicken the chowder, create a slurry by mixing 2 tablespoons of white wine with 2 tablespoons of all-purpose flour until smooth. Gradually add this slurry to the chowder while stirring constantly until the desired thickness is achieved.

For an optional burst of flavor, add clam base to the chowder and stir it in thoroughly.

Finally, gently fold in the canned clams and let the chowder simmer for a few more minutes, allowing the clams to heat through without overcooking them.

If you desire an extra layer of richness, fold in three pieces of compound butter to enhance the creamy texture. And there you have your completed Boston clam chowder recipe!
Boston Clam Chowder Recipe Notes
*If you wish to make this clam chowder recipe into a gluten-free meal recipe, go ahead and use a flour substitute that is gluten-free. Some examples of gluten-free flour include; white rice flour, almond flour, coconut flour etc!

**Make sure to only pour in the clam juice in step 5, and avoid any of the canned clams from mixing in. It is important for the canned clams to be added in at the end to avoid the clams from being overcooked and chewy.

***In this recipe, I use Mrs.Dash seasoning to create a low-sodium Boston clam chowder recipe. However, feel free to use seasonings of your choice to substitute for Mrs.Dash if you wish.
There you go, an easy and delicious Boston clam chowder recipe! This creamy and hearty soup will surely warm your soul and satisfy your taste buds. Enjoy it with some crusty bread, breadsticks, sourdough croutons or oyster crackers for the perfect New England experience. So go ahead, take a spoonful, and savor the flavors of the sea. Happy cooking!