How to Make Breadsticks Recipe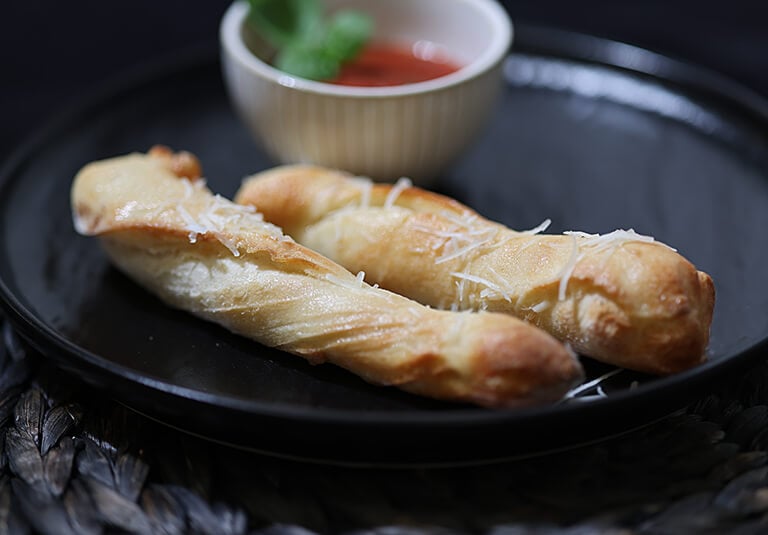 How to make breadsticks recipe overview:
Everybody loves freshly made bread and breadsticks. There are few things as good while waiting for a meal at a restaurant, or as satisfying while sitting down to watch your favorite team. Have them with homemade marinara sauce, or with garlic butter as a finish to be brushed on. To start, prepare fresh dough balls using our pizza dough recipe. When you're ready with the dough, here is how to make these super easy artisan breadsticks.
Equipment used in making the artisan breadsticks recipe
Small mixing bowl of flour to coat dough ball

Wooden peel to launch the artisan breadsticks onto the pizza stone

Pizza stone in the oven
Ingredients for this artisan breadsticks recipe
4oz dough ball

¼ cup freshly grated parmesan cheese

1 stick salted butter

12 large, peeled garlic cloves cut in half
Ingredients for this artisan breadsticks recipe preparation instructions
Start by preparing the garlic butter

Put one stick of butter and the peeled garlic cloves in a small saucepan.

Heat over medium/low for about 20 minutes, or until the garlic cloves are soft and the butter has turned brown.

Set the butter aside for brushing on the surface of the breadsticks. You can incorporate the soft garlic cloves into the dough if you like garlic breadsticks. Use 2 or 3 cloves, smashed and spread into the dough as you stretch it.

Use this garlic butter sauce glazed over this artisan breadsticks recipe for a restaurant quality appetizer!
Make the breadsticks
Heat oven to 375 degrees, and put a pizza stone on the rack if you have one.

Dust a wooden peel with rice flour or semolina to keep the dough from sticking while you use it to transport the breadsticks to the oven.

Stretch and roll the dough into a long snake shape. It will want to snap back, as the dough is pretty elastic. If it snaps back too much, let it rest about 30 minutes and you will have no problem rolling it longer and thinner.

When the dough is rolled to about 1" around, cut to whatever length you want and put onto the wooden peel.

Slide the dough onto the pizza stone in the oven.

Bake for about 10 minutes, or until the surface is golden brown.

Remove from the oven and brush generously with the garlic butter you made.