Quick and Easy Low Calorie Healthy Sautéed Spinach Recipe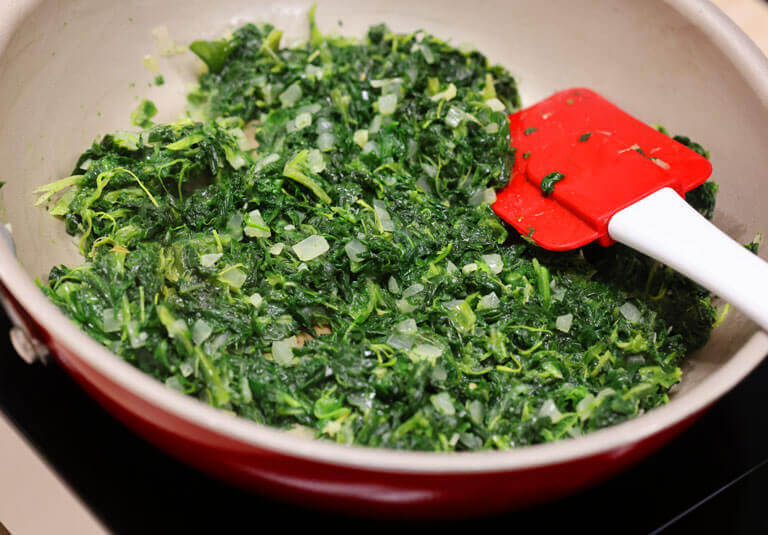 There's no way around it. Spinach is a stellar green vegetable, packed with macrominerals such as magnesium and essential vitamins. This nutritious ingredient is so easy to prepare, making it a wonderful entree item when cooked with eggs as in a quiche or omelette, an absolutely delicious standout when made into a pie as in Greek Spanikopita. healthy sautéed spinach is a star side dish for BBQ, classic Southern fare or your favorite pan seared ribeye steak. This recipe is wonderful for the home cook. The most time-consuming step is defrosting the spinach. Enjoy this hearty, luscious recipe as part of a quick weeknight meal or as an additional vegetable for your Sunday feast by simply doubling the recipe.
Ingredients for this easy healthy sautéed Spinach:
1 9oz package of frozen chopped spinach, defrosted

1 shallot, minced

2 cloves of garlic, minced

1 tbsp olive oil

1 tsp salt

1 tsp freshly cracked pepper

1/4 tsp ground nutmeg

1/2 C grated parmesan cheese

1 tsp freshly squeezed lemon juice
Instructions for cooking this Easy healthy sautéed Spinach Recipe:
Defrost the spinach draining off any extra liquid. Place in a clean kitchen towel and wring tight to extract any remaining water. Set aside.

Finely chop the shallot (minced red onion can also be substituted) and the garlic.

Add the olive oil to a medium sized sauté pan or sauce pan.

Add the minced onion, sprinkle with salt and pepper and sauté until slightly wilted.

Add the garlic and cook until fragrant.

Add the spinach and stir to combine, sprinkling with the remaining salt. Cook until heated through.

Add some parmesan cheese and nutmeg. Allow to simmer, stirring frequently, until the spinach is nestled into the luscious sauce and the sauce thickens. Finish with the lemon juice. Stir well and serve immediately.

Serve this healthy sautéed spinach recipe with a pan seared branzino recipe or a protein of choice for a luscious and delectable spinach side dish.
Note: Another way to serve this wonderful healthy sautéed spinach recipe concoction for when you have more time, is to place it in a shallow baking dish, sprinkle with additional parmesan cheese or even some shredded mozzarella. Bake and finish under the broiler for a wonderful cheesy topping.