Macrominerals and Their Functions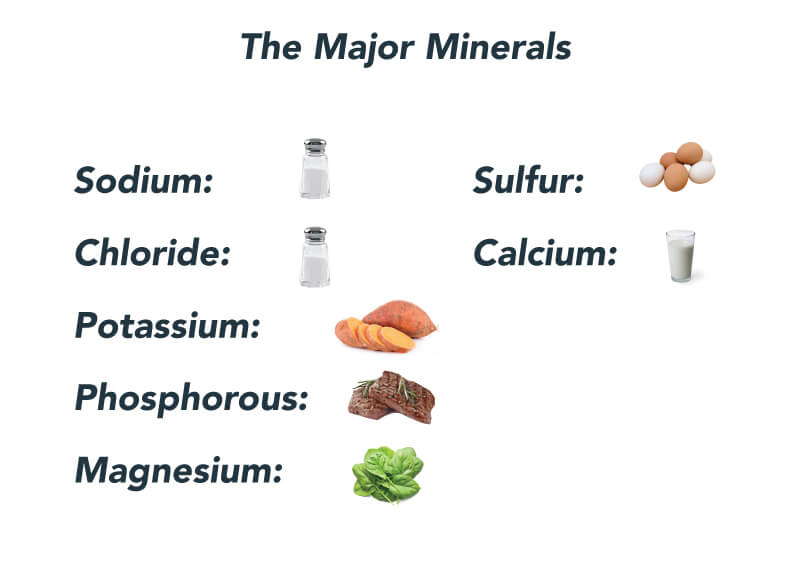 Macrominerals are a group of essential minerals. The word "macro" is added to the word "mineral" to accentuate the need to consume these minerals in larger quantities as opposed to other essential mineral type called trace mineral.
Major "Macro" Minerals and Their Functions
Macrominerals, also known as major minerals along with microminerals, or trace minerals are one of two categories of essential minerals. Macrominerals are needed in larger amounts than trace minerals.
We don't manufacture essential minerals in the body. We get them from our diet. The minerals come from rocks, soil, and water, and they're absorbed as the plants grow or by animals as the animals eat the plants.
Fresh foods aren't our only source of dietary minerals, however. Some processed foods, like breakfast cereal, may be fortified with minerals. And if you walk into any drugstore or look online, you'll see endless options for mineral supplements in the form of pills, powders, and chewables.
For a complete diet, macrominerals should to be paired with the 13 essential vitamins your body can't produce and has to get from food.
| Mineral | Function | Where to find |
| --- | --- | --- |
| Sodium | Needed for proper fluid balance, nerve transmission, and muscle contraction | Table salt, soy sauce; large amounts in processed foods; small amounts in milk, breads, vegetables, and unprocessed meats |
| Chloride | Needed for proper fluid balance, stomach acid | Table salt, soy sauce; large amounts in processed foods; small amounts in milk, meats, breads, and vegetables |
| Potassium | Needed for proper fluid balance, nerve transmission, and muscle contraction | Meats, milk, fresh fruits and vegetables, whole grains, legumes |
| Calcium | Important for healthy bones and teeth; helps muscles relax and contract; important in nerve functioning, blood clotting, blood pressure regulation, immune system health | Milk and milk products; canned fish with bones (salmon, sardines); fortified tofu and fortified soy milk; greens (broccoli, mustard greens); legumes |
| Phosphorus | Important for healthy bones and teeth; found in every cell; part of the system that maintains acid-base balance | Meat, fish, poultry, eggs, milk, processed foods (including soda pop) |
| Sulfur | Found in protein molecules | Occurs in foods as part of protein: meats, poultry, fish, eggs, milk, legumes, nuts |
References:
1. University of Michigan
2. Harvard University