Pan Seared Branzino Recipe with Blistered Tomatoes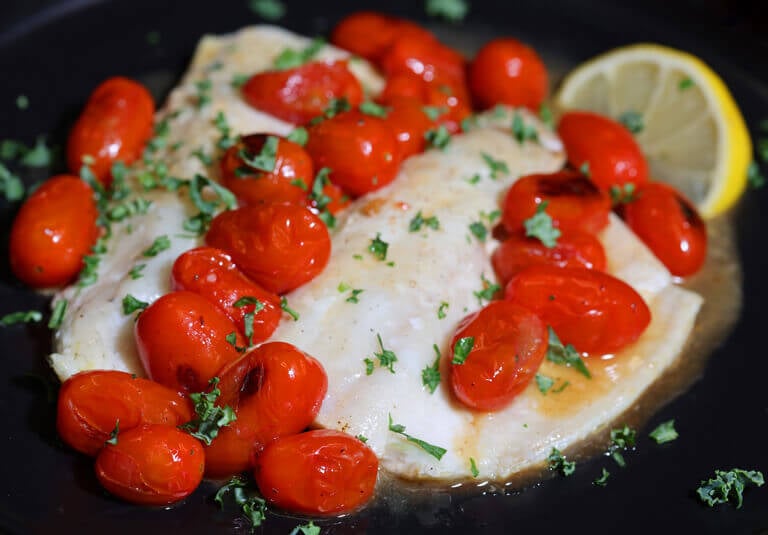 Branzino, or European Bass is a hot culinary item. Featured on many restaurant menus around the country, around the world as it is a wonderfully flaky white fish that's easy to cook and delicious to eat while being full of lean protein and vitamin D. Its flavor is similar to sea bass or halibut and either one makes a fantastic substitution in this dish. Perfect for a healthy midweek stunner of a meal, this dish has few ingredients but packed with bold flavors. Blistered tomatoes are a fun preparation, the browner the better, and more like a side dish than a sauce. But spooned over the fish fillets they are a perfect visual and culinary accompaniment.
Ingredients for Pan Seared Branzino with Blistered Tomatoes:
2 branzino fillets (available frozen in many stores; you can substitute any white fish fillets that you can find such as a sea bass fillet)

Salt and pepper

2 tbsp olive oil

1 C cherry or grape tomatoes

1/4 C white wine

Freshly squeezed lemon juice (to your taste)

1 tbsp butter

Fresh chopped parsley, chives, cilantro, your choice, to garnish and finish flavoring the dish
Cooking Instructions for Pan Seared Branzino with Blistered Tomatoes:
Pat the fish dry. Sprinkle with salt and pepper on each side to season.

Heat 1 tbsp of olive oil in your sauté pan over medium heat. Add the fillets and sauté till opaque, about 15 minutes. Remove from the pan, season with a sprinkle of lemon juice and cover to keep warm.

Turn the heat up to medium high and add the remaining olive oil. Once the pan is hot, add the tomatoes. Let cook for at least two minutes, please don't stir, so that the tomatoes start to brown and caramelize. Shake the pan every couple of minutes to let the tomatoes get cooked on each side.

Once the tomatoes are nicely browned, pour the white wine into the pan. Simmer for 3 minutes so that the alcohol cooks out of the wine and begins to thicken.

Add the butter and stir or swirl to combine.

Uncover the filets and spoon the tomatoes and sauce over them. Finish your presentation with a lemon wedge and a generous sprinkling of fresh chopped herbs for additional color and flavor.

Serve with a side dish of your choice such as a mixed greens side salad, a side of cauliflower rice or brown rice, or baked potatoes.