Baked Sea Bass Fillet Recipe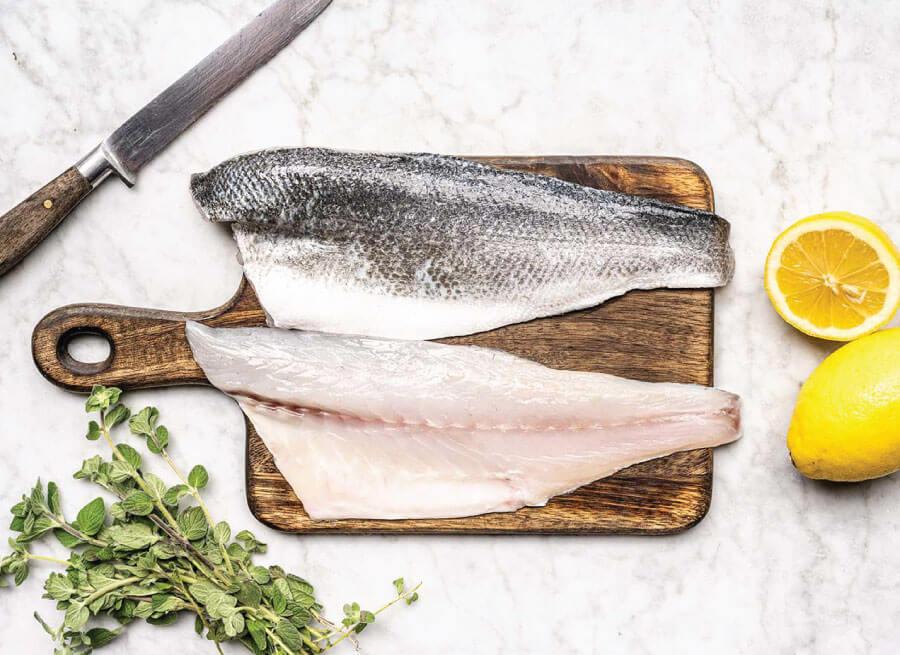 Sea Bass is a lean white fish. The fish is tender but very expensive in most stores and restaurants.
Table of Contents for this Sea Bass Recipe
Roasted sea bass Recipe Overview
Sea bass is a delicacy! This expensive fish is worth the hefty price tag. It can best be described as a lean whit fish low in calories and high in protein. The meat has a mild, delicate flavor profile with a subtle sweetness that is similar to grouper or cod fish. The flesh is moist, buttery, and tender, with firm, medium-sized flakes like haddock. Sea bass is an excellent choice for people with a sensitive palate that don't enjoy "fishy tasting" seafood.

You can frequently find sea bass fish fillets in breaded form at the grocery store, however for a healthy version of the sea bass recipe uses all natural, white sea bass fillets. Our roasted sea bass recipe uses 4oz-6oz cleaned sea bass fillets. Non-cleaned sea bass fillets have spines and sharp gill covers, which should be removed before cooking.

While chilean sea bass from the southern pacific is at risk of being over-fished, organizations that promote sustainable fishing suggest that people avoid eating this fish in favor of farmed sea bass from the mediterranean. In North America sea bass is frequently imported, which adds to the hefty price tag, but you can also find our healthy baked tilapia recipe for a more affordable type of fish.
Video of our Sea Bass/Branzino Cooling Down
This is what sea bass looks like when it is roasted in a convection oven. The sea bass loins remains very moist and tender.
"Our lives and our futures depend on the health of our beautiful, blue living ocean. When we protect the ocean, we are safeguarding the amazing living systems that delight and sustain us. We can create a future where we and the ocean thrive together. Let's do it!" -Julie Packard
Kitchen Tools For This sea bass Recipe
Baking Sheet Pan

Sauce Bowl

Brush

1/2 cup Measuring Cup
1/4 cup Measuirng Cup

Clean Container

Parchment paper
Ingredients for This Baked sea bass Recipe
A.
1/2 Cup of olive oil

1/2 Cup of lemon

1/2 Cup sea bass season mix
B.
12-16 Pieces per tray of sea bass fillets
Cooking Directions for this sea bass Recipe:
Take a bowl/container and add ingredients (A). Mix it well to ensure an even mix. The spice options for this sea bass recipe are endless, so feel free to flavor to taste.




Take a baking sheet pan with parchment paper and then lace it with ingredient (A) mix using the brush.




Add ingredient A mix on top of the B (sea bass) using the brush and make sure you cover all surface area. Lace the tray nicely to make sure your healthy and protein rich sea bass stays moist during the baking process.

Pre-heat your convection oven to 350 degrees farenheit.

Once the oven is ready, place the pan inside the oven.

Set timer to 20 minutes.

(After 20 minutes poke it with a fork or knife to ensure proper texture.) When it is properly cooked, it should have a smooth and buttery feel and the internal temperature of the flesh should be 145 degrees.

Remove the sheet pan from your convection oven and place it on the cooling rack or table. For best taste let the food sit for a few minutes and allow the sea bass to keep cooking gently while cooling down.
Roasted sea bass Recipe Ideas For Side Dishes
For a weight loss sea bass recipe a leafy green salad or low carb side is recommended – avoid the rich salad dressing and opt for a simple, low calorie seasoning like salt and pepper with a bit of olive oil or balsamic vinegar. For a keto sea bass recipe add a healthy fat source, for example an avocado or a side of almonds or walnuts.
If you would like to turn this sea bass recipe into a higher end, or a three course meal you can use this baked sea bass recipe as a main course using a spaghetti recipe, or a healthy baked potato recipe as to accompany the entree.