Pan Seared Cod Fillet Recipe With Parsley Butter Sauce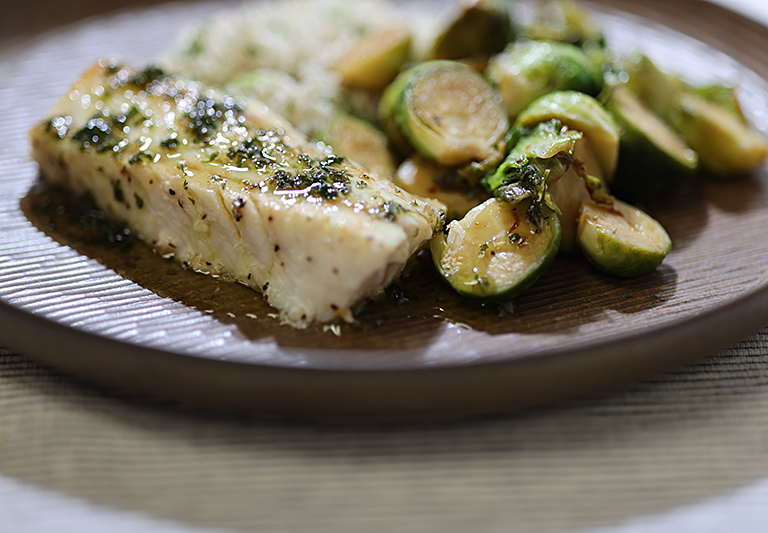 Pan Seared Cod Fillet Recipe Overview
Cod is good, cod is great. And cod can be a little boring all by itself. So, let's make an awesome browned butter/parsley sauce with a bit of lemon to brighten it up. There is nothing better than cooked butter – browned butter, or as the French like to say, Beurre noisette. Since this cod has a similar flavor profile as roasted sea bass I like to serve my pan seared cod with butter parsley sauce with a parsley brown rice and earthy brussels sprouts.
Kitchen Tools Needed for this Cod Fillet Recipe
Large skillet

Small saucepan

Spatula or wooden spoon

Measuring cups

Measuring spoons
Pan Seared Cod Fillet Recipe Ingredients
Cod recipe ingredients:

2 cod filets, about 4-6 ounces each

2 tablespoons olive oil

Salt and pepper to taste

Ingredients for the browned butter-parsley sauce:

1 stick of butter

¼ cup fresh chopped parsley leaves

1 tablespoon lemon juice

1/2 teaspoon salt (if you use salted butter, salt to taste at the end)
Instructions for this pan seared cod recipe
Pan seared Cod recipe sauce cooking instructions

In a small saucepan over medium heat, cook the butter until foamy and you can see brown bits forming on the bottom. I use a light-colored pan so I can see it better.

When the butter has browned, add the parsley and swirl to incorporate.

Add the lemon juice and cook for another minute over medium heat.

Reduce heat to low simmer just to keep it warm and ready to use.

Pan-cook the cod

In a large skillet over medium/high heat, add the olive oil and let it get hot.

Gently place the cod filets in the pan (dab the cod dry first so it doesn't spatter the oil).

Cook for about 4 minutes or until the bottom has turned golden brown.

Gently turn the filets over and cook for about 3 more minutes. When the fish starts to flake, you'll know it's done.

Once the cod is on the plate, stir the browned butter/parsley sauce well and drizzle over the cod. If you like (I think you will) also drizzle on the brussels sprouts and rice or whatever else is on the plate.

Serve with brown rice. I like to make a dirty rice by quickly frying the steamed brown rice in the same pan I cooked the cod. And since I have parsley left over, I throw that in there too. I also serve with earthy, rich and healthful brussels sprouts. See how to make brussels sprouts below.

Make brussel sporuts for this cod recipe

Heat a large skillet over medium/high heat.

Add 1 tablespoon olive oil and 1/2 stick of butter. Cook until melted.

Add trimmed brussels sprouts (cut the base off then cut in half top to bottom).

Season the sprouts to taste with salt and pepper.

Add about 1/4 cup water and cover while cooking for about 3 minutes. (optional, this step makes a more tender sprout when done).

Remove the cover, turn the heat up and cook until the brussels sprouts begin to caramelize (turn brown).

For those who love bacon, cut 4 or 5 bacon strips into lardons (small diagonal strips), fry them until crispy. Add the olive oil and butter (a bit less now, because of the bacon fat) and proceed as described above.

To elevate this side dish even more, garnish with bleu cheese crumbles, a balsamic vinaigrette and drizzle a balsamic a vinegar reduction (syrup)!