Low Carb Keto Cauliflower Rice Recipe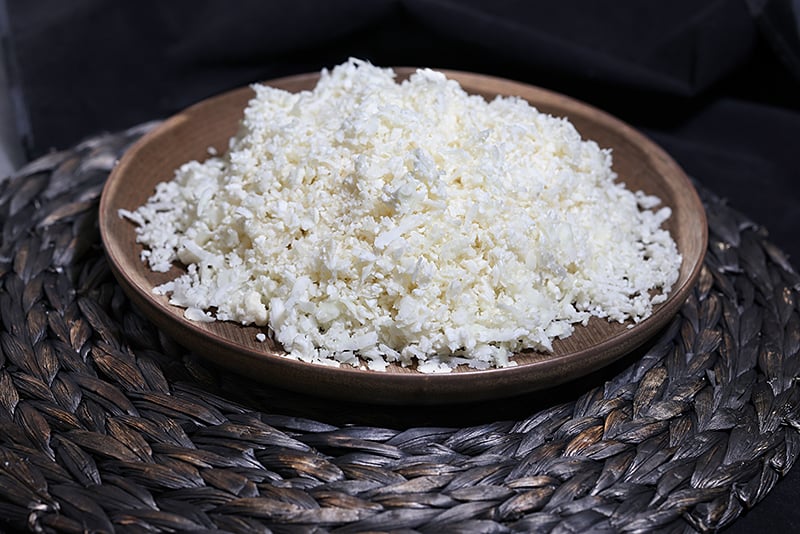 Keto Cauliflower Rice Recipe Overview
While being a great keto meal, turning a head of cauliflower into small cauliflower rice granules is as easy as it sounds. Grate it with a cheese grater, throw it into a blender or food processor, or shave it with a sharp knife. If there is moisture in the granules, you can spread them out on a sheet pan for 30 minutes or so, or squeeze in a paper towel. Excess moisture can make the grains a bit soggy sometimes. You can buy riced cauliflower frozen in bags at the grocery store, but just like any other frozen veggie, it loses a lot in translation – and it may not be ketogenic!
The raw granules aren't really anything to write home about. It's what you do after turning it into small cauliflower rice granules that makes the difference. I find that roasted or toasted keto riced cauliflower with browned butter and a bit of sea salt is a far better side dish than any white, brown or wild rice I've tasted. And anything you could imagine with rice, you can do with riced cauliflower. Just use common sense when cooking. It's a vegetable, after all, not a dried rice grain, so you can't put it in a rice cooker for example.
Kitchen Tools For This Keto Cauliflower Rice Recipe:
Kitchen knife

Cutting board

Food processor or box grater

Saucepan

Mixing ladle
Keto Cauliflower Recipe Ingredients & Shopping List:
1 cauliflower head trimmed

2 tablespoons butter soft

1 teaspoon minced fresh garlic

¼ cup grated parmesan

1 teaspoon kosher salt

⅛ teaspoon freshly ground black pepper

1 tablespoon of avocado oil
How to Prepare Cauliflower Rice
Wash the cauliflower, trim outer leaves and cut into chunks.

In a little saucepan create your keto sauce. On medium heat, add 2 tablespoons of butter and 1 tablespoon of avocado oil. Keep on low heat and let the butter melt with the avocado oil to create a mix. This is a sauce high in healthy fats that when poured over the low carb cauliflower rice recipe will give it the ketogenic recipe properties.

If you use a cheese grater, cut the cauliflower into large chunks and use the medium-sized holes to grate into "rice." If using a food processor, cut into smaller pieces and use the grater attachment to grate the cauliflower into "rice". I have even been known to use my sharp chef knife and simply shave the florets until I get down to the stalks. Don't go too fine on the mesh you use to blend your cauliflower or you may risk turning it into the base for cauliflower mash recipe.

Your low carb cauliflower rice recipe is now complete. To enjoy – cook the rice in the saucepan with the keto sauce to create a delicious keto riced cauliflower recipe. Alternatively you can cook your rice in a rice cooker, then drizzle your keto sauce to make a keto riced cauliflower recipe.

Optional: If you get excess moisture, spread the riced granules out on a sheet pan to dry a bit, or squeeze between paper towels.
Common Questions About How to Make Cauliflower Rice
Can I use frozen riced cauliflower from the market? Sure you can. It will not be as fresh tasting but is a way to skip the work and get straight to preparing it using your favorite recipes.
Can I store the ketogenic riced cauliflower? I have found that it's best to cook right away. When I've tried to store the raw riced cauliflower, it tends to smell funky after a day or 2. Best bet is to use right away, or freeze the riced cauliflower for use in the future.
Where the heck did riced cauliflower come from? I don't find any references to riced cauliflower much before the 2000s. It seemed to pick up steam and become more popular around 2010. And it's popularity isn't just a fad, as it's a super healthy along with cauliflower mash that are very tasty and easy way to use this weird under-appreciated veggie, and it's probably here to stay.
How long does riced cauliflower last? The raw riced cauliflower doesn't hold very well in the fridge. I recommend cooking it fresh, then freezing the unused portion, and storing the cooked riced cauliflower for 4 or 5 days in the fridge in a zip lock bag or sealed container.