Italian Eggplant Parmesan Recipe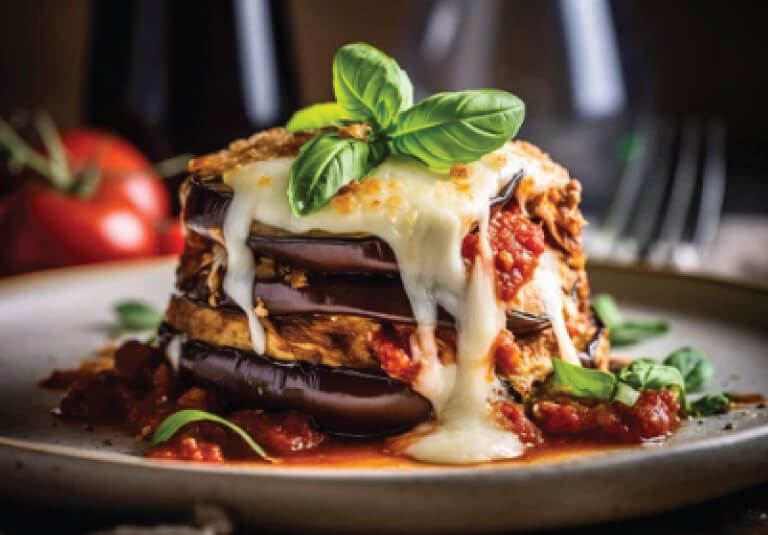 Table of Contents for Eggplant Parmesan Recipe
Italian Eggplant Parmesan Recipe Overview
In this step-by-step instruction blog, I will guide you through the process of making a mouthwatering eggplant parmesan recipe at home. This classic Italian dish is sure to be a hit with your family and friends. Let's get started!
Italian Eggplant Parmesan Recipe Ingredients
2 large eggplants

1 cup all-purpose flour

2 cups breadcrumbs

3 large eggs

1 bunch of fresh sweet basil

1/2 cup fresh chopped Italian parsley

2 cups marinara sauce (or you can use a homemade tomato sauce or store-bought sauce)

1 cup grated Parmesan Reggiano cheese

2 cups low-fat shredded mozzarella cheese

Salt and pepper to taste

Olive oil for frying
Breaded Eggplant Recipe Instructions
Prep your eggplants by washing the eggplants. Trim off the ends and cut them into 1/4-inch thick slices.

Season the eggplant slices with salt and let them sit for about 15 minutes. This helps to remove excess moisture and bitterness from the eggplants.

In three separate shallow dishes, set up your breading station. Place the flour in one dish, beaten eggs in another, and breadcrumbs in the third dish.

Dip each eggplant slice into the flour, shaking off any excess.

Next, dip the floured eggplant slice into the beaten eggs, coating it thoroughly.

Finally, coat the eggplant slice with breadcrumbs, pressing down gently to adhere the breadcrumbs to the eggplant. Repeat this process for all the eggplant slices.

In a large skillet, heat enough olive oil over medium-high heat to cover the bottom of the pan. Fry the breaded eggplant slices in batches until they are golden brown and crispy on both sides. This should take about 2-3 minutes per side. Place the fried eggplant slices on a plate lined with paper towels to absorb any excess oil.
Italian Eggplant Parmesan Recipe Video
Italian Eggplant Parmesan Recipe Instructions
Preheat your oven to 375°F (190°C).

In a baking dish, spread a thin layer of marinara sauce (very similar to tomato sauce) to cover the bottom.

Arrange a single layer of fried eggplant slices over the marinara sauce.

Sprinkle some shredded mozzarella cheese and grated Parmesan Reggiano cheese over the eggplant.

Add a few pieces of fresh sweet basil and chopped Italian parsley on top of the cheese.

Repeat the layering process with the remaining ingredients, finishing with a layer of cheese and herbs on top.

Cover the baking dish with aluminum foil and bake in the preheated oven for 25 minutes.

Remove the foil and bake for an additional 10-15 minutes or until the cheese on top is bubbly and golden brown.

Allow the eggplant parmesan to cool for a few minutes before serving.
Eggplant Parmesan Recipe Notes
For an egg-free breaded eggplant recipe, reference our egg-free breaded chicken tender recipe, replacing the chicken with eggplants and seasonings according to the regular breaded eggplant recipe.

Garnish with some extra fresh basil and parsley if desired.

Serve hot and enjoy this delectable homemade eggplant parmesan recipe with your favorite mixed green salad or some breadsticks.
This Italian classic is a delightful combination of flavors and textures that is sure to please everyone at the table. You will think you are eating this in Tuscany!