Quick and Easy Lemon Pesto Chicken Tenders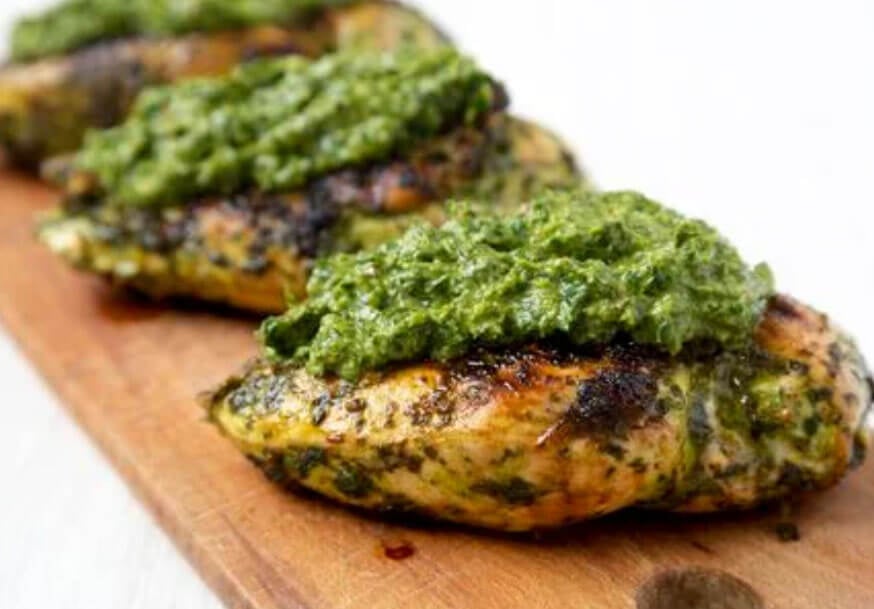 One of our favorite quick meals at home in a pinch are lemon pesto chicken tenders. (Also known as lemon pepper chicken fingers if we're being really playful). These lemon pepper chicken tenders cook relatively quickly and can be served on their own with a dipping sauce of your choice, whatever you fancy. When you order chicken fingers at a restaurant or purchase frozen ones from the store, the breading is often heavy and loaded with extra fats and calories, as they've most likely been cooked in a deep fat fryer. In this lemon pesto chicken tenders recipe we are cooking the chicken fingers from scratch. Once again, as always, taking the extra time to cook such a delicious recipe from scratch allows you to take control, as we've done here, to use healthier fats such as olive oil. Tossing these lemon pepper chicken tender pieces in a light dusting of arrowroot, corn starch or flour cuts back on carbs and calories that would be present in bread crumbs, but provides just enough starch to crisp the outside of the chicken so that the sauce adheres to it better. Using fresh pesto sauce as the base to coat the chicken in this recipe elevates it from the usual 'dunk in ketchup status'. You'll definitely need a napkin to eat these succulent chicken pieces, and the tanginess of the coating of this lemon pesto chicken tender recipe will draw you back for more.
Equipment Needed to Make this Lemon Pesto Chicken Tenders Recipe:
Medium sized bowl

Small bowl

Sauté pan

Tongs

Arrowroot

Salt

Pepper
Ingredients For These Lemon Pesto Chicken Tenders Recipe:
Chicken Tenders

Lemon juice

Cheese

Arrowroot
Cooking Instructions For These Lemon Pesto Chicken Tenders
In a medium sized bowl, stir together the pesto, lemon juice and cheese. Set aside.

In another small bowl, season the arrowroot with salt and pepper and mix well. Add the chicken and toss in this mixture to coat. Set aside.

Heat the olive oil in your saucepan until it becomes shiny. Add the tenders and sauté till browned, about 5-7 minutes each side.

When the tenders are cooked through (165 internal temperature) transfer them to the bowl with the pesto mixture and toss to coat.

Serve this lemon pepper chicken tenders recipe immediately. These tenders are full flavored enough to be eaten alone, over rice, or with a simple low calorie mixed greens salad on the side.