Kidney Friendly Pulled Chicken Recipe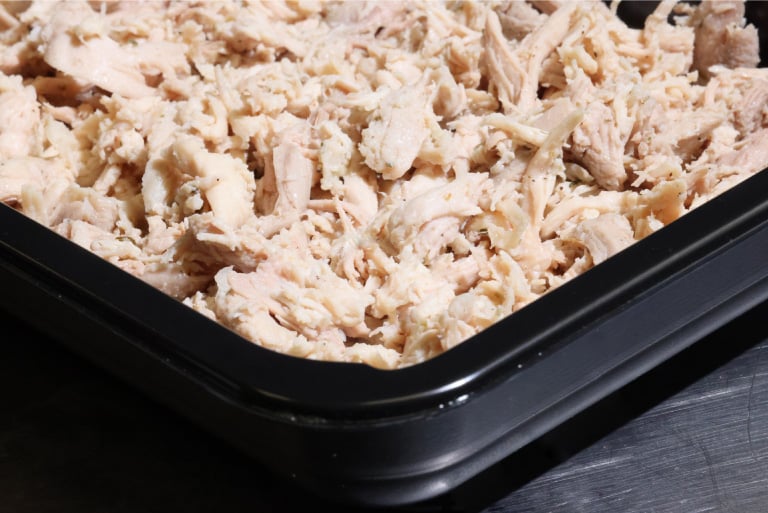 This Kidney Friendly Pulled Chicken Breast Recipe is Low Sodium, Low Potassium and Low Phosphorus. Consume no more than 2oz of this per meal if you are in Stage 4 of renal failure.
Kidney Friendly Pulled Chicken Breast Recipe
This renal friendly shredded chicken breast recipe is a versatile protein that can accommodate a plethora of renal failure stages from Chronic Kidney Disease Stage 2 to Pre-Dialysis or Dialysis. Depending on the stage of renal failure you find yourself in modify the quantity of pulled chicken breast you consume as follows:
Stage 2-3 of renal failure: 2-3oz portions per meal

Stage 4 of renal failure (pre-dialysis): 2-3oz portions per meal

Stage 5 of renal failure (dialysis): 6oz portions per meal
At all stages of renal failure this kidney friendly shredded chicken breast recipe is easy to prepare and due to the poaching cooking method remains tender and moist. After you've made this recipe that includes several ingredients known to lift flavor without fat, you can make it in advance and keep in the fridge for a quick and healthy and high protein snack (great if you are following a dialysis meal plan).
Ingredients for this Kidney Friendly Shredded Chicken Breast Recipe:
1 large chicken breast or thigh, poached

Cumin – to taste

1 stalk of celery, trimmed, peeled and chopped into small dice

Optional Kidney Friendly Pulled Chicken Breast Seasoning

1 tbsp lemon juice

1 tbsp freeze dried minced red onion or 2 tbsp fresh minced shallot
Important!

If you are a patient undergoing dialysis treatments do not consume this renal friendly chicken recipe with a soup or liquid side dish.
Instructions for this Kidney Friendly Pulled Chicken Breast Recipe:
In a small saucepan, bring 2 cups of water to a low simmer. Season your chicken and place gently into the water. Cook on medium heat for about 20 minutes, or until the chicken is no longer pink inside. Set aside to cool.

Rinse the celery stalk. Run your peeler down the front of the stalk to remove any of the overly thick fibers. Chop into a small dice.

Cut your shallot into a small dice or mince.

Once the chicken is cooler to the touch, use your fingers or two forks to pull the meat apart into small pieces. Sprinkle with cumin for flavor.

Add the chopped veggies to the kidney friendly pulled chicken breast and mix together.

Add the ingredients to the bowl and stir well.

Taste the renal friendly pulled chicken breast for good seasoning. Chill and enjoy by itself or over a healthy mixed greens salad.
If you do not have time to cook renal friendly meals we are here to help. You can stop progression of your chronic kidney disease and mitigate risks with healthy premade renal friendly meals delivered.