Low Phosphorus Dialysis Tilapia Recipe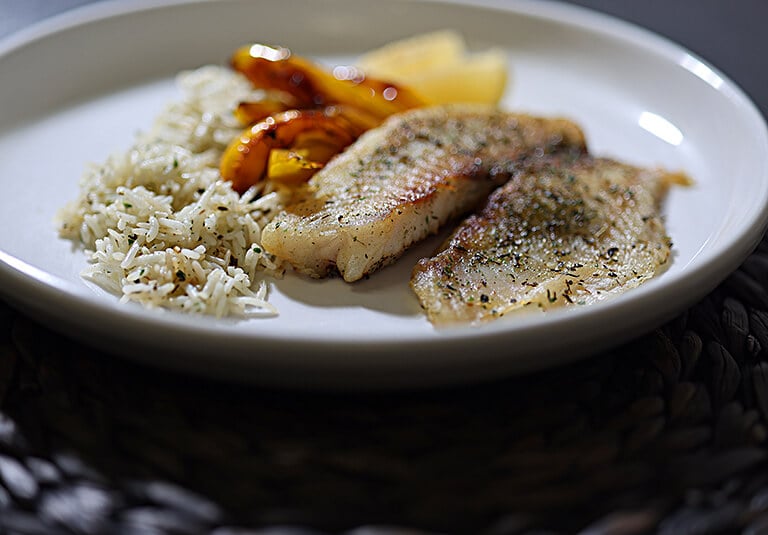 Low Potassium & Phosphorus Dialysis Tilapia Recipe
Low Phosphorus Dialysis Tilapia Recipe Overview
This dialysis tilapia recipe is low phosphorus, low sodium, low potassium and high in protein for patients in CKD stage 5. This dialysis tilapia recipe is made following nephrologist guidelines and chef recipes. This tilapia meal is easy to make, tastes great and will treat your body right. I've used olive oil and herbs to pan-fry the fish, and paired it with the earthy sweetness of caramelized yellow bell pepper and rice for a quick, delicious treat. If you are in an earlier stage of renal failure, your diet requirements are different. See the difference in renal diets explained on our renal meals page.
Low Phosphorus Dialysis Tilapia Recipe Ingredients
2 tilapia filets

1 yellow bell pepper cut into strips

3+ tablespoon olive oil

1 teaspoon dried parsley

1 teaspoon oregano

1 teaspoon thyme leaves

1 cup cooked rice.
Kitchen Tools for this Low Phosphorus Fish Recipe
2 skillets

Spatula

Measuring spoons

Knife and cutting board
Low Phosphorus Dialysis Tilapia Recipe Cooking Instructions
You will be using 2 skillets, one for the fish and another for the peppers and rice.
Dialysis tilapia recipe preparation

Blend the 3 herbs together in a small bowl or cup.

Season the filets with about ½ of the mixed herbs.

Heat a large skillet on high, with 2 tablespoons olive oil.

When the oil is hot, reduce the heat to medium and gently place the filets into the skillet.

Cook about 3 minutes on each side (image 1 and 2 above).

Yellow peppers and rice preparation for our dialysis tilapia recipe

In the second hot skillet, add 1 tablespoon olive oil, the strips of yellow bell pepper and the rest of the herb blend.

Cook the peppers on medium/high, (image 1) stirring occasionally to develop color on all sides. When the peppers have begun to caramelize or turn brown in spots (see image 2 above), remove from the pan and set aside.

In the same pan the peppers just came from, add the cooked rice and swirl to.

Serve with the peppers and tilapia for a delicious and easy dialysis tilapia recipe. Alternative, allow us to do the cooking and enjoy dining on pre-cooked dialysis meals delivered.