Kidney Friendly Chicken Fajita Recipe For CKD Stage 2 & 3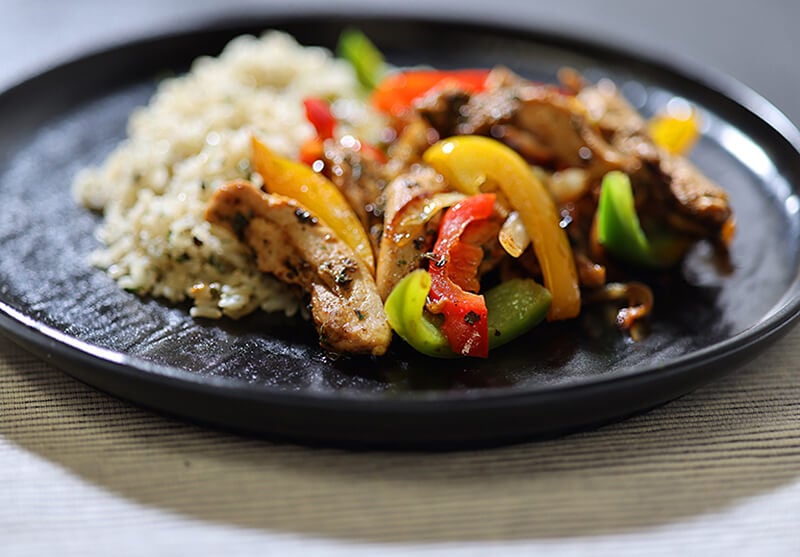 Kidney Friendly Chicken Fajita Recipe Overview
These kidney friendly chicken fajita recipe is written for CKD stage 2 & 3. This renal meal is easy to make. It has beautiful, fresh bright colors from the peppers and taste great, using a natural herb blend and the natural earthy sweetness from roasted onions and peppers. The typical spice and salt normally experienced with fajitas is not necessary here, as the herbs and natural caramelization of the veggies do a great job of developing a delicious flavor profile. Here is another recipe you may enjoy this chicken piccata recipe for CKD diets.
Kidney Friendly Chicken Fajita Recipe Ingredients:
1 chicken breasts cut into strips

½ yellow bell pepper cut into strips

½ red bell pepper cut into strips

½ green bell pepper cut into strips

1 small yellow onion cut into strips

2 tablespoon olive oil

1 teaspoon dried parsley

1 teaspoon smoked paprika

1 teaspoon ground basil

1 teaspoon oregano

1 cup cooked brown rice.
Kitchen Tools Used for this Renal Friendly Chicken Fajita Recipe
2 skillets

Spatula

Measuring spoons

Knife and cutting board
Kidney Friendly Chicken Fajita Cooking Instructions:
Cooking the onions and peppers

Prepare all peppers and onions by cutting into strips

Heat a large skillet on high, with 1 tablespoon + olive oil.

When the oil is hot, reduce the heat to medium and place the onions into the pan (image 2).

Cook the onions until they begin to brown and turn translucent (image 3).

Add the peppers and keep cooking until they begin to get tender (image 4).

Remove the veggies from the pan and set aside.

Cooking the chicken for our fajita recipe

Mix the 4 herbs together in a small bowl or cup

In the same hot skillet you just used to cook the veggies, add a little more olive oil and put the chicken strips in and sprinkle 3 teaspoons of the herb blend over the chicken. (Image 1) Save 1 teaspoon of the seasoning for the rice.

Cook the chicken, turning occasionally for good color on all sides (image 2).

When the chicken is almost done, add the veggies previously cooked into the skillet and cook together until the chicken is completely done. The chicken is done when the internal temperature is 165 degrees. If you don't have a probe thermometer, simply choose one of the largest strips of chicken and cut it in half to see if the fluids run clear and there is no pink inside.

Cooking the rice for our renal friendly fajita recipe

While the fajitas are cooking, heat a small skillet or saucepan over high heat

Add olive oil into the bottom of the pan

Add the already cooked rice

Add the rest of the herb mix (1 teaspoon)

Mix to blend and heat through

Serve with the fajitas
If you do not have time to cook renal friendly meals we are here to help. You can stop progression of your chronic kidney disease and mitigate risks with healthy premade renal friendly meals delivered.