Easy Broccoli Stalk Soup Recipe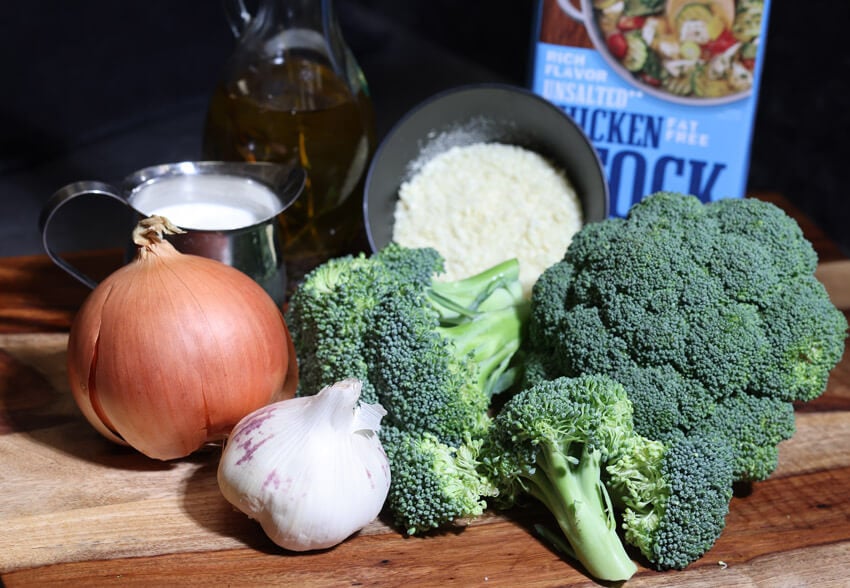 Broccoli soup with a side of sourdough bread crutons can be a magical meal when you've had a difficult day, especially if you're feeling tired and ready for bed. A quick chop and sauté of vegetables simmered in broth, this recipe can be made very quickly and plated in under an hour.
Equipment Needed for this Quick and Easy Broccoli Stalk Soup Recipe:
Knife and cutting board.

Large saucepan.

Emersion blender.
Ingredients for this Quick and Creamy Broccoli Stalk Soup Recipe:
Preparation of the Quick and Creamy Broccoli Stalk Soup Recipe:
Trim your broccoli by cutting off any dark pieces from the stem. If the stem is large and woody, you can use a peeler to remove the tough skin and make it more tender. Slice the stem in chunks and cut off all the florets. Set aside in two separate bowls.

Add the olive oil to the sauce pan over medium heat. Sauté the onion and broccoli stems until the onion is opaque and the stem cuttings are tender.

Add the minced garlic and sauté just for a few minutes longer.

Add your stock to the pan and bring to a simmer. Add the remaining broccoli pieces and allow them to simmer in the broth for 5-8 minutes more.

Once the broccoli pieces are completely tender, remove the pan from the heat and allow to cool down for a few minutes. When the mixture is a bit cooler, use your immersion blender to make the soup as velvety as you want. If you prefer some chunks of broccoli remaining, you can set aside some florets before blending. Once you've blended the broccoli stalk soup, add some potato flake if you want the mixture to be thicker. Continue blending and adding potato flakes until you find your desired thickness and consistency.

Return the broccoli stalk soup to your burner, add back the reserved florets and bring to a simmer again. Reheat, stirring constantly. Once the broccoli stalk soup comes to temperature, remove from the heat, stir in the 1/4 C of cream if desired. Serve immediately topped with shredded cheese, sourdough crutons and extra fresh cracked pepper to your liking.