Healthy Catfish Recipe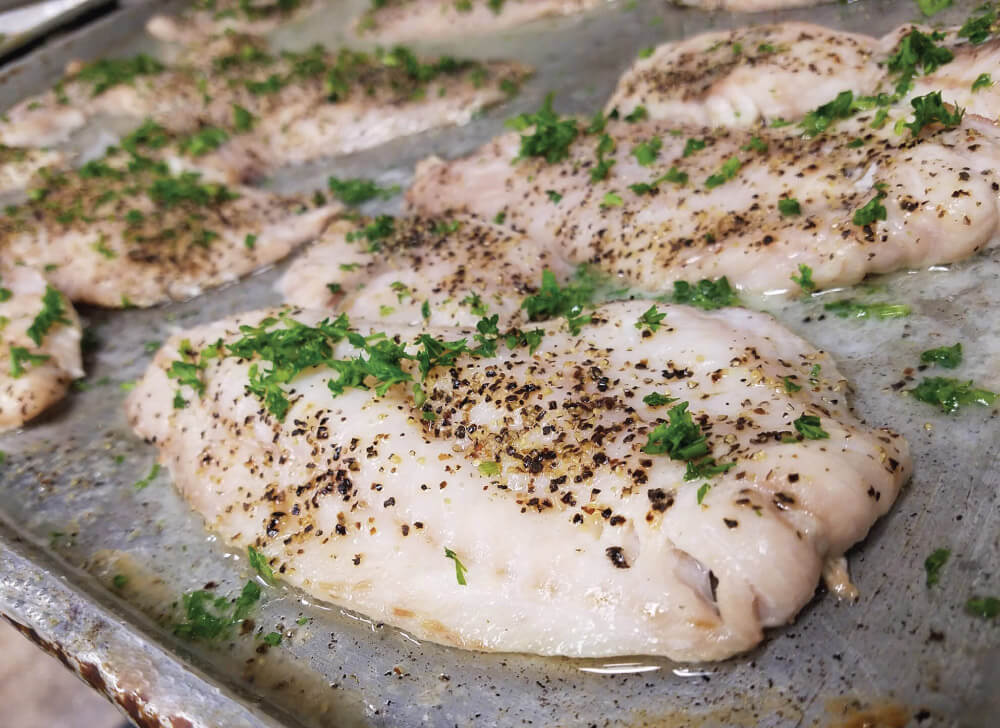 This healthy red catfish recipe uses farmed fish fillets from North America.
Roasted catfish Recipe Overview
catfish is a lean whit fish low in calories and high in protein, and is frequently consumed pan seared or in breaded form.

Because it's a grain-fed, farmed fish, catfish has a consistently sweet, mild taste. Catfish is a versatile seafood options since it absorbs other flavors readily and can be transformative with different sides and recipes. The moist, dense meat is firm and has less flake than the typical whitefish.

However, in this baked catfish recipe we will be roasting catfish fillets to maintain a low carb nutrition profile. Our slow-cooked roasted catfish recipe will be slightly crispy on the outside and tender on the inside. We will use 3-5oz catfish fillet portions but you can buy any size catfish fillet your local grocery store. This is great for baked catfish recipe idea, but it can also be a great baked catfish recipe idea for any diet plan paired with the appropriate side dish.
This baked catfish recipe can be adapted for a keto diet, weight loss diet, high protein diet, or for generic lunch or dinner dishes to be enjoyed with friends or family.
Kitchen Tools For This catfish Recipe
Baking Sheet Pan

Sauce Bowl

Brush

1/2 cup Measuring Cup
1/4 cup Measuirng Cup

Clean Container

Parchment paper
Ingredients for This Baked catfish Recipe
A.
1/2 Cup of olive oil

1/2 Cup of lemon

1/2 Cup catfish season mix
B.
12-16 Pieces per tray of catfish fillets
Cooking Directions for this catfish Recipe:
Take a bowl/container and add ingredients (A). Mix it well to ensure an even mix.




Take a baking sheet pan with parchment paper and then lace it with ingredient (A) mix using the brush.




Add ingredient A mix on top of the B (catfish) using the brush and make sure you cover all surface area. Lace the tray nicely to make sure your healthy and protein rich catfish stays moist during the baking process.

Pre-heat your convection oven to 350 degrees farenheit.

Once the oven is ready, place the pan inside the oven.

Set timer to 20 minutes.

(After 20 minutes) Remove the sheet pan from your convection oven and place it on the cooling rack or table. For best taste let the food sit for a few minutes and allow the catfish to keep cooking gently while cooling down.

Let it cool for a couple of minutes and pair with your side of choice.
Roasted catfish Recipe Ideas For Sides and Serving Suggestions
As a weight loss catfish recipe a leafy green salad or low carb side is recommended – avoid the rich salad dressing and opt for a simple, low calorie seasoning like salt and pepper with a bit of olive oil. For a keto catfish recipe add an avocado for a healthy fat source.
If you would like a classic idea you can combine this baked catfish recipe with a easy vegan spaghetti recipe with tomato sauce, or a healthy baked potato recipe to create a healthy alternative to the traditional fish and chips, that are often served breaded and deep fried. For a casual meal just mix and match with different sides for a healthy and mouthwatering recipe you will always enjoy dining on.