Blueberry Sauce Recipe For Pancakes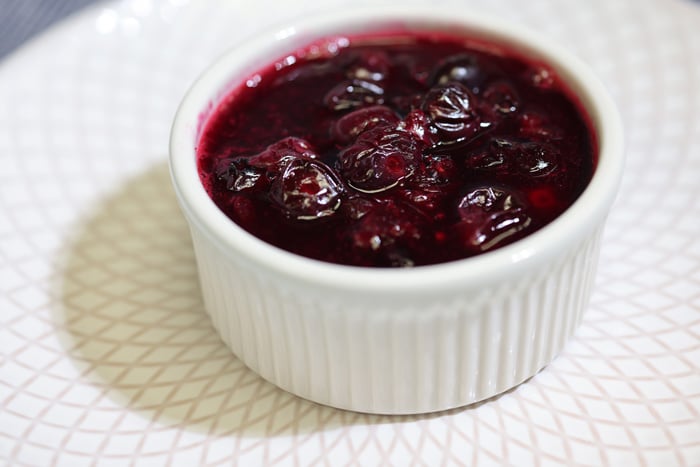 Blueberry Sauce Recipe Table of Contents
Blueberry Sauce For Pancake Recipe Overview
So simple and so good, berries can put a classic pancake or crepe dish over the top. Especially when you're concerned with putting healthy ingredients into your body, or if you are on a weight loss diet and are opting for keto pancakes as opposed to the traditional regular pancake we all grew up with. No matter how good a pancake is or claims to be, for me, it has never been able to match the expectations of a rich, fluffy griddle cake my grandmother used to make for me when I was a child. (I recently discovered rice flour pancakes with gluten free benefits – and I have to admit that it's a damn fine pancake. Let's just call it a grown-ups pancake.)

So, the discovery and recent exploration into berries has been a culinary and soul-saving revelation for me. The simple recipe to follow is a very basic start that a home cook can vary to their whim, utilizing seasonal produce, berries of choice, experimenting with pairings, and so on.

Not only a breakfast companion, try pairing berries with pork, chicken, cheeses, oatmeal. Endless possibilities exist when using this blueberry sauce recipe to finish a meal.
Kitchen Tools For This Blueberry Sauce Recipe:
Saucepan

Measuring cups

Measuring spoons
Blueberry Sauce for Pancakes Ingredients
Blueberries fresh or frozen – 2 cups

Water – 1/4 Cup

Lemon juice – 1 tablespoon

Stevia – 1/4 teaspoon

1 cup white rice flour

Cornstarch – 2 teaspoons
How to Cook a Blueberry Sauce Recipe for Pancakes
Put berries into a small saucepan, with the water, lemon juice and sweetener. Heat on medium until bubbling, add the corn starch to thicken, cook for about a minute and remove from heat.




Can be used immediately warm, or stored in an airtight container in the refrigerator for about a week.



Homemade Blueberry Sauce Recipe for Pancake FAQ's
What are the health benefits to using this blueberry sauce for pancakes?Berries are loaded with antioxidant-rich plant compounds called flavonoids that provide potent health protection.
Are fresh berries or frozen berries better? One of the most little known facts about berries: while nothing beats the taste of fresh berries, frozen berries are a great alternative. In fact, frozen berries may even be better for you. Research from South Dakota State University, has found that ice crystals formed during freezing disrupt the structure of the berry's plant tissue, making the antioxidants that are present more available to the body. This is great news, especially when fresh berries are too expensive or simply out of season.
What type of berry is best for a berry sauce recipe for pancakes? While wild blueberries often get top spot for their antioxidant content, all berries are antioxidant superstars, and eating a wide variety is probably ideal. Organic berries, if you can afford them, are also a good choice as they're higher in antioxidants than regular berries.