No Bake Energy Bar Recipe With Protein Powder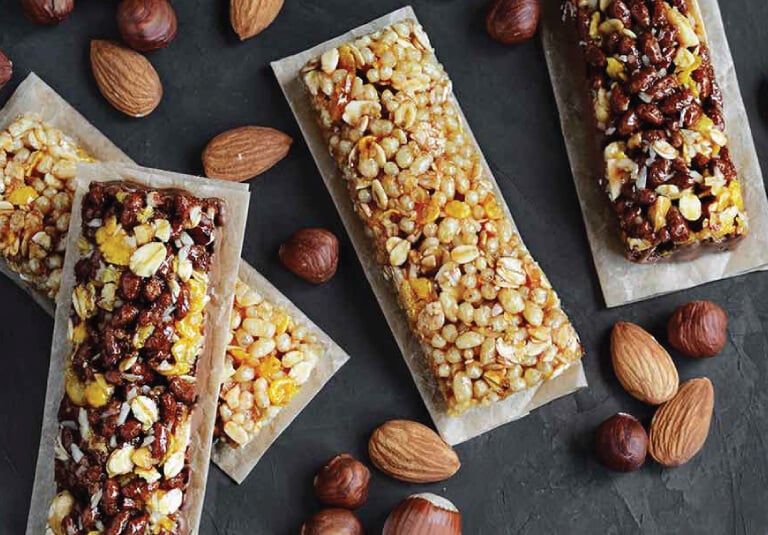 Table of Content for an Easy Homemade Basic Protein Bar Recipe
Homemade Energy Bar Recipe with Protein Powder Overview
This protein bar recipe is a great addition to your bodybuilding meal plan and supplement plan. You can use it to spike your insulin right after your workout since it contains a natural sugar source, which is honey. If you have dietary restrictions, such as gluten sensitivity, dairy intolerance, or nut allergies – you can always use substitute ingredients to accommodate various dietary needs. Simple to make at home and customizable to your preferences, these protein bars are the ideal on-the-go snack or post-workout boost!
How to Make this Energy Bar Recipe at Home Video
Kitchen Tools Needed for This Protein Bar Recipe
Measuring Cups

Measuring Spoons

Spatula for Mixing Ingredients

Mixing Bowl

Pan to Mold the Protein Bar
Ingredients for This Homemade Protein Bar Recipe
1/2 cups rolled oats (gluten-free)

3/4 cup protein powder (or any other preferred protein powder)

1/2 tsp Cinnamon

Pinch of Salt

1/4 cup Honey (or agave syrup or maple syrup for a vegan option)

Water (if needed to adjust the mixture)
Homemade Protein Bar Recipe Step-By-Step Instructions
In a bowl, pour in your rolled oats and for your binder to make sure the dry mixture stills together, add the honey (or alternative sweetener such as agave or maple syrup).

Add your cinnamon and pinch of salt to the mixture for extra flavor, and mix well.

Add in protein powder of your choice.

If the mixture is too dry, now is the time to add a tablespoon or two of water to your mixture. Add in little by little to check the consistency as you go. Thoroughly mix the ingredients together.

Take a pan and press the mixture in, making sure it is evenly well-packed.

Cover the pan with plastic wrap and place it in the refrigerate for about an hour to set the bars so they are able to hold their shape.

Once the protein bar is finished setting, flip over the pan to remove the protein bar from the pan and to reveal your complete protein bar recipe!

Once the bars have set, you can take them out and cut them into individual servings.
These homemade basic protein bars can be enjoyed on the spot and can also be saved to enjoy throughout the week. Make sure to use the appropriate meal prep container to store these protein bars in room temperature to enjoy throughout the week as an on-the-go snack! Also, remember that you can easily customize the recipe by using different nut butters, sweetners and toppings to suit your taste preferences and dietary restrictions.