Classic Pancake Recipe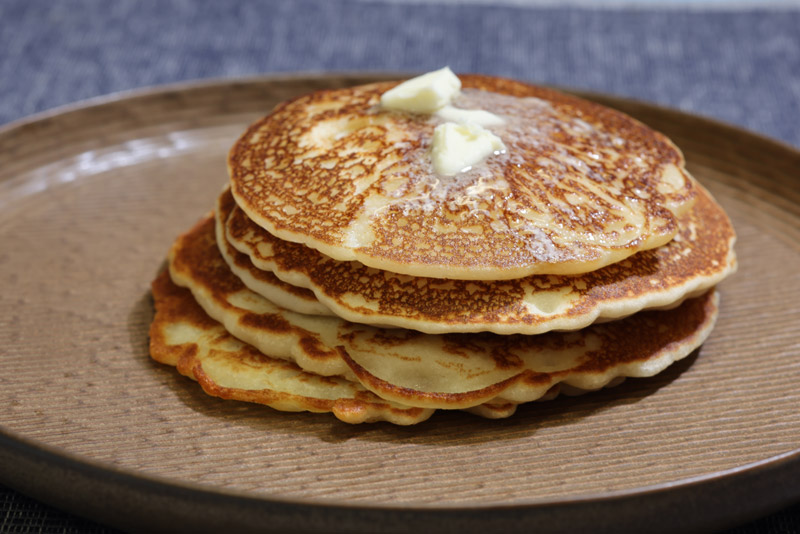 Pancake Recipe Table of Contents
Classic Pancake Recipe Overview
As a close second behind scrambled eggs and omelettes, pancakes are fan favorite for a brunch or snack. This homestyle pancake recipe yields 5-6 tender, delectable pancakes with a fluffy texture. I used butter and a classic blueberry sauce as topping for my test plate here and got to say, these will probably be my go-to home recipe whenever making pancakes – which are a close second to my favorite omelette recipe.
Kitchen Tools For This Classic Pancake Recipe:
Mixing bowl

Measuring cups

Measuring spoons

Whisk

Frying pan
Classic Pancake Recipe Ingredients & Shopping List:
All purpose flour – 2 cups

Whole milk – 2 cups

1 Egg

Kosher salt – 2 teaspoons

Brown sugar – 1 teaspoon

Baking Powder – 2.5 teaspoons

Butter – 2 tablespoons
How to Prepare Classic Pancakes Recipe Cooking Guide
Mix all dry ingredients in a mixing bowl and whisk to blend all evenly.

Add the milk, egg and melted butter while vigorously whisking to blend all into a creamy batter. Let the mixture rest for 10 minutes to allow the flour to become hydrated.

Preheat a frying pan with oil, until hot. Spoon dollops of batter into the pan and let them cook until bubbles appear and start to pop. Flip the pancakes and cook until done. Remember to be just a little careful when turning.

Repeat this process until the batter is used.
You can also use the same batter to make some crepes since the batter is interchangeable.
Common Questions About How to Make Classic Pancakes
What flour do I use? All purpose flour is best. However if you would like to make a gluten free pancake you can use rice flour, or almond flour for preparing a keto pancake recipe.
How do I store my classic pancakes? Store your pancakes in a refrigerator in an air-tight container for up to a few days or cover with plastic wrap, layer with parchment paper – and freeze.