Quick and Easy Breakfast Omelette Recipe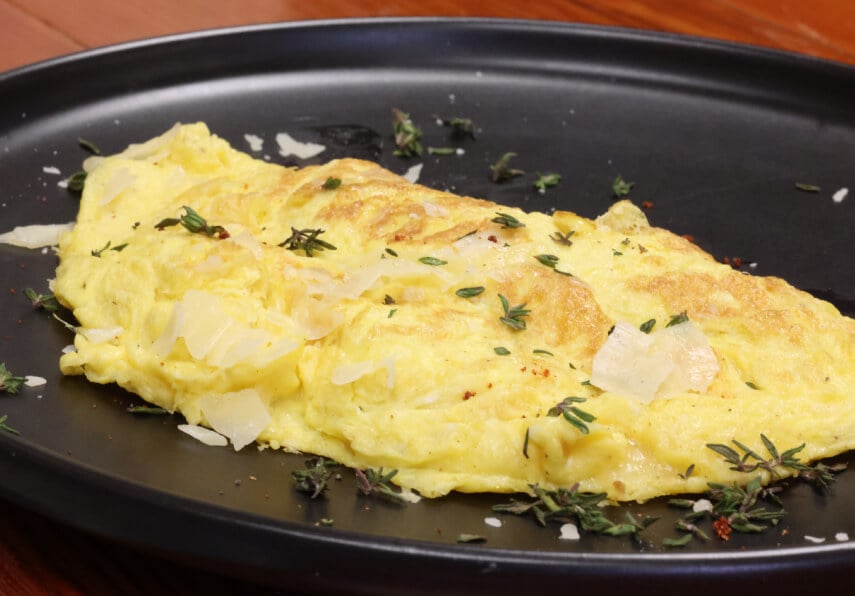 This easy omelette recipe is a classic breakfast dish along with crepes and pancakes. This omelette is quick to make, and it can be customized to your palette and diet type with a variety of fillings. You can prepare this omelette recipe using egg whites and ham to make this into a high protein breakfast omelette recipe – or you can opt to remove the cheese to make this a dairy free omelette. The possibilities are endless! Below is a classic omelette recipe example that you can use a boilerplate omelette template recipe for when you prepare your morning breakfast:
Omelette recipe video
Kitchen tools needed for this classic omelette recipe
Mixing bowl: Use a bowl to whisk together the eggs, milk, salt, and black pepper.

Whisk or fork: A whisk or fork can be used to beat the egg mixture until it's well combined and slightly frothy.

Skillet: Ideally, this should be a non-stick skillet with or use a non-stick pan spray or cover the bottom of the pan in olive oil to prevent the eggs from sticking to the bottom of the pan and burning. A medium sized 8 inch skillet will work well for making this omelette recipe.

Spatula: This is for flipping the omelette and folding it over.
Classic omelette recipe ingredients
2 large eggs (add egg whites for a high protein omelette recipe)

1 tablespoon of whole milk or low fat milk

Salt and pepper – to taste

1 tablespoon of butter or olive oil

1/4 cup of grated cheese (cheddar, Swiss, provolone…per preference – or remove to make a vegan omelette recipe)

Optional fillings such as chopped vegetables, ham, or herbs depending on your diet type e.g. keto, paleo…
Classic omelette recipe cooking instructions
Crack the eggs into a bowl and add the milk, salt, and black pepper. Whisk together until the mixture is well combined and slightly frothy.

Heat a non-stick skillet over medium-high heat and add the butter. Swirl the butter around the skillet until it has melted and coated the bottom.

Pour the egg mixture into the skillet and use a spatula to gently spread it out and ensure it cooks evenly.

Let the eggs cook for about 30 seconds, then sprinkle the cheese and any other fillings on top of one half of the omelette.

Use the spatula to carefully fold the other half of the omelette over the fillings. Press down gently with the spatula to seal the omelette.

Let the omelette cook for another minute or so until the cheese is melted and the eggs are cooked through but still moist.

Use the spatula to carefully slide the omelette onto a plate and serve hot.
Enjoy your delicious omelette recipe! Bon appetite!
Classic omelette recipe nutrition Facts
This classic omelette recipe yields the following nutrition facts assuming it was made with 2 eggs, 1 tablespoon of butter (not olive oil) and assuming you used 1/4 cup of cheddar cheese:
To make this classic omelette recipe a high protein omelette recipe you can add egg whites (benefits of protein without downside of fat or cholesterol), you can add ham, prosciutto and other types of vegetables that will keep the calories in check while beefing up the protein and nutritional value in this omelette recipe.