The Best Ever Homemade New England Clam Chowder Recipe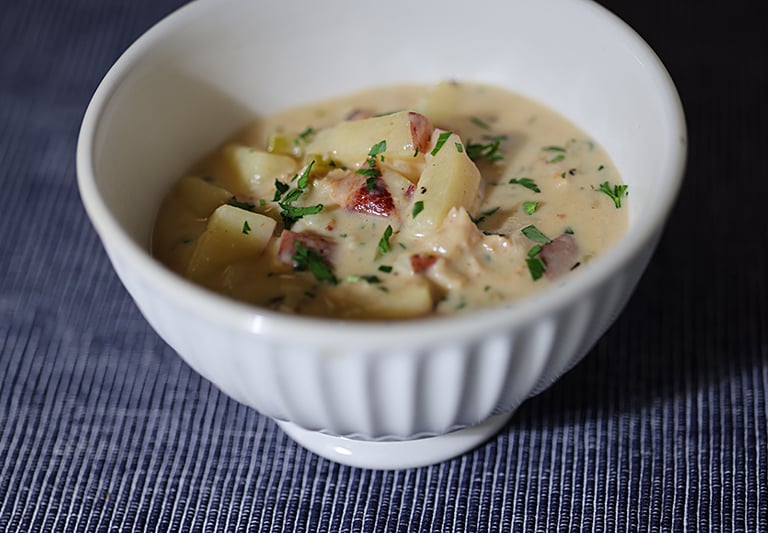 Clam chowder recipe overview
New England clam chowder (the traditional white chowder made with béchamel sauce) is one of the most well-known and beloved comfort foods. This easy recipe will exceed your expectations and probably be better than most restaurant clam chowder recipes. It has very common and few ingredients and is a breeze to prepare.
Equipment used to make this homemade clam chowder recipe
Large pot

Measuring cups

Measuring spoons

Wooden spoon

Knife & cutting board
Ingredients in this best-ever homemade clam chowder:
4 slices bacon, cut into lardons (thin cross-cut strips)

½ stick butter

1 small yellow onion, small dice

3 stalks celery, small dice

1/3 c. all-purpose flour

1 1/2 c. milk

1/2 c. heavy cream

2 Yukon gold or red potatoes, medium dice

2 bay leaves

1 tsp. kosher salt

1 tsp. pepper

2 6.5 oz. cans chopped clams and the juice from the can

2 tbsp. chopped fresh parsley
Cooking directions for this clam chowder recipe:
Heat a large pot or Dutch oven pot over medium/high heat. First, add the bacon and cook until crisp, 5 to 7 minutes. Then add the butter to the pot and cook until melted and it begins to foam.

Add the bay leaves, onions and celery, salt and pepper. Cook until the onions are translucent.

Add the flour and mix well until completely dissolved and no lumps remain.

Slowly whisk in the milk and cream until well blended.

Add the potatoes and simmer over medium/low heat until they are tender. This can take up to 30 minutes. Stir occasionally and be careful not to scorch the milk on the bottom of the pan.

When the potatoes are nearly ready, add 1 tablespoon chopped parsley, the clams and the clam juice from the can.

Continue to simmer for 5 more minutes until the clams are hot. Remove the bay leaves.

Serve hot, garnish with the remaining parsley.

This recipe should make a clam chowder plenty thick and hearty. But if you want to thicken it more, see the following details about making and using a roux.
*Making and using a roux:
Used in all types of cooking, but developed in classical French cuisine, a roux is a great way to thicken almost any type of soup, sauce or gravy which is starch or cream based. You would not use it, for example with clear broth type sauces and soups. Roux is simply cooked fat and flour in equal proportions. I use roux quite often, and most of the time I season the flour with salt, pepper and other seasonings that contribute to the dish I am thickening with the roux. Here is a great example of a sauce where you would use a roux.
Basic Roux Ingredients:

1 part Butter (usually 2 tablespoons will do)

1 part flour (equal measured amount). You can use seasoned flour if you want.

How to make and use a roux:

Heat a small skillet or pan over medium. Add 2 tablespoons of butter (appx) and melt.

When the butter is melted and begins to foam, add an equal amount of flour (appx 2 tablespoons).

Whisk and cook for about 90 seconds. For white sauces, don't let the roux turn brown before using. For other sauces and soups like chili or beef stew, the roux can get brown before using.

To use in the clam chowder for thickening purposes, slowly introduce the roux into the chowder, stirring or whisking well to dissolve it. Once incorporated and well blended, let it cook a few minutes as it gets thicker.