Getting 5% as a MealPro partners is simple:
1. Join for Free
Fill out the form above. We will send you a unique coupon code that you can distribute to your network.
2. Promote
You will get a uniqe coupon code that you can promote on your social media and on your website.
3. Earn 5%
Earn commission for every person that purchases meals using your unique coupon code.
Calculate how much you could earn in a month
Meal prep is one of the fastest growing industries
Just go to Google Trends and search for "meal prep". The increase of demand in the healthy meal industry is mind-blowing:

---
The Benefits of Becoming a MealPro Partner: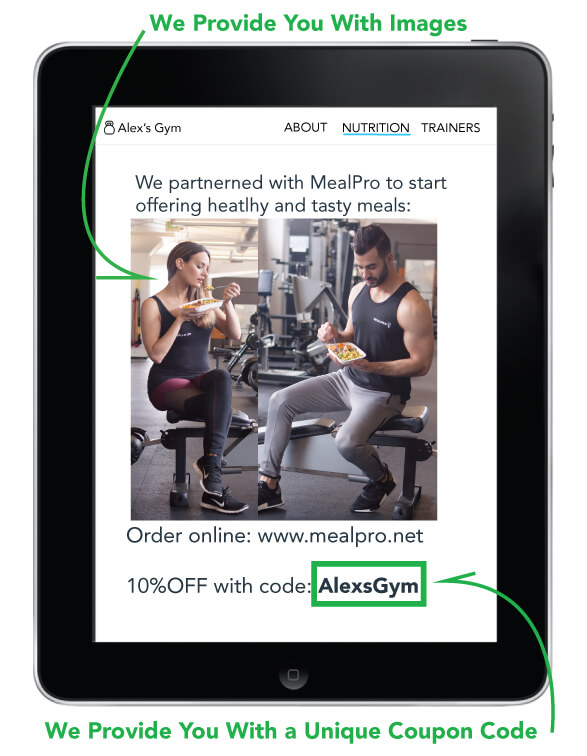 More revenue with recurring users

Our customers buy more than once in our website. So you will get extra incentives every time they continue purchasing.

Get beatiful content for your site

We provide you with copy and images for your site. So your website can look sleek and professional.

You offer something extra to your readers or customers

If you are a Fitness or Healthy Club, them up with MealPro and provide your clients with healthy meals. If you are a blogger, get extra income by promoting our website.

Join absolutely for Free

Registration will not cost you a dime. Additionally, there are no hidden charges but many great benefits.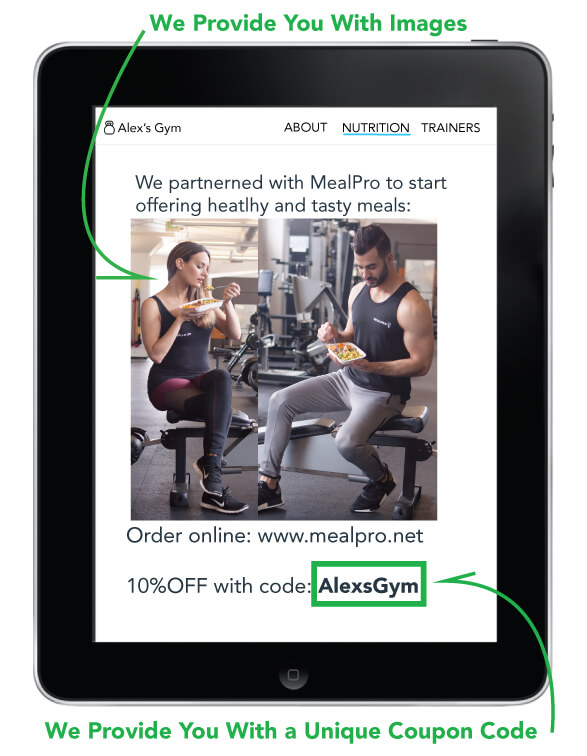 The Picture Shows How Other Clubs Integrate MealPro on Their Website.
---
Frequent Questions:
What is the referral incentive for me?
You earn 5% each time your coupon code is used.
Why should people use my unique coupon code?
People that apply your unique copuon code at checkout receive $10 OFF their order.
How do I get my referral incentive?
Through PayPal once per month.
How does MealPro track referrals?
Each partner has a unique coupon code. Each time a person purchases meals using your unique code you earn the referral incentive.
Can I track who used my unique coupon code?
You receive a monthly report in your email with a breakdown of how frequently your unique discont code was used.
Who can be a partner?
Fitness centers with a physical location or websites based in the United States and Canada with an Alexa rank below 1 million are eligible for partnership with MealPro.
How do I join?
To become a partner fill out the form at the top of this page.
---
Ready to Become a MealPro Partner?
Get Revenue Promoting the Healthy Meal Industry
Get Exclusive Discounts Now: