How It Works
Sell MealPro meals and MealPro gift cards on your website. Get started in 3 easy steps:
1. Connect
Fill out the form above and a friendly representative will be in touch with you.
2. Promote
Promote your offering of healthy meals on your website and link to the MealPro page where the transaction occurs.
3. Earn
The software tracks referrals using your unique referral link. When a user that you refer purchases, you earn for every transaction.
---
Benefits of Being a Reseller
Increase revenue without cost

Tap into an 11 Billion dollar healthy food industry. No sign up fees and no gimmicks. We handle the product side so you can focus on promotion.

No need to take on perishable inventory

Allow us to handle the logistics and perishable supply chain. From sourcing ingredients to delivering ready-made meals you have an expert partner in your corner.
Joining is risk free

Becoming a reseller is free and easy. There are no commitments and no contracts. You will also have an assigned customer success manager for your support.

Easy online management

Your online reseller dashboard lets you easily transfer your earnings to your PayPal account and shows you itemized list of all your sales.
---
Why sell meals? The demand is mind blowing:
As dubbed by Time Magazine, "home cooking is a thing of the past" and year after year, health food delivery is one of the most searched after terms in google trends. By partnering with MealPro, you can expand your product offerings and help other people become healthier. Google trends shows individuals are gravitating towards this new way of eating. To verify this for yourself, just go to Google Trends and search for "meal prep". The increase of demand in the healthy meal industry is mind-blowing:

---
Anyone Can Join
Help us provide natural, well-balanced and custom meal to help people live healthier lives. When you promote MealPro you will also get a strong incentive and discounted meals for yourself.
Blogger
Monetize your blog by adding MealPro panner or parnter link to your posts. Why not make the most of your site traffic by promoting healthier living?
Get in touch
Athlete/Influencer
Your audience looks to you for fitness/health motivation. Insipre them to try a product you know will help them while earning a generous commission.
Get in touch
Nutrition Specialist
Help your clients live healthier with improved stress-free nutrition. Provid them with a meal plan you can be confident will achieve results.
Get in touch
---
Lots of Support For Your Success
At MealPro, we provide you with a team of dedicated partner managers that help set up promotions and provide banners and visuals.
What's in it for Me?
Your generous incentives keep adding up as your clients subscribe to our meal plans. And with each ongoing subscription, you sell once but get paid monthly.
Let's Grow Together!
Our online food delivery company is well positioned in the fastest growing food market segment. Let's join forces and enhance your revenue with no hassle.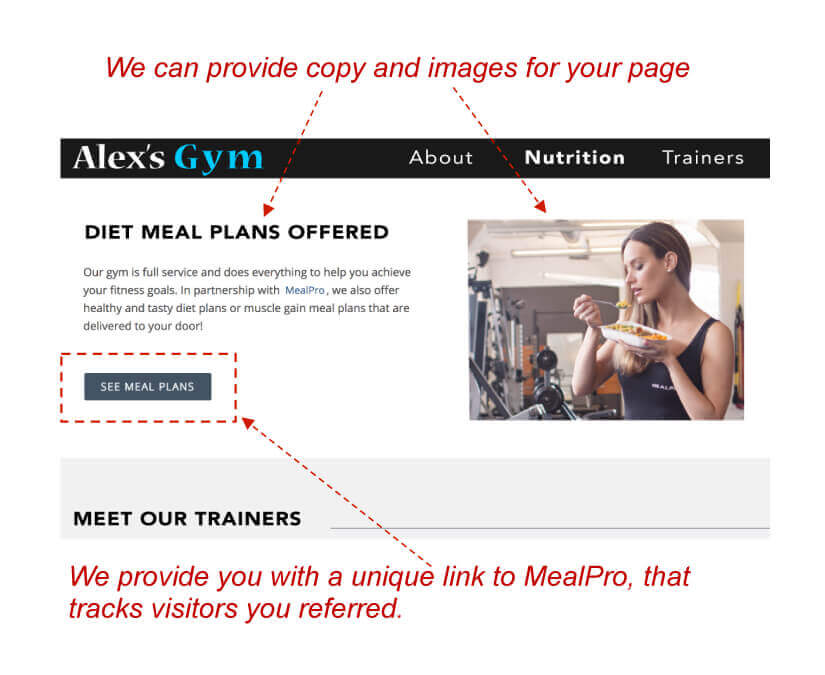 ---
Reseller FAQ's:
Does MealPro provide food/product images if needed?
Yes. When you login to your online dashboard you can see your welcome packet with food images and product information. We will happily answer any other questions you may have.
What is the reseller incentive?
This varies on a case by case basis. Your friendly representative is happy to discuss this with you. Fill out the form at the top of this page to get in touch.
How do I get my referral incentive?
Login to your online reseller dashboard and transfer your funds to your PayPal. After you initiate the transaction it will take 1-3 business days for you to see your funds in your PayPal account.
How does MealPro track referrals?
Each reseller partner has a unique referral link. Each time a person purchases MealPro meals or MealPro gift cards using your unique referral code you earn your referral incentive for that transaction.
Can I track who used my referral link?
Yes. You can login to your reseller partner dashboard to view all your sales.
Who can be a reseller?
Websites with an Alexa rank below 1 million are eligible to become MealPro resellers.
How do I join?
To become a reseller partner fill out the form at the top of this page.
How does reselling work?
You will receive a unique referral link, simple technical specs, and a marketing packet. Users will buy from the MealPro website using your referral link and you earn your referral incentive.
---
Ready to enter the healthy food industry?
Become a MealPro reseller risk free. Help people eat healthier, and increase your revenue without cost.