Traditional Halal Chicken Kebab Skewers Recipe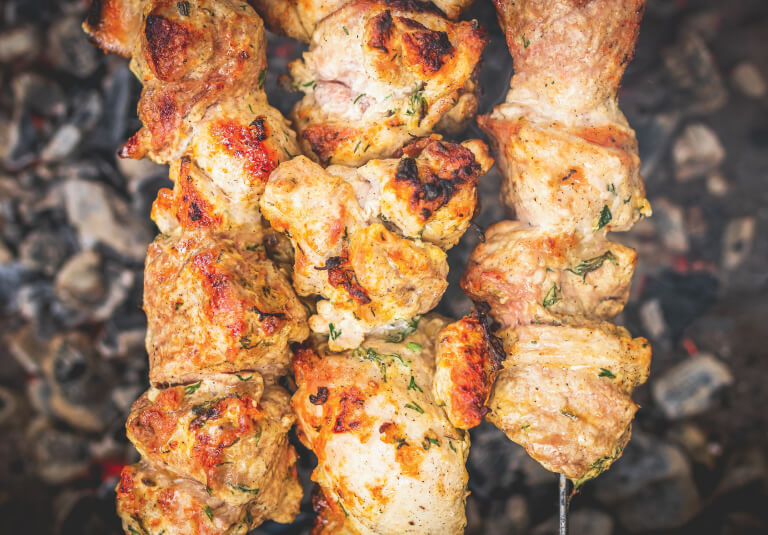 Traditional Halal Chicken Kebab Skewers Recipe
Halal Chicken Kebab Recipe for Meal Prep Overview
Welcome! I'm Chef Dan Catanio, a culinary instructor at MealPro and today, I'll be guiding you through a delicious and quick recipe for Halal Chicken Kebab Skewers using halal ingredients. These kebabs are perfect for meal prep and showcase the flavors of traditional halal meal prep. Let's get started!
Halal Chicken Kebab Skewer Recipe Video
Chicken Halal Kebab Skewers Recipe Tools
8-inch bamboo grill skewer sticks

Grilling pan

Mixing bowl

Rice cooker

Measuring cups

Temperature thermometer
Chicken Halal Kebab Skewer Meal Prep Recipe Ingredients
Halal Kebab Skewers

Halal chicken thigh or breast meat

Onion powder

Garlic powder

Cumin

Curry powder

Extra virgin olive oil

Side Ingredients

Steamed rice (long grain basmati)

Saffron to season the rice (optional – this is expensive!)

Cashews (optional – go great on saffron rice)

Mango (optional – goes great on saffron rice)

Sauce

Cacciatore sauce
Chicken Kebab Skewer Meal Prep Recipe Step-by-Step Written Instructions
Prepare the chicken by cutting the halal chicken thigh meat into bite-sized pieces.

In a bowl, combine onion powder, garlic powder, cumin, and a hint of curry powder.

Add the chicken pieces to the bowl and drizzle with extra virgin olive oil. Toss them, mixing them well, ensuring all the chicken pieces are evenly coated with the seasonings and oil.

It is now time to skewer the chicken. Take skewers and thread about six pieces of the seasoned chicken thigh meat onto each skewer. Repeat until all the chicken is skewered.

To grill the chicken, Preheat your grill to medium-high heat.

Brush the grill grates with some extra virgin olive oil to prevent sticking.

Carefully place the chicken kebab skewers on the grill.

Cook the kebabs for a few minutes on each side until the chicken is cooked through and reaches an internal temperature of 165°F (use a thermometer to check).

Prepare your rice side

Now, while the chicken is grilling, cook the rice in your instant pot or, if preferred cook the rice over your stove top.

For added flavor and fragrance, season the rice with saffron, curry powder, and a pinch of cumin. Saffron, while being quite expensive pairs very well with the halal chicken kebab recipe.

Once cooked, fluff the rice with a fork.

Prepare the yam side

Slice the sweet potatoes into rounds or wedges, depending on your preference. Brush them lightly with olive oil.

Grill the sweet potatoes until they are tender and have grill marks, flipping them halfway through.

Assemble the halal chicken kebab plate

Lastly, time to assemble this delicious halal meal prep plate. Take a plate and spoon some of the seasoned basmati rice onto it. Arrange the grilled sweet potatoes alongside the rice. Place the cooked chicken kebab skewers on top of the rice.** Or go ahead and pack it in your desired meal prep container to enjoy on the go! Serve the dish hot and enjoy!
Halal Chicken Kebab Skewer Meal Prep Recipe Notes
*If you do not have basmati rice, any type of rice can be substituted.
**Drizzle some cacciatore sauce over the kebabs for added flavor and visual appeal.
Chicken Kebab Skewer Meal Prep Recipe Conclusion
Congratulations on preparing your flavorful halal chicken kebab skewers! This halal meal prep recipe showcases the deliciousness of traditional halal cuisine in just 10 minutes. Feel free to adjust the seasonings according to your taste preferences. Happy cooking!