Spinach and Cream Cheese Stuffed Chicken Breast Recipe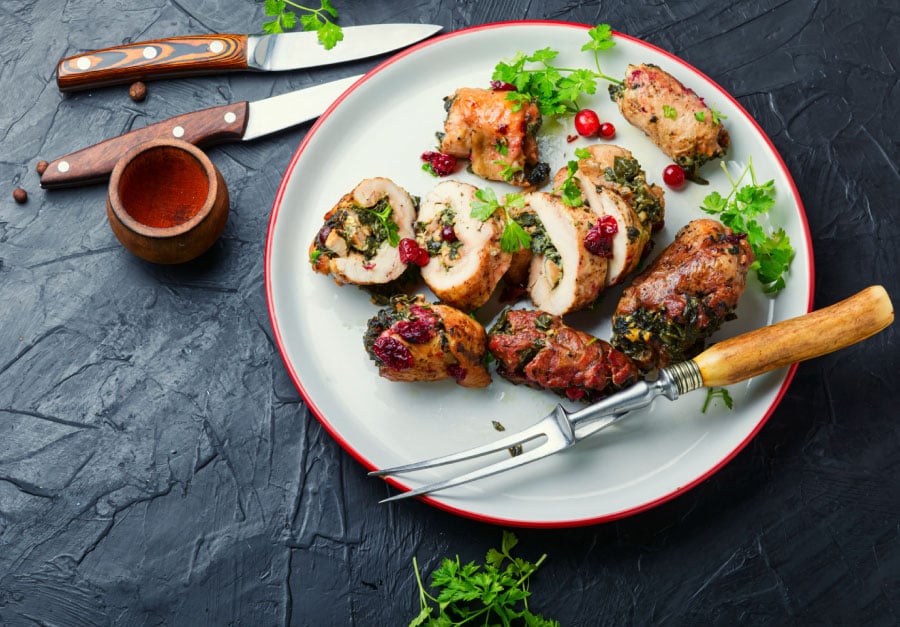 Table of Contents Cream Cheese Stuffed Chicken Breast
Spinach & Cream Cheese Stuffed Chicken Breast Overview
This chicken dish features a tasty way to prepare chicken. Very flavorful and filled with a wonderful creamy cheese & spinach delight. Paired with the ancient and extremely healthful grain, Quinoa, and your favorite veggie, it becomes an unmatched meal for both flavor and health.
Spinach and Cream Cheese Stuffed Chicken Breast Recipe Tools
Skillet

Chef Knife for prep

Saucepan

Wooded spoon or silicone spatula

1 Cup measuring scoop

Tablespoon and teaspoons
Ingredients for this Spinach and Cream Cheese Stuffed Chicken Breast Recipe
Ingredients for Chicken and filling Recipe
2 chicken breasts, butterflied or pounded thin

1/2 cream cheese, room temp for softness

1/4 cup cooked spinach (canned will work) You can substitute fresh spinach leaves chopped, about 1/2 cup

2 teaspoons dried thyme leaves

3-4 strips cooked bacon, cut to thin ribbon strips

Pinch salt and pepper

1 Tablespoon olive oil for skillet
Side of Quinoa Recipe Ingredients
1 Cup Quinoa, tri-colored or your favorite

2 1/4 cups vegetable stock from bullion or pre-packaged

Pinch salt

1 Tablespoon olive oil
Cooking Directions for this Spinach & Cream Cheese Stuffed Chicken Breast Recipe
The first part of our spinach & cream cheese stuffed chicken breast recipe involves preparing the filling and the chicken. The filling is similar to an aioli sauce and aioli can be used as a substitute if you prefer.
Prepare the filling

Place cream cheese into mixing bowl along with spinach and thyme. Mix thoroughly.

Prepare the Chicken

Season chicken with a pinch of salt and pepper. Place in hot skillet and cook on medium heat for 2-3 minutes, turn over and cook for another 2 minutes. We are trying to get the chicken almost cooked through.

Remove chicken from skillet and pat the surface dry. Place a couple large dollops of filling onto half of the chicken, and fold the chicken enclosing the filling on the inside.

Place the chicken back into the skillet on medium heat, cooking both sides to a delicious golden brown finish.

Plate the chicken.

Serve with asparagus, broccoli, green beans or your favorite veggie. Quinoa as a healthy grain tops it all off. Recipe to follow!
Side of Quinoa Recipe Ingredients Cooking Directions
The second part of our spinach and cream cheese stuffed chicken breast recipe is cooking the quinoa.
Drizzle olive oil into a hot saucepan.

Place quinoa into the saucepan and toast the grains in the hot oil for a minute or two, stirring well.

Place the vegetable stock in the saucepan, give a quick swirl, then cover and reduce heat to med/low.

Simmer covered for 20 minutes or so, until the quinoa is soft.

Serve hot. Can also be stored and served cold later, or simply be a great healthy snack.
This quinoa can also be used as a side to my chicken piccata recipe that offers an equally delectable flavor.