Slow Cooker Lamb Shank Recipe with Rosemary and Garlic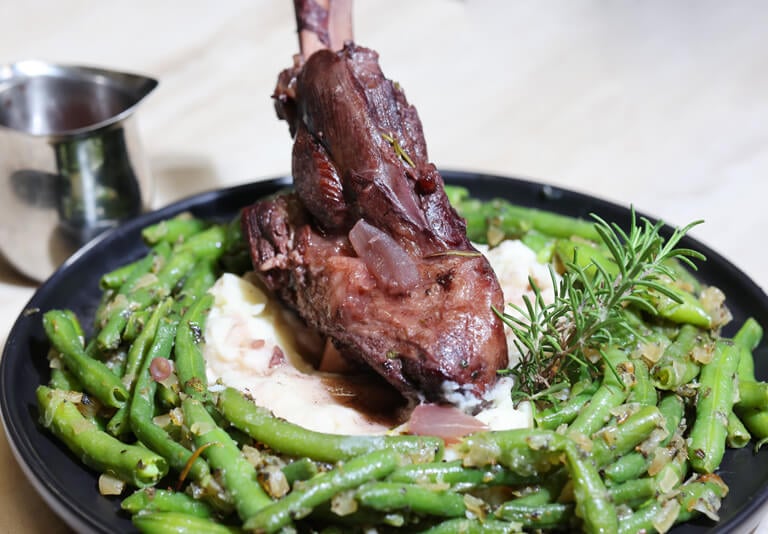 For this lamb shank recipe cook low and slow in a slow cooker for melt-in-your-mouth tenderness.
Slow Cooker Lamb Shank Recipe with Rosemary and Garlic
As a chef, I am amazed when the traditionally undesirable cuts of meat are featured in an expensive restaurant for a considerable mark up in price. Especially when said cut of meat is not only affordable, but cheaper and easier to prepare than more tender parts of an animal. With a minimal amount of prep, time is the only difficult part of this recipe. Take lamb shank for instance. Many cultures have made wonderful use of the lower part of a leg of lamb. Out of necessity, in order to be frugal, and not wasteful, when cooked low and slow, the lamb shank cut's sinew, fat and other tough tissue breaks down and releases amazing flavors into the cooking liquid, resulting in a wonderful sauce to serve as a gravy over your finished dish. In this lamb shank recipe with sautéed green beans and mashed potatoes, we've used red wine, rosemary and garlic, bold flavors that complement the hearty flavor of the lamb shank.
Ingredients for this Slow Cooker Lamb Shank with Rosemary and Garlic:
Lamb shank – 1

Salt and pepper – to taste

Extra virgin olive oil – 1 tablespoons

Garlic cloves – 4

Red wine – 4 cups

Rosemary – 2 sprigs

Onion – 1 medium yellow onion

Arrowroot, cornstarch or flour – 1 tbsp
Instructions for this Slow Cooker Lamb Shank with Rosemary and Garlic:
Rinse the lamb shank under cold water, cleaning off any blood left from the packaging. Pat dry. Massage with salt and pepper.

Place the lamb shank in a glass or heavy plastic container. Smash 2 garlic cloves with the blade of your knife or the bottom of a heavy pan.

Add the garlic and rosemary to the container. Pour wine over the shank to submerge. Marinate for 24 hours.

Remove the lamb shank from the marinade and pat dry with paper towels.

Dust the lamb shank with the arrowroot, shaking and brushing off any excess powder. Set aside.

In a sauté pan, heat 2 tablespoons of olive oil over medium high heat. Brown the lamb shank in the pan on all sides, using your tongs to hold the meat to the surface of the pan, browning as much of the oddly shaped lamb shank as possible. This sears the meat and helps to hold in the natural juices while cooking.

Preheat your slow cooker to medium or high temperature. Rough chop your onion and smash 2 more cloves of garlic. Add to the slow cooker. Place the seared lamb shank atop the vegetables.

Pour the reserved marinade into the pan and bring to a boil. Stir and scrape the pan, to melt any remaining brown bits into the wine.

As soon as the wine becomes fragrant, pour into the slow cooker over your meat. If you don't have enough liquid to cover the whole lamb shank, add water. Cover the slow cooker and cook the lamb shank for a minimum of 4 hours on high or even up to 7 hours on medium or low. No need to worry about an extra hour in the crockpot. This dish intensifies in flavor and becomes more tender with more cooking time.

To serve, remove the lamb shank from the crockpot and place upon a bed of noodles, rice or mashed potatoes.
Lamb Shank Recipe Notes
Generally, the parts of the animal that get a lot of exercise tend to be tougher cuts of meat. Lamb shank is no exception. However, when cooked low and slow this tougher cut of meat becomes melt-in-your-mouth tender and is one of the more affordable cuts of lamb meat.