Perfect Roast Beef Recipe in Oven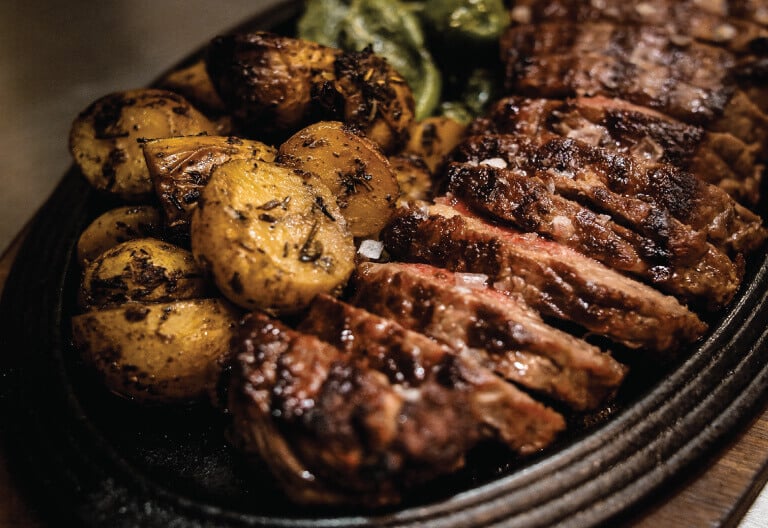 The classic roast beef recipe is made by roasting a cut of beef in the convection oven or over an open flame. Roast beef is often the main course for a meal and it can be made from a variety of cuts of beef, including sirloin, rib, tri tip, and round, and can be cooked to different degrees of doneness from rare (140 degrees Farenheit) to well-done (170 degrees Farenheit) internal temperature. It is a popular dish around the world, and is often served with sides such as vegetables, and mashed potatoes.
Roast Beef Recipe Ingredients
Beef Ingredients:

Beef of choice (in this recipe it is tri tip)

Garlic

Red wine

Olive oil

Salt, thyme, parsley, oregano

Gravy Ingredients:

1/4 cup pan drippings from the roast beef

2 cups beef broth

2 tablespoons all-purpose flour

Salt and pepper to taste
Roast Beef Recipe Step-by-Step Instructions
Prepare the roast

Trim your roast taking off any membrane or excess fat.

Place the roast in a deep pan sized to your roast. If the pan is too big the roast juices will flow to the side and burn. If the pan is correctly sized the juices will stay a little thicker and can be used for a delectable gravy.

Add 6 cloves of peeled garlic.

Season with 3 tbsp of olive oil.

Add 4/3 tbsp of kosher salt

Add 1.5 tbsp of seasoning rub.

Sear in the Oven

Pre-heat your oven to 380 degrees Fahrenheit.

Add your roast to the oven and let sear for 10 minutes on each side so the roast forms a good crust giving it caramelization and extra flavor.

Slow cook in the Oven

Take your roast out and add 2 cups of red wine. Do not cover the roast entirely. Just cover the bottom of the pan so the wine soaks up into the meat.

Place the roast back in the oven and reduce your oven temperature for 230 degrees Farenheit. Allow it to cook for 2 hours.
Slice with a serated knife and enjoy this roast recipe with some of its own juices or by cooking a gravy to add over the meat.
Roast Beef Gravy Recipe Step-by-Step Instructions
Remove the roast beef from the pan and place it on a cutting board to rest.

Pour the pan drippings into a measuring cup, and add enough beef broth to make 2 cups of liquid.

In a separate bowl, whisk together the flour and a few tablespoons of the broth until smooth.

Pour the broth mixture into a saucepan and heat over medium-high heat, whisking constantly.

Add the flour mixture to the saucepan and whisk until smooth. Continue until the gravy until it thickens to your desired consistency.

Reduce the heat to low and let the gravy simmer for a few minutes to cook the flour.

Season with salt and pepper to taste.
Slice the roast beef and serve with the gravy, a sautéed green beans recipe and homestyle mashed potatoes.
Note:You can also add additional seasonings to the gravy, such as herbs, Worcestershire sauce, or red wine, depending on your preferences.