London Broil Crockpot Recipe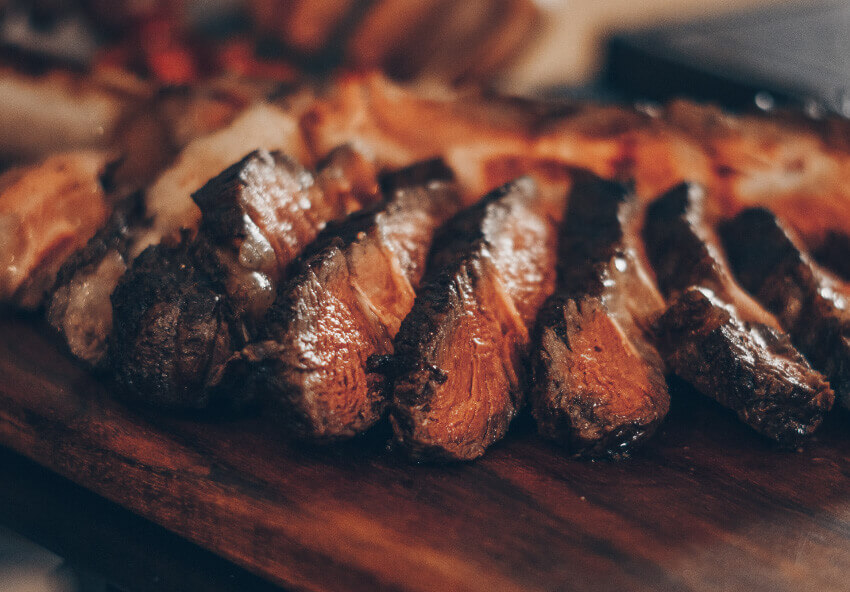 This London broil crockpot recipe uses flank steak.
This Crockpot London broil recipe has a rich, beefy flavor with a slightly gamey taste. Since I am using flank steak for this London broil crockpot recipe, it has a firm texture and is lean, making it a healthy option. If you were using a leaner cut of red meat for this London broil recipe like a top round (this dries out fast) I would recommend allowing the meat to be submerged in a brining solution to inject moisture in the meat. Since flank is already quite tender I opted to use a marinade to inject flavor. The marinade I use in this London Broil crockpot recipe has a combination of ingredients such as soy sauce, Worcestershire sauce, red wine, garlic, and savory herbs such as thyme and rosemary. These ingredients not only add flavor to the meat, but they also tenderize it, making it more succulent and juicy. The outcome is a delicious London Broil crockpot recipe you won't want to miss.
London Broil Crockpot Recipe Cooking Tools Needed:
Crockpot

Measuring scoops

Cutting board

Chef's knife

Meat thermometer

Kitchen timer

Mixing bowl
London Broil Crockpot Recipe Ingredients:
London Broil Marinade

2 tbsp. Worcestershire sauce

2 tbsp. soy sauce

1 tbsp. honey

1 tsp. dried thyme

Salt and pepper, to taste

London Broil Ingredients

2-3 lbs. Flank Steak

1 onion, sliced

3 garlic cloves, minced

1/2 cup vegetable broth

1/2 cup red wine
London Broil Crockpot Recipe Cooking Instructions:
Prepare the Meat

Trim the membrane and excess fat off your flank steak.

Place your flank steak in a mixing bowl or deep dish and add the marinade ingredients to completely submerge the meat. Cover and set aside and allow the marinade to soak into the meat for at least 4 hours or overnight.

Cook the London Broil in Crockpot

Place the sliced onions and minced garlic at the bottom of the crockpot.

Place the marinated flank meat on top of the onions and garlic.

Pour the vegetable broth and red wine over the London Broil.

Cover the crockpot and cook on low for 6-8 hours or on high for 3-4 hours, or until the London Broil is tender and fully cooked. Use your meat thermometer to make sure the internal temperature of the London Broil reaches 150 degrees Farenheit.

Remove the London Broil from the crockpot and let it rest for 5-10 minutes before slicing.

Slice the meat on a cutting board against the grain into thin, tender pieces

Save the sauce from the crockpot, and use it as a delicious gravy for this London broil crockpot recipe
Enjoy this London Broil crockpot recipe with roasted or grilled vegetables, mashed potatoes or a sautéed green beans. This crockpot London broil recipe is a versatile dish that can be cooked in a variety of ways, and it's a popular choice for backyard barbecues, dinner parties, and other special occasions.
London Broil Crockpot Recipe Notes
Note: You can add vegetables such as carrots, potatoes, and mushrooms to the crockpot so the flavor cooks into the meat. Also, feel free to adjust the seasonings according to your taste preference.
While this London Broil crockpot recipe uses flank steak there are alternative cuts of meat that can be used to make this recipe which include top round steak or any large and lean cut of beef such as sirloin, round or chuck steak.