Kidney Friendly Tilapia Recipe for Renal Diet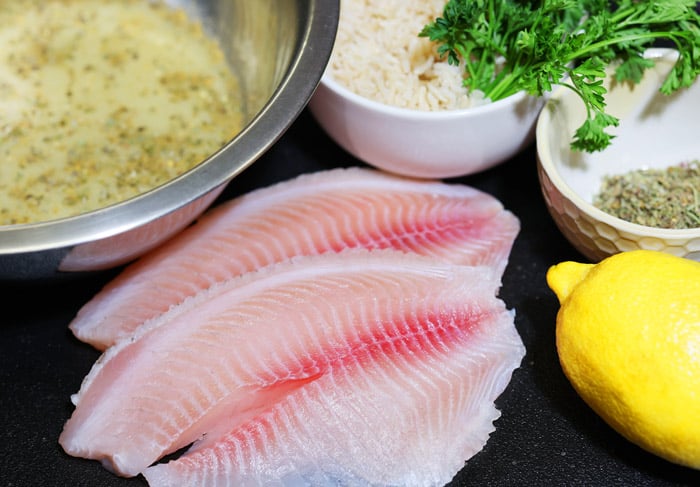 Kidney Friendly Recipe for Renal Failure CKD Stage 2 and 3.
Kidney Friendly Tilapia Recipe for Renal Diet Overview
This renal tilapia recipe for kidney failure is anything but bland, has great flavor and is an easy renal meal. The herbed citrus marinade is a perfect balance for the tilapia and brightens the whole dish. Healthy brown rice with parsley and fresh green beans creates a very satisfying, tasty meal that you easily prepare all on the stovetop.
This renal recipe is low sodium, low potassium, low phosphorous and low protein. So, it has all the necessary requirements to qualify for a pre-made meal for renal failure stage 2 and 3.
Equipment needed for this renal tilapia recipe:
Skillet*

Some sort of spatula to stir and flip fish if you want.
Kidney Friendly Tilapia Recipe Ingredients:
1 tilapia filet

1 teaspoons Italian seasoning blend *(see below if you want to modify or make your own)

1/4 cup lemon juice

Pinch of salt (5ml)

1/4 cup lime juice

1/4 cup fresh parsley leaves, chopped

1 tablespoon olive oil
Renal Tilapia Recipe Ingredients for Sides:
1 Cup cooked brown rice

Green beans

1 Tablespoon olive oil for cooking

Italian seasoning
Renal Tilapia Recipe Seasoning Condiment:
3 parts oregano

2 parts marjoram

2 parts thyme

1 part basil

1 part rosemary

1 part sage
Renal Tilapia Recipe Cooking Instructions
Cook some brown rice in a rice cooker or cook the rice over a stovetop and set aside.

Make the renal friendly citrus marinade: mix the lime and lemon juice together in a mixing bowl, add 2 teaspoons of Italian seasoning and mix. There is no salt added to this marinade in order to limit sodium when in CKD Stage 3. The herbs and marinade is used to add a punch of natural, delicious flavor.

Place the tilapia filets in the seasoned citrus juice and let marinade for at least 15 minutes.

Heat a large skillet (medium/high) with olive oil. Put the filets in the skillet and cook about 3 minutes each side. An alternative to trying to flip fragile filets over, is to just leave them on one side and cover while you cook on lower heat.

Make sure the fish is cooked all the way through by poking it with a fork or separating the middle to ensure a white color throughout.

Once cooked, remove from pan and set aside.

Prepare the rice:

In the same pan, still hot, with the fish drippings, put in the cooked rice and parsley and stir until hot. Serve with the fish.

Cook the Green Beans:

Blanch green beans (optional, but a great way to go). Put the fresh green beans into a pot of boiling water for about 15 – 20 seconds, then instantly take them out and put into ice water. (This is called "blanche & shock"). What this does is brighten and seal in the color, and also partially cooks the beans so that the next step is a breeze. Once cooled, drain and pat dry with a paper towel.

Heat a skillet with some olive oil and Italian seasoning. Put the blanched green beans in and sauté until they are hot. You can push it a little and let them start to scorch for some really nice flavor and texture.

Serve with the brown rice and tilapia for a delectable renal meal.
Advice for this kidney friendly tilapia recipe for renal failure
Tip 1: A second skillet would speed up the cooking process.
Tip 2: If you are on dialysis increase the protein portions to be 6oz – 8oz of cooked food weight. This is because patients on dialysis need more protein.
Tired of cooking? Purchase our prepackaged renal meals.