Kidney Friendly Pasta Recipe with Chicken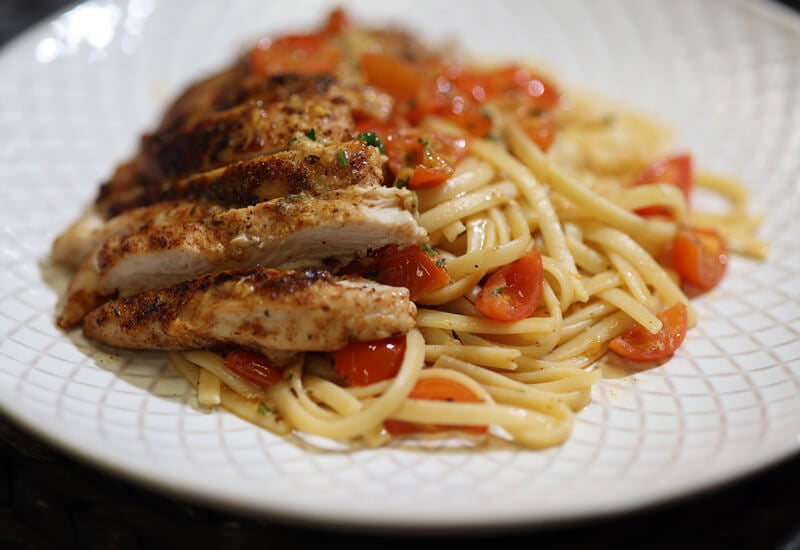 Table of Contents for This Renal Pasta Recipe:
Easy Kidney friendly pasta recipe with chicken Overview
This renal meal has low sodium pasta with lean, low sodium chicken flavored with zero-calorie spices for a flavor profile you will not want to miss. Depending on the stage of renal failure you find are in, you can make adjustments as follows: – For CKD stage 2 and 3 (our renal meals): Opt for a 2oz protein portion (cooked food weight). – For CKD stage 4 (our pre-dialysis meals): Opt for a 2oz protein portion. – For CKD stage 5 (our dialysis meals): increase your protein and eliminate the tomato juice by simmering on low so the water evaporates. More on this below.
Kitchen Tools For This kidney friendly pasta recipe:
Pot to cook kidney friendly pasta

Thermometer (to temp chicken)

Skillet

Measuring cups

Measuring spoons

Meat tenderizer hammer or other tool to pound the chicken flat
kidney friendly Pasta Recipe with Chicken Ingredients:
Pasta – 6oz Linguine pasta

Chicken – 4oz skinless breast (raw food weight)

Olive oil – 2 Tsp

Salt – 1 Tsp

Garlic – 3 Cloves, minced

Chili – 1 Tsp

Tomato – 2/3 Cup diced

Parsley – 2 Tbsp. finely chopped
How To Cook This Easy kidney friendly Pasta Recipe with Chicken
Prepare the kidney friendly pasta:

Put a large pot of water on to boil. The water should not lightly salt (1 tsp), since renal patients need a low-sodium diet. Then, put the pasta in the cooking pot and stir occasionally. After about 10 minutes you can taste test some pasta to see if you are satisfied with the firmness. If so, you can drain the pasta and set aside since we will use it later in the skillet. See step 6 below.

Cook the renal chicken:

Pound the chicken breasts with the meat tenderizer hammer so that the chicken is even in thickness (about ½") and season it all over with 1½ Tbsp of parsley seasoning.

Heat two tsp of olive oil (has to be olive oil for a renal diet recipe) in a large skillet over medium to high heat. Once the pan is hot you can add the chicken and sear it on both sides. After the chicken is in the pan, turn the heat down to low and sauté until cooked thoroughly.

After the chicken is cooked, remove the renal chicken from the pan. You can transfer the cooked chicken to a cutting board, where you can slice it into thin strips. In the meantime, do not clean the skillet. Save the skillet for the next step of our renal chicken recipe.

Make the sauce:

In the same skillet you just used to cook the chicken sauté the butter and garlic for 30-60 seconds or until the garlic is fragrant. Your skillet should be over medium heat. Add the diced tomatoes and sauté for another two minutes.

Combine all ingredients:

Add the linguine pasta to the sauce and toss until combined and hot.

Serve: Place the chicken on top of the linguine pasta and garnish with chopped parsley.
Common Questions About This kidney friendly pasta Recipe with chicken
What qualifies this as a renal pasta recipe? This recipe is low in protein. 2oz – 3oz of cooked food weight for renal diet. It is also low in sodium, potassium and phosphorous.
What type of seasoning can I substitute for this renal recipe? Any low-sodium seasoning is preferred for a renal diet. If you are on dialysis you should also limit liquids so make sure you use a dry rub or seasoning as flavor enhancer.
If you are interested in more kidney friendly recipes see our renal chicken piccata recipe.
Making this Renal Pasta Recipe For Patients on Dialysis
1. Limit liquids. Do not prepare the tomato sauce since this can create a liquid sauce. When undergoing dialysis treatment limit liquid intake.
2. Increase protein. Increase your protein portion on dialysis from [2oz to 6oz of chicken cooked food weight] or from [4oz to 9oz of raw food weight].
You can also purchase ready made renal meals delivered on our website that meet the nephrologist requirements for different stages of renal failure.