Homemade Chicken and Shrimp Carbonara Recipe Olive Garden Style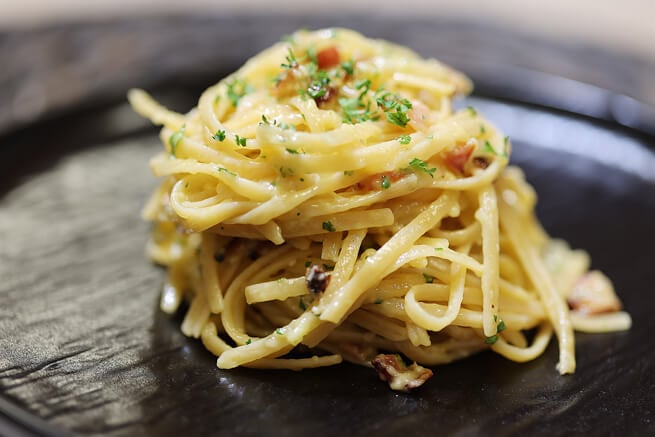 This is a healthier version of a homemade chicken and shrimp carbonara olive garden copycat recipe.
This chicken and shrimp carbonara recipe is an olive garden copycat. This version of the olive garden chicken and shrimp carbonara pasta recipe has an amazing alchemy of bacon, shrimp, egg, a touch of cream and parmesan cheese which come together to make a silky, intoxicating flavored sauce, especially when seasoned with plenty of fresh cracked pepper and a hint of garlic. The fun aspect is making it your own. When topped with seasoned and seared chicken and shrimp, as in this Olive Garden copycat chicken and shrimp carbonara recipe preparation, you can elevate this chicken and shrimp carbonara recipe to be a real crowd pleaser. But certainly with a glass of your favorite chardonnay or even a spicy red, this combination will thrill no matter what protein or vegetable you have on hand that you'd like to add.
Equipment needed to make this chicken and shrimp carbonara recipe:
1 large pot

Knife and chopping surface

Small bowls for mise en place

Medium sized mixing bowl

Wire whisk or large fork (for whipping the egg mixture)
Note: 'Mise En Place' is a French culinary term that can be traced back to the 1860s. Literally translated as 'a putting in place', it means gathering your ingredients and preparing them in advance. It's a fundamental task that helps any chef or home cook get organized before cooking which allows for easier preparation.
Ingredients needed to make this olive garden copycat chicken and shrimp carbonara recipe with spaghetti pasta:
Makes 2 portions 
1/2 lb shrimp, whatever size you are able to find, tails removed if you prefer

1/2 lb boneless chicken breast or thighs, cut into one inch pieces

1/2 lb linguine style pasta or whatever spaghetti you have on hand

1/2 – 1 tsp freshly cracked black pepper

2 tbsp olive oil

1/2 C chopped bacon slices

2 cloves of garlic, minced

sprinkle of red pepper flakes (optional)

2 large eggs

1/2 C cream, Greek yogurt, or even you favorite non-dairy (plain flavored) milk or cream

1/2 C grated Romano or Parmesean cheese

1 C reserve pasta liquid
Instructions to make this olive garden copycat chicken and shrimp carbonara recipe with spaghetti pasta:
Sprinkle the shrimp and chicken with salt and pepper. Set aside.

Finely mince the two cloves of garlic.

Heat the olive oil in a sauté pan over medium heat. Add the garlic and stir until fragrant, when you can actually smell the garlic's perfume.

Add the chicken to the sauté pan with the garlic and cook until the chicken pieces are lightly browned and cooked through. To test for doneness, simply remove a piece and slice down the middle. If the center is no longer pink, you can remove the chicken pieces from the oil and set aside.

Sauté the shrimp briefly, a couple of minutes per side is all that's needed, and set aside with the chicken. Keep warm in a warming oven or cover with foil.

In the same saucepan, add the bacon and render the fat. Rendering the fat is simply cooking the bacon till brown and slightly crispy, with the oil cooked out of the pieces. Once the fat is completely rendered, you can remove the bacon 'bits' with a slotted spoon and reserve for final preparations and plating. The fat drippings in the pan are a wonderful addition to the egg mixture you'll coat the cooked noodles in, but you can also omit the bacon fat or use much less if you want to. Allow the drippings to cool slightly.

Bring a large saucepan filled with water and seasoned with a heaping handful of salt to a boil. Add your pasta and cook until your desired tenderness. Reserve a cup of the cooking liquid. Drain the pasta and keep warm.

While the pasta is cooking, prepare the eggs. Crack the eggs into a medium sized mixing bowl. Whisk in the 1/2 C of cream. Season with a sprinkling of pepper. Add 1 tbsp of the cooled bacon drippings. Add half the grated cheese and incorporate well. The mixture should resemble eggs that have been whisked for a scramble or omelette.

Add the pasta to this mixture immediately after draining and stir together a few times to coat. At this point, you can return the mixture to the saucepan you used to make the pasta, but keep on a very low heat and stir constantly. Stirring constantly will heat the egg mixture through, and emulsify all the ingredients into a velvety sauce. If the mixture is too tight, add a bit of the reserved pasta liquid. If the mixture is too liquid, keep stirring over low heat and add a bit more cheese. Add the chicken, shrimp and most of the cooked bacon bits. As soon as all the ingredients are heated through and coated by the sauce, divide between two plates.

Plate this chicken and shrimp carbonara olive garden copy cat recipe by positioning some shrimp and chicken atop the plated pasta. Sprinkle with the remaining bacon bits, minced parsley and extra cheese if you wish. Serve immediately. A simple side salad of your favorite mixed greens and a vinagrette is a wonderful accompaniment to this flavorful chicken and shrimp carbonara olive garden copycat recipe.