Homemade Beef Barbacoa Recipe Slow Cooker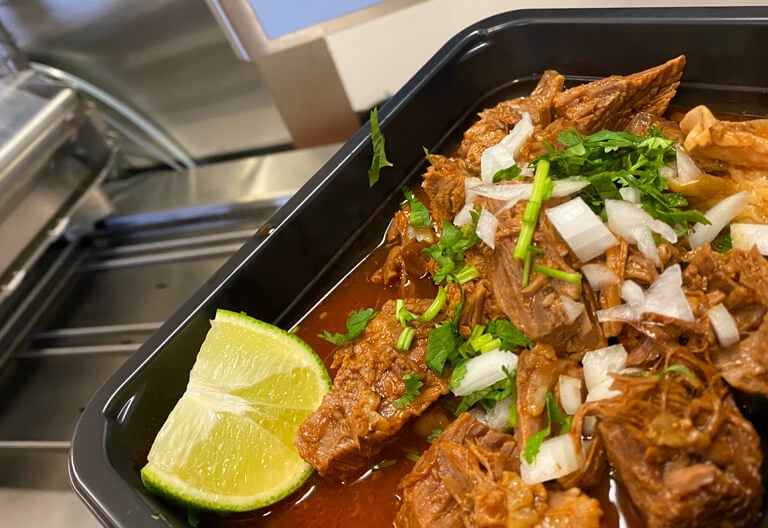 Beef Barbacoa Recipe Slow Cooker
This slow cooker barbacoa recipe is great for beef, lamb, or other meat that has been slowly cooked with seasonings, typically shredded as a filling in tacos, burritos, or it can be served on a plate with refried beans, veggies, and Spanish rice.
To keep things as easy as possible, this beef barbacoa recipe just requires you to toss all of your ingredients in the pot and let the slow cooker do all of the work. It will definitely yield a shredded beef barbacoa that has a few chunks of onion and garlic and green chiles in there, which I don't mind. But if you want to take an extra step, you can pulse all of the extra non-beef ingredients (minus the bay leaves) together in a food processor or blender beforehand so that there are no chunks in the final beef barbacoa recipe when it is plated. Up to you!
Homemade Beef Barbacoa Recipe Ingredients
2 lbs (900g) beef shank and/or chuck roast

4 cloves of garlic, minced

1 medium white onion, chopped

4 chipotle peppers in adobo sauce, minced

2 tablespoons apple cider vinegar

2 tablespoons lime juice

2 bunches of tomatoes

2 teaspoons ground cumin

Chile wahio

2 teaspoons bay leaf

2 teaspoons dried oregano

1 teaspoon ground cloves

1 teaspoon ground cinnamon

1 cup beef broth

Salt and pepper, to taste

Chicken flavor Boullon
Homemade Beef Barbacoa Recipe in Slow Cooker Cooking Directions
Trim any excess fat from the chuck roast and cut it into large chunks.

Slice an dice the beef into smaller, more managable pieces like cubes.

Clean the garlic

Prepare the Barbacoa Sauce

Clean the chile wahio under running water. Then combine the tomato, garlic, chopped onion, minced chipotle peppers, apple cider vinegar, lime juice, cumin, oregano, cloves, cinnamon, salt, and pepper in a slow cooker with water add 1tbsp of the chicken boullon.

Cook The Barbacoa Beef

Place the beef in a deep pot, and pour in the beef broth covering the meat. Then, add the spice over it, making sure the meat is covered.

Cook on low heat for 6-8 hours, or until the meat is tender and easily shreds with a fork.

Once the beef is cooked, remove it from the pot and shred it using two forks.

If desired, you can strain the remaining liquid in the slow cooker to remove any solids and use it as a flavorful sauce for the barbacoa.

Serve the shredded barbacoa beef recipe with toppings of choice, and garnish with fresh cilantro, diced onions, lime wedges, salsa verde, pico de gallo salsa, guacamole, and sour cream.
Enjoy this beef barbacoa recipe! Some people also like to sear the beef in a tablespoon or two of oil in a sauté pan before adding it to the pot, which will result in some crispier edges and slightly richer flavor. This is similar to a braising technique where meat is seared before being slow cooked. You can do it here also if you wish.
Any leftovers can be stored with the sauce in a food storage container in the refrigerator for up to 3 days, or you can freeze them for up to 3 months.