Herb Crusted Pan-Fried Lamb Chops Recipe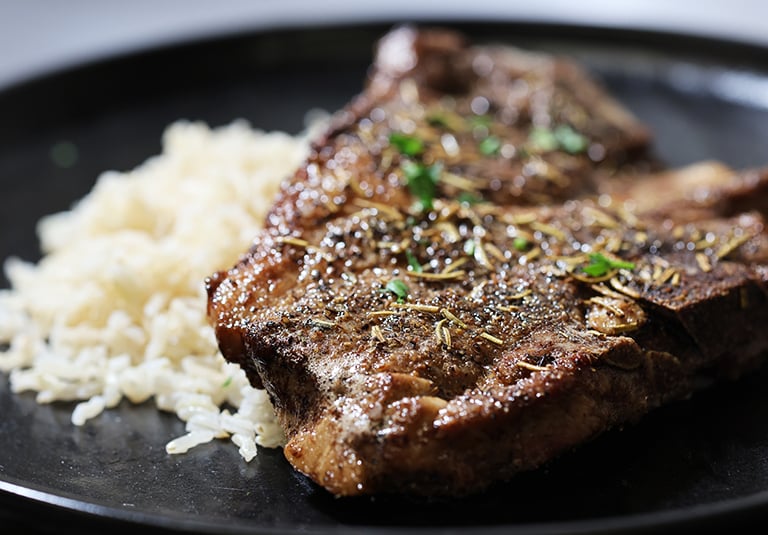 Herb Crusted Pan-Fried Lamb Chops Recipe Overview
Lamb chops are so tasty, and this recipe is very simple. It comes out tender and juicy on the inside with just a little crispy deliciousness on the edges. I think people might be a little intimidated to make lamb at home but will order it at a quality restaurant. The grocery store price might be a factor in the hesitancy, but after trying this recipe, I believe you will feel very confident in splurging and add this to your occasional high-end meal at home list.
Kitchen tools needed for this Herb Crusted Pan-Fried Lamb Chops Recipe
Large skillet

Measuring spoons
Herb Crusted Pan-Fried Lamb Chops Recipe Ingredients
4 lamb chops about ½-inch thick

2 tablespoons butter

Kosher Salt

Black Pepper

Dried thyme

Garlic powder

Rosemary leaves

Ground rosemary
Herb Crusted Pan-Fried Lamb Chops Recipe Ingredients
Mix the 6 herbs and spices together in a small bowl to use as a dry rub

Pat the chops dry with a paper towel, and coat both sides with the dry rub, rubbing it into the chops with your fingers.

Heat a skillet over high heat

Put the butter in and cook until melted and bubbling

Put the chops in and fry for 3 minutes on each side for medium-well. Adjust cook time less for thinner cuts and more for thicker cuts.

Serve the lamb chops!
You can spoon some of the liquid from the pan onto the lamb chops as a sauce. Enjoy with a side of brown rice, white rice or a healthy mixed greens salad.