Gastroenterologist Designed Colitis Salmon Recipe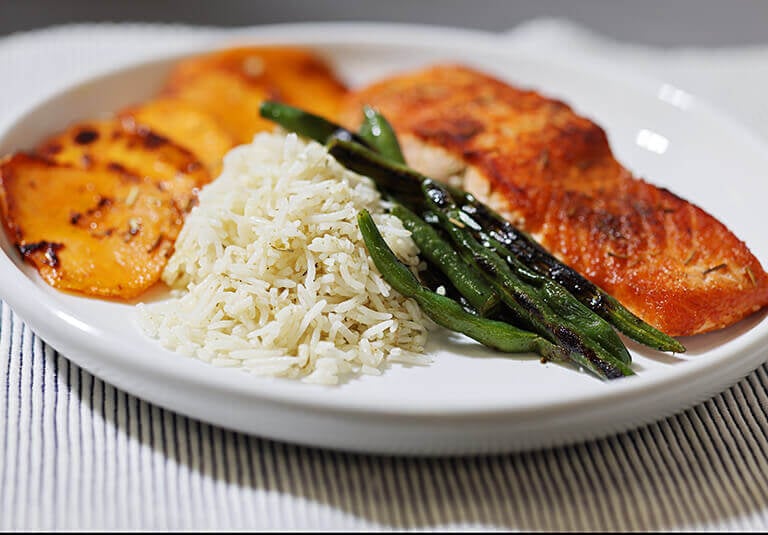 Gastroenterologist Designed Colitis Salmon Recipe Overview
Crohn's disease is an inflammatory bowel syndrome that makes our digestive tracts especially sensitive and can turn the joy of eating into a chore when tasty and healthful pre-made colitis meals are difficult to come by. This Colitis salmon recipe was made to help alleviate flares.
Criteria to qualify as a Colitis recipe:

Colitis meals have to be low in fiber. Veggies need to be non-cruciferous, well-cooked, and skin-off when possible. Colitis recipes should be low in cholesterol and high in lean protein.
Well, this quick Colitis salmon recipe to the challenge meeting all the above criteria. It offers a great taste while being easy to prepare. The outstanding flavors are built using natural caramelization of the vegetables and rosemary seasoning.
Gastroenterologist Designed Colitis Salmon Recipe Ingredients
1-2 salmon steaks or filets

1 cup fresh green beans

½ yam sliced into thin rounds

1 cup cooked white rice

1 tablespoon ground rosemary

1 tablespoon whole dried rosemary leaves. Fresh leaves are an excellent alternative!

½ teaspoon kosher salt

2 tablespoons + olive oil for cooking
Kitchen Tools for this Colitis Salmon Recipe
2 skillets

Spatula

Measuring spoons

Knife and cutting board
Gastroenterologist Designed Colitis Salmon Recipe Cooking Instructions
Note: There are 4 components to this quick and easy Colitis recipe, each using a skillet. If you can get multiple skillets on your stovetop, you can prepare your ingredients simultaneously. If not, you can cook in stages in the following sequence: Beans, yams, salmon, rice.
Colitis salmon cooking instructions:
Blend the 2 types of rosemary and the salt in a small bowl or cup. You will use this herb blend for all the components to this meal.

Sprinkle both sides of the salmon with some of the herb mixture.

Heat a large skillet over medium high and put about 1 tablespoon olive oil in there and let it get hot.
Place the Colitis salmon in the skillet, reduce heat to medium and cook until browned on the bottom.

Turn the salmon over and continue to cook until the salmon is cooked through.

In summary, this Colitis salmon fillet is high in protein and has non-inflammatory seasonings. Making it a great protein for our Colitis dish.
Cooking rice for our Colitis recipe instructions
You can use a clean skillet, or you can use the same skillet that you used for the salmon.
Just put the cooked rice ahead of time into the pan with the Colitis salmon drippings, add a little more of the anti-inflammatory seasoning blend and cook until hot. I really like this technique of absorbing flavors into the rice.

If using a fresh skillet, heat first with olive oil, add rice and herbs and cook until hot

Plate and serve this healthy cron's recipe
Cooking Yams for our Colitis recipe instructions
Heat a large skillet over medium high

Add about ¼ cup water, olive oil and the yam rounds (1)

Cover at first while the water steams to help soften the yams
Uncover the skillet and cook until the yams begin to turn brown on the bottom (2). This is known as caramelization, when the chemical change happens of the food's starches converting to sugars.

Turn the slices over and cook until the same happens (3).
Beans instructions
Fresh green beans are much better and easier to cook when they are "blanched and shocked" first. All this means is that you put the beans into boiling water for about 15 seconds, then take them out and immediately dunk into ice water to stop the cooking process. This seals in the color and partially cooks the beans, making it much faster to finish them in a skillet.
So, heat a large skillet, place olive oil and some of the rosemary seasoning. Let it get hot and put the beans in the skillet.

Cook until the beans are hot. If you want to push it a little until they start to scorch, even better!
If you are tired of cooking or if you are confused as to what is allowed in for your IBD symptoms, you can purchase our premade IBD meal plan on our website.