Anti-Inflammatory Colitis Chicken Recipe With Peas and Cauliflower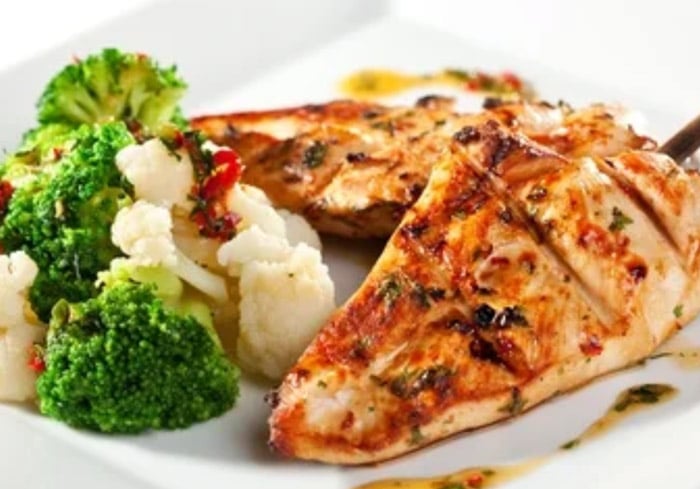 Colitis Chicken Recipe Overview
This easy Colitis chicken recipe is easy to make and tastes delicious without triggering flares. This tender and juicy chicken breast with the sweetness of peas and the earthy flavors of grilled cauliflower with herbal seasonings makes this a colitis meal you will keep coming back to. I like to slice my cauliflower into slabs and grill in the skillet. This recipe shows how that's done.
This Colitis chicken recipe is made with anti-inflammatory ingredients.
Equipment needed for this Colitis Chicken Recipe:
Knife

Cutting board

Spatula

Skillet

A second skillet would speed things up a bit if you like to multi-task.
Anti-inflammatory Colitis Chicken Recipe Ingredients
Chicken breast – 6oz

Peas – 5oz fresh or frozen

Cauliflower – 5oz (1/2 cauliflower head cut into slabs, about 1/2″ thick)

1 teaspoon Italian seasoning blend (Oregano, marjoram, thyme, basil, rosemary, sage)

1 tablespoon olive oil

Pinch of salt (1tsp or 5ml).
Anti-Inflammatory Colitis Chicken Recipe Instructions
Part 1: Cooking the Colitis chicken recipe
First, flatten the chicken breast either by lightly hammering with a tenderizing mallet (recommended), or by butterflying with a sharp knife. 

Heat a large skillet (medium heat) with the olive oil in it

Season the chicken on both sides and place in the hot skillet. Cook the chicken for 4-5 minutes each side. Keep the heat low enough so that the chicken cooks all the way through and gets some nice color on the outside. Make sure the chicken is cooked all the way through by piercing it with a knife tip and pulling it open a bit to see if there is any pink.
Part 2: Colitis Cauliflower recipe
While the chicken is cooking, heat another skillet (medium heat) with olive oil, some of the Italian seasoning, and put the cauliflower slabs in on a single layer.

Cook until the cauliflower starts to brown on the bottom, turn over and cook the other side. Sprinkle some more Italian seasoning. Remove from the pan when ready.
Part 3: Cook the Colitis peas recipe
In the same hot skillet you just took the cauliflower from, put a little more olive oil and the peas. Swirl until the peas are hot, then serve.
Part 4: Serve with all ingredients
Serve your anit-inflammatory Colitis chicken recipe with peas an cauliflower that are anti-inflammatory for your intestinal tract.
Benefits of preparing this anti-inflammatory Colitis Chicken Recipe:
Benefit 1: This Colitis chicken recipe is low in calories and is anti-inflammatory.
Benefit 2: You can purchase a ready made version of the Colitis chicken recipe featured in this blog from our website's colitis meal page.