Bodybuilding Steak Recipe For Bulking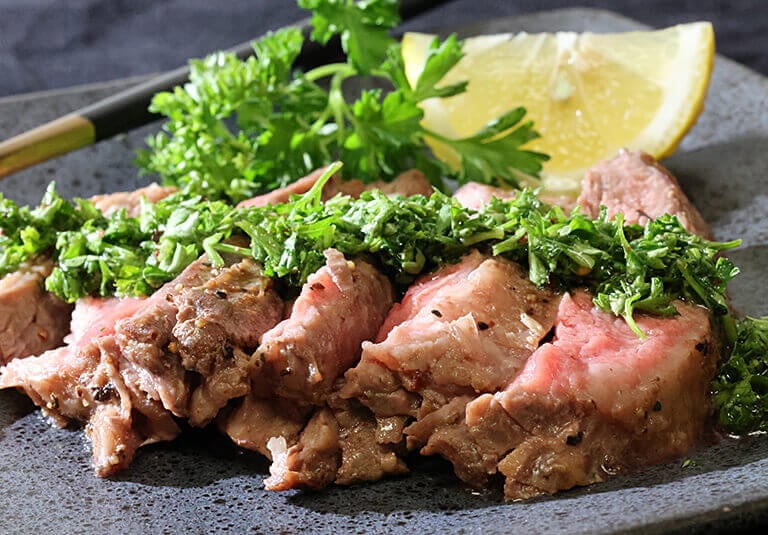 This Delicious Bodybuilding Beef Recipe for Bulking Makes Packing on Lean Muscle Mass During Rest Days Something You Will Look Forward to!
For this bodybuilding beef recipe for bulking I am using flank steak but skirt is a suitable alternative to this bodybuilding steak recipe for bulking. Both cuts are relatively common and they are quick and easy to prepare. Unlike the classic bodybuilding chicken recipe steak has a deeper, heartier flavor and a meat with good marbleization leaves your taste buds with a more scrumptious flavor. To enhance this bodybuilding meal further I add some sweetness with a homemade chimichurri sauce that acts almost like a dressing, removing the need for marination. Simply season the steak, sear, make the sauce and enjoy this easy bodybuilding beef recipe for bulking at home or on the go. Below, you will see just how easy it is to prepare steak over a stove top using just one pan.
Kitchen Tools to Prepare this quick and easy bodybuilding beef recipe for bulking:
Skillet (non-stick)

Cutting board

Kitchen knife

Measuring spoons

Mixing bowl
Ingredients for this bodybuilding beef recipe for bulking with optional Chimichurri Sauce:
INGREDIENTS FOR THE STEAK

1 lb piece of flank steak*

1 tablespoon olive oil

Salt and pepper or montreal steak seasoning

*Flank steak is a lean piece beef with little tough connective or muscle tissue.

INGREDIENTS FOR THE CHIMICHURRI SAUCE

¼ cup olive oil

2 tablespoons red wine vinegar or lemon juice

¼ cup chopped fresh parsley

1 tsp red pepper flakes

½ teaspoon dried oregano

1 teaspoon salt

*This sauce is delicious but is made with clean and lean ingredients.
Cooking instructions for this bodybuilding beef recipe for bulking:
STEAK COOKING INSTRUCTIONS

Sprinkle the steak with salt and pepper on both sides to season.

Heat the olive oil over medium heat in the skillet.

Add the flank steak and cook for approximately 6-8 minutes on each side, till it turns golden brown.

Set aside.

Cover with foil to keep warm and let the meat rest.

Doing so allows the juices to settle back into the meat so when you cut it, the juices will stay in the meat.

CHIMICHURRI SAUCE PREP INSTRUCTIONS

In the mixing bowl, combine the oil, vinegar or lemon juice and spices.

Remove the parsley leaves from their stalks, gather in a tight pile, and chop till fine. Add the parsley to the oil mixture and stir well to combine.

Plate. In order to do this cut the steak in strips against the grain. The steak will be more tender when cut this way and enhance the flavor of this bodybuilding beef recipe since breaking the muscle fiber will make the bites softer.
Substitutes for this bodybuilding beef recipe: If flank steak is not available you can opt for using inside skirt steak. Careful not use outside skirt steak since this cut of beef has more connective tissue and is more difficult to chew. A mallet or meat tenderizer can be a good tool to keep in your kitchen if you enjoy the deep hearty beef flavor and texture of red meat since many of these inexpensive cuts for bulking can be tougher pieces of meat. If budget is not a problem you will certainly enjoy preparing this bodybuilding steak recipe see this guide to fine dining cut of meat explained.
Add a complex carb: If you would like to, you can add a complex carb like brown rice to make this a great bodybuilding beef recipe for bulking. If you choose to add rice you can spoon the sauce/gravy and the the lemon over your brown rice to make this a bulking bodybuilding beef recipe you will not want to miss.
Enjoy this mouthwatering bodybuilding steak recipe that is quick and easy to prepare while also being high in protein and high in carb. You can also purchase this recipe as a prepackaged bodybuilding meal on our website.