Bodybuilding Chicken Recipe for Bulking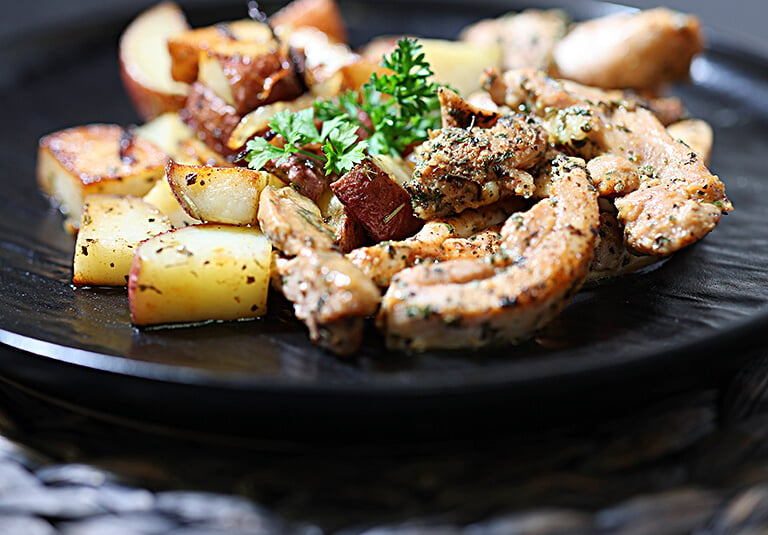 Bodybuilding Chicken Recipe for Bulking Overview
This bodybuilding meal features great tasting lean chicken breast strips, and flavorful, satisfying red potatoes that can fuel your workouts. This is an easy one skillet bodybuilding recipe that is sure to satisfy while providing the healthy carbs and starches your body needs for bulking.
Bodybuilding Chicken Recipe for Bulking Ingredients
Garlic chicken:

3-4 chicken breasts cut into strips

1 tablespoon olive oil

1 teaspoon garlic powder

1 teaspoon kosher salt

½ teaspoon ground black pepper

½ teaspoon smoked paprika

½ teaspoon oregano

½ teaspoon dried parsley

Red potatoes ingredients:

5-6 medium sized red potatoes cut into cubes

½ medium sized yellow onion cut into slivers (aka "feathered")

1 tablespoon olive oil

¼ stick butter

1 teaspoon Italian seasoning (3 parts oregano, 2 parts marjoram, 2 parts thyme, 1 part basil, 1 part rosemary, 1 part sage)
Bodybuilding Chicken Recipe for Bulking Cooking Instructions
Potatoes:

Heat a large skillet on medium high and add the butter and olive oil (pic 1). Cook until the butter foams a little and starts to turn brown (pic 2). Put the slivered onion in the pan, reduce heat to medium low. (pic 3)

Cook until the onions start to caramelize -turn brown and are translucent (pic 4). Add the potatoes (don't overload the skillet) and sprinkle Italian seasoning into the pan. Use your own judgment on the amount, start with about 1 teaspoon and go from there (pic 5). Increase heat back to medium and cook until potatoes are browned and tender. Mix the pan 3 or 4 times to cook all evenly. (pic 6) TIP: If you cover the pan for a few minutes, it will help the potatoes become more tender.

Chicken:

First, cut the chicken breast into strips.

Heat a large skillet (medium heat) with the olive oil and butter in it.

Mix all the spices in a small bowl or cup.

Put the chicken strips into a mixing bowl and sprinkle the seasoning mix all over. Blend well.

Put the chicken into the skillet and cook until browned and cooked through. This should take about 6-8 minutes. Test by cutting into the largest piece and observing if there is any pink. Keep cooking another minute or 2 if you see any pink.

When the chicken is cooked just right, remove it from the pan and serve with the potatoes.
Enjoy this mouthwatering bodybuilding chicken recipe that is high in protein and high in carbs. Feel free to experiment this bodybuilding chicken recipe or allow us to cook and order your prepackaged bodybuilding meals on our website.