Best Oven Roasted Pork Tenderloin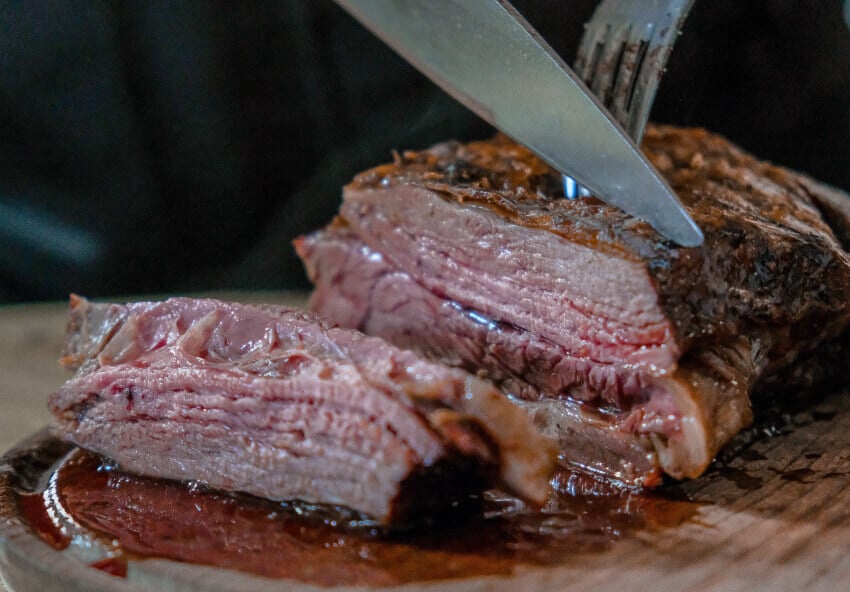 Oven Roasted Pork Tenderloin Recipe Cooking Tools
A pork tenderloin is a tender and delicious cut of pork, but it can be pricy. A more affordable alternative to preparing this oven roasted pork tenderloin recipe would be to opt for braised pork chops, a pork loin, or a pork butt amongst other, more affordable cuts.
Oven Roasted Pork Tenderloin Recipe Ingredients
Pork Tenderloin Brine Ingredients

4 cups cold water

Kosher Salt 6 Tbsp
Pork Tenderloin Recipe Ingredients

1 pork tenderloin (usually weighs a little over 1lb)

1 tablespoon olive oil

1 teaspoon garlic powder

1 teaspoon paprika

1 teaspoon dried thyme

1/2 teaspoon salt

1/4 teaspoon black pepper
Cooking Directions for This Oven Roasted Pork Tenderloin Recipe
Make the Pork Tenderloin Recipe Brine

Pork tenderloin is so lean it can easily dry out. For this reason a marinade, or brine can keep it nice and tender

Add 4 cups of cold water to a bowl and mix in 6tbsp of kosher salt.

Completely submerge the pork tenderloin in brine

Brine the pork tenderloin for 6 hours – 12 hours.

Make the Pork Tenderloin Recipe

Preheat the oven to 375°F.

In a small bowl, mix together olive oil, garlic powder, paprika, thyme, salt, and black pepper to create a rub.

Rub the mixture all over the pork tenderloin.

Place the pork tenderloin on a baking sheet or in a roasting pan.

Roast the pork tenderloin in the preheated oven for about 25-30 minutes or until a meat thermometer reads 145°F when inserted into the thickest part of the tenderloin.
Let the pork rest for a few minutes before slicing and serving. Enjoy this pork tenderloin recipe with a side of mashed potatoes and string beans.
Oven Roasted Pork Tenderloin Recipe Tips
If you are preparing this pork tenderloin recipe using a pork loin (cheaper alternative), try searing it in a cast iron pan and then finishing it in the oven. Searing in a cast iron pan gives the steak good color.
They're both lean meat, but their shapes, thickness, and sizes are different enough it's not a good idea to use them in place of one another. You're likely to overcook pork tenderloin (it's smaller and cooks faster), and ingredients cooking with a pork loin may burn before the loin ever reaches temperature if you're using it in place of the smaller tenderloin.
Don't brine pork tenderloin for too long or the meat will become salty.
What is the difference between a pork loin and a pork tenderloin?
A pork tenderloin is a long, narrow, boneless cut of meat that comes from the muscle that runs along the backbone. This is one of the leanest, most tender cuts of meat on pork.
A pork loin is wider and flatter, and can be a boneless or bone-in cut of meat. Pork loin comes from the back of the animal and tends to be a more affordable recipe alternative.
Nutrition Info for this Oven Roasted Pork Tenderloin Recipe
Calories 185

Total Carbohydrates 1g

Protein 29g