Best Beef Stir Fry Recipe Cantonese Style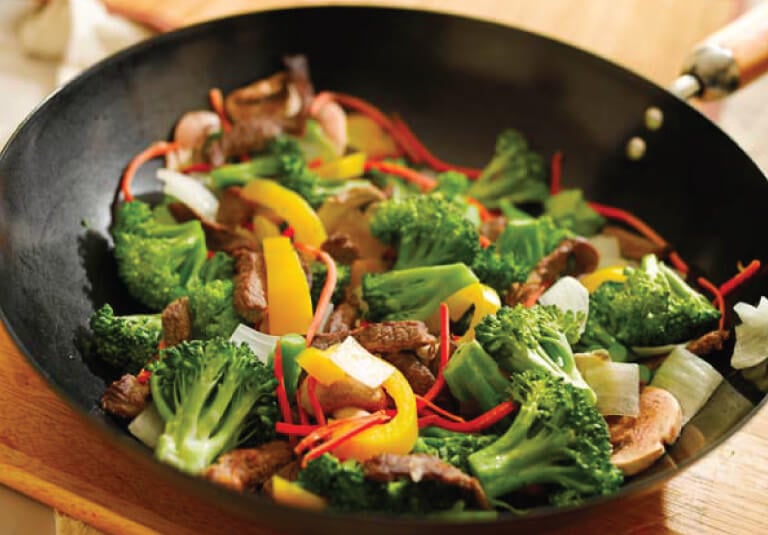 Traditional Beef Stir Fry Recipe Cantonese Style
Introduction on How to Make a Classic Beef Stir Fry Recipe
In this beef stir fry recipe post, I will guide you through the process of making a mouthwatering beef stir-fry recipe at home. This simple yet flavorful dish combines tender beef, a variety of vibrant vegetables, and a delicious sauce. Follow along as I break down the steps to create a stir-fry recipe that will impress your taste buds.
Beef Stir Fry Recipe Video Tutorial
Beef Stir Fry Ingredients
To make this delectable beef stir-fry, you will need the following ingredients:
2 pounds of beef

Olive oil

Broccoli

Yellow peppers

Red peppers

Onion

Garlic

Toasted sesame seeds (optional)

Steamed white rice (for serving)
Beef Stir Fry Recipe Step-by-Step Written Instructions
Begin by heating a skillet and adding a drizzle of olive oil.

Add the beef to the skillet and brown it until it becomes nice and toasty. This step ensures rich flavors and a delicious texture.

Chop and dice your assortment of vegetables, including broccoli, yellow peppers, red peppers, onion, and garlic.

Once the beef is browned, add your desired stir fry sauce and simmer until the meat becomes tender. Feel free to enhance the flavors with some toasted sesame seeds, giving the dish an added dimension.

Simmer the beef for approximately 20-25 minutes, or until it reaches a desirable tenderness. You can check the meat's tenderness by cutting a piece with a knife. When it cuts through easily, you'll know it's perfectly cooked.

Now it's time to add the vegetables. Begin by adding onions, peppers, and garlic to the skillet. Mix them well with the beef, creating a vibrant blend of colors and aromas.

Introduce the broccoli to the mix, stirring gently to combine all the ingredients. The goal is to retain the crispness of the broccoli while allowing it to absorb the flavors of the dish.*

Plate your beef stir fry recipe once the beef stir-fry has simmered to perfection. Serve the dish alongside some hot steamed white rice for a complete and satisfying beef stir fry meal. The combination of tender beef, crunchy vegetables, and flavorful stir fry sauce will leave your taste buds delighted.
Beef Stir Fry Recipe Notes
*Optionally, cover the skillet to intensify the simmering process, ensuring the beef and vegetables are cooked to perfection. However, I suggest to occasionally stir the ingredients to maintain the ideal texture.
Beef Stir Fry Recipe Conclusion
Congratulations! You have successfully mastered the art of creating a delectable beef stir-fry at home. This beef stir fry recipe allows you to enjoy a restaurant-quality dish without the need for extensive culinary skills. Give it a try, and you'll be amazed at the flavors you can achieve in your own kitchen. Happy cooking and bon appétit!