Beef Shank Recipe Ossobuco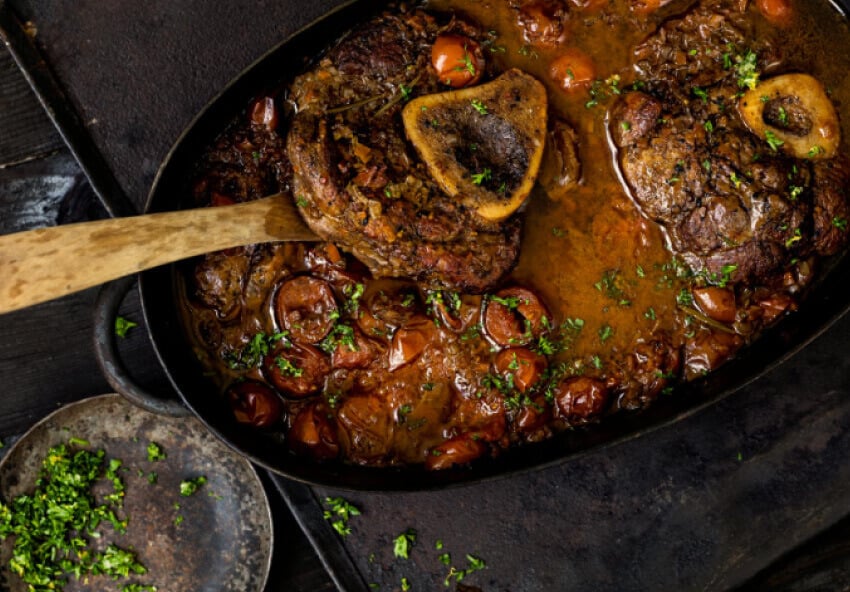 Delectable Beef Shank Recipe in Red Wine Sauce
Beef shank, also known as osso buco is a cut of beef that comes from the leg of a cow. It is a tough, flavorful cut with deep bold, beefy flavors that contains a lot of connective tissue. For this reason, it requires a moist cooking methods like braising and slow-cooking to tenderize the meat. It can also be cooked in a pressure cooker to break down the meat into fall-off-the-bone tender. However, in this beef shank recipe I will opt to braise the shank since it can be replicated at home made with more rudimentary cooking equipment. The best way to break down the meat is to marinate with a meat tenderizer ingredient like kiwi or pear (these fruits have enzymes that break down the meat) if preferred.
Braised Beef shank recipe kitchen tools needed
Cast iron pan

Dutch oven or deep pan

Pitcher

Ladle

Tongs

Oven mits
Braised Beef shank recipe Ingredients
4 beef shanks, bone-in.

Salt and pepper

All-purpose flour

4 tablespoons unsalted butter

4 tablespoons olive oil

1 onion, chopped

2 carrots, chopped

2 celery stalks, chopped

4 garlic cloves, minced

1 cup beef broth

1 cup dry white wine

1 can diced tomatoes (14.5 oz)

2 bay leaves

1 tablespoon chopped fresh thyme leaves

1 tablespoon chopped fresh rosemary leaves

Gremolata for serving (optional, see below)
Braised Beef shank recipe cooking instructions
Gremolata sauce cooking instructions:

Add 2 tablespoons chopped fresh parsley leaves, 2 tablespoons of grated lemon zest and 1 minced garlic garlic clove to a bowl and combine well.

Combine all the ingredients in a small bowl. Set aside. (you can sprinkle this over your beef shank before serving.)

Beef shank cooking instructions

Preheat the oven to 325°F.

Season the beef shanks generously with salt and pepper, then dredge them in flour, shaking off any excess.

In a skillet sear the beef shank with some butter on all six sides. Get some color and caramelization.

In a large oven-safe, deep pan , add the onion, carrots, celery, and garlic. Cook until the vegetables are tender, about 10 minutes.

Pour in the beef broth and white wine, and stir to combine. Add the diced tomatoes, bay leaves, thyme, and rosemary. Stir to combine.

Add the seared beef shanks to the deep oven-safe dish or dutch oven, making sure the the liquid covers the bottom of the pan one third of the way to the top of the meat. Bring the liquid to a simmer, then cover the pot with a lid and transfer it to the oven.

Cook in the oven until the meat is tender and falling off the bone, about 2-3 hours.

To serve, remove the bay leaves and transfer the beef shanks to individual serving plates. Spoon some of the sauce over the meat, and sprinkle with gremolata sauce on top for the chef's kiss.
Enjoy this braised braised beef shank recipe with a side of mashed potatoes and sautéed green beans.