Bodybuilding Pulled Pork Recipe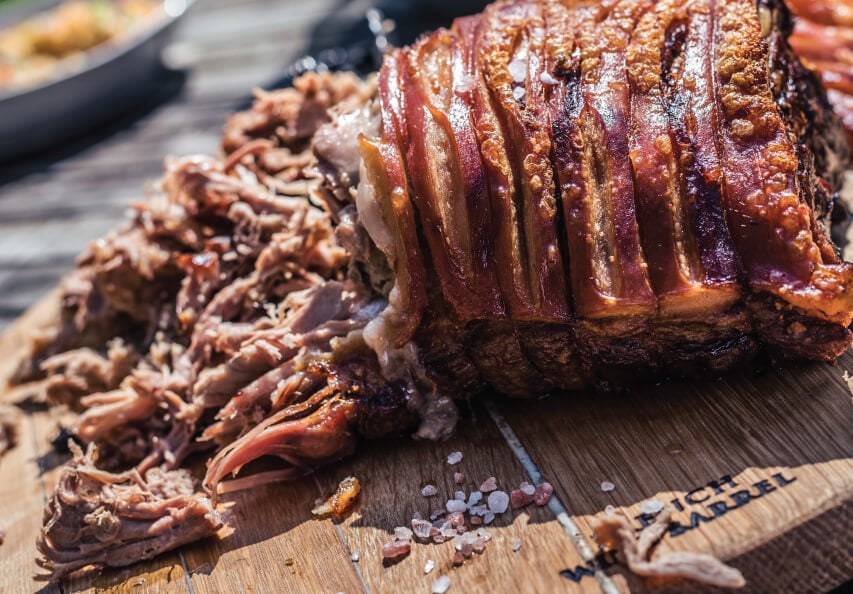 Enjoy this Bodybuilding Pulled Pork Recipe On a Bun or With A Salad.
Slow cooker, spice-rubbed instant pot bodybuilding pulled pork is touted as the star ingredient for your sandwiches, over a sourdough, whole wheat or focaccia bun, but definitely on a good brioche roll with sauce, cheese and yes, maybe even some slaw.
As a post-workout meal the simple carbs in the bun spike your insulin.
Here is a solid variation of a slow cooked bbq bodybuilding pulled pork for a Sloppy Joes sandwich recipe that is mouthwatering and will be done in just under 3 hours.
Ingredients for this Slow Cooker Spice-Rubbed Instant Pot Pulled Pork Sloppy Joes Recipe
4-6 lb boneless pork shoulder or butt, trimmed of most fat, and cut into large chunks

2 tbsp olive oil

3 C broth (chicken or vegetable) or 1 bottle of your favorite beer

1/4 to 1/2 C spice rub (use your favorite store brand or see the recipe below)
For the bodybuilding pulled pork recipe spice rub:
1/2 c brown sugar

1/4 c ground cumin

1/4 c red pepper powder of your choice, paprika, Korean Gochugaru, or even chili powder

2 tbsp salt

1 tbsp ground black pepper

1 tbsp adobo seasoning or granulated garlic

1 tbsp onion powder

1 tbsp ground mustard

1 tbsp dried oregano

1/2 tsp sweet paprika

1/2 tsp ground cinnamon

BBQ Sauce – 2oz
Instructions for this Slow Cooker Instant Pot Sloppy Joes Bodybuilding Pulled Pork Recipe
Trim some fat off and liberally sprinkle each chunk of pork with the spice rub and set aside. Then cut down the pork into smaller, more digestible pieces.

Heat the olive oil on medium high heat in a sauté pan. Sear the pork pieces, literally browning the meat to caramelize on each side which adds depth of flavor and is the secret step for making this instant pot sloppy Joes bodybuilding pulled pork recipe. You can make this recipe without searing, but this step takes only 2-3 minutes per side and makes a palatable difference to the outcome of the slow cooked spice-rubed pork recipe. (See image 5 below)

Preheat your slow cooker. Add the browned pork pieces, the broth, cover and cook on a low setting if you have all day, or on high if you'll be ready to eat in a few hours.

Test the pork meat for doneness by removing a piece and pulling it apart with two forks. While your hands make shredding sloppy Joe bodybuilding pulled pork easy I don't recommend hand shredding hot meat. Instead, used two forks to hold the pork chunk and pull with the over fork. If the piece shreds this instant pot bodybuilding pulled pork for sloppy Joe recipe is ready.

Transfer the instant pot sloppy Joe bodybuilding pulled pork recipe meat to a serving plate, sprinkling with a last dash of spice rub, and drizzling some of the luscious cooking liquid. Serve over a brioche bun with bbq sauce and a side of potatoes. Be sure to strain some cooking liquid and present for service so that your guests can add extra au jus if they'd prefer.

Note: You can store the remaining spice rub in an air-tight container in your pantry the next time you want sloppy joe's sandwich bodybuilding pulled pork, but it's also great in a sandwich, over rice or with a salad.

Enjoy this mouthwatering bodybuilding pulled pork recipe on a whole wheat, or regular bun – or no bun at all for cutting season! If you are tired of cooking you can also purchase this recipe as a prepackaged bodybuilding meal on our website.