Keto Bacon Wrapped Chicken Recipe for Weight Loss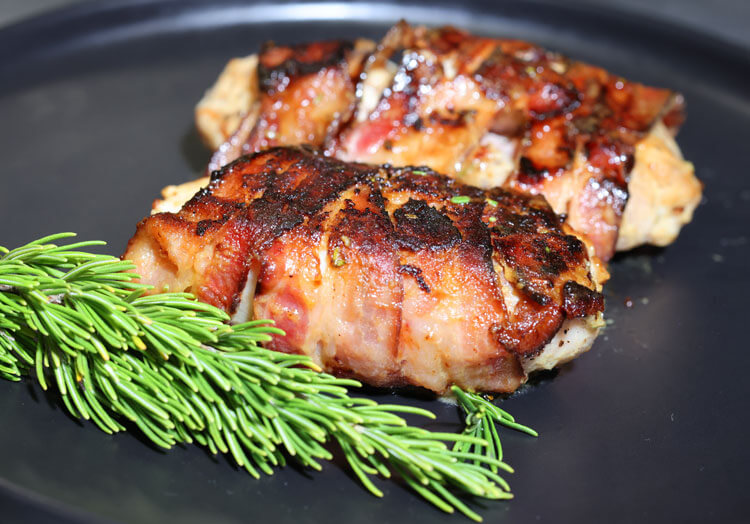 Bacon Wrapped Chicken with an Orange Dijon Glaze
Chicken breast is definitely a go-to meal staple on a ketogenic diet plan. Such a perfect portion of protein that allows for a variety of ketogenic flavors and preparations. And as a chef, I know all too well that you can never have too many recipes for chicken. There's absolutely no reason to have overcooked and under-seasoned chicken any longer. For instance, with this keto diet recipe, wrapping and cooking the chicken in bacon adds a bit more fat to this lean protein, keeping it moist but adding such a punch of flavor. When choosing bacon that is truly keto without chemicals, read the label. A better for you bacon is uncured, without nitrates, and produced from pork raised without hormones. This keto diet recipe also works better with a thiner sliced bacon, which makes it easier to wrap around the chicken breast.
Equipment Needed for this Keto Bacon Wrapped Chicken with an Orange Dijon Glaze:
Knife and cutting board

Small bowl or container

Sauté pan

Tongs
Ingredients for this Keto Bacon Wrapped Chicken with a Keto Orange Dijon Glaze:
2 chicken breasts

2-4 pieces of thinly sliced bacon

1/4 C Dijon mustard

Juice of 1/2 orange

1 tsp fresh rosemary, minced
Instructions for the Keto Orange Dijon Glaze:
Add the Dijon mustard, orange juice, and rosemary to a small jar or container, tighten the lid and shake vigorously. Set aside.
Note: This dijon mustard sauce can be made ahead and kept refrigerated for up to a few days.
Instructions for Cooking the Bacon Wrapped Chicken Recipe:
Remove any bone or trim any sinew from your chicken breast on a cutting board.

Spoon some of the glaze onto the chicken and spread to coat evenly.

Take a bacon slice and wrap it around the seasoned chicken. If necessary, use two strips of bacon, securing with toothpicks at the ends if you prefer.

Bring 1 tablespoon of olive oil to medium heat in your sauté pan.

Add the keto bacon wrapped chicken. Cook on each side for 5 minutes.

Once the keto bacon chicken is nearly cooked and the bacon starts to crisp, brush with the glaze, cover and allow to cook for 10 minutes more. Turn the chicken over from time to time and keep glazing until it reaches an internal temperature of 165.

If you have extra glaze, which you probably will, add it to the keto bacon wrapped chicken while in the pan. Once your are nearly cooked, simply toss a pat of butter and some glaze into the pan and toss to coat until the glaze just becomes sticky.

Serve immediately with a keto side like our homemade keto cauliflower mash.